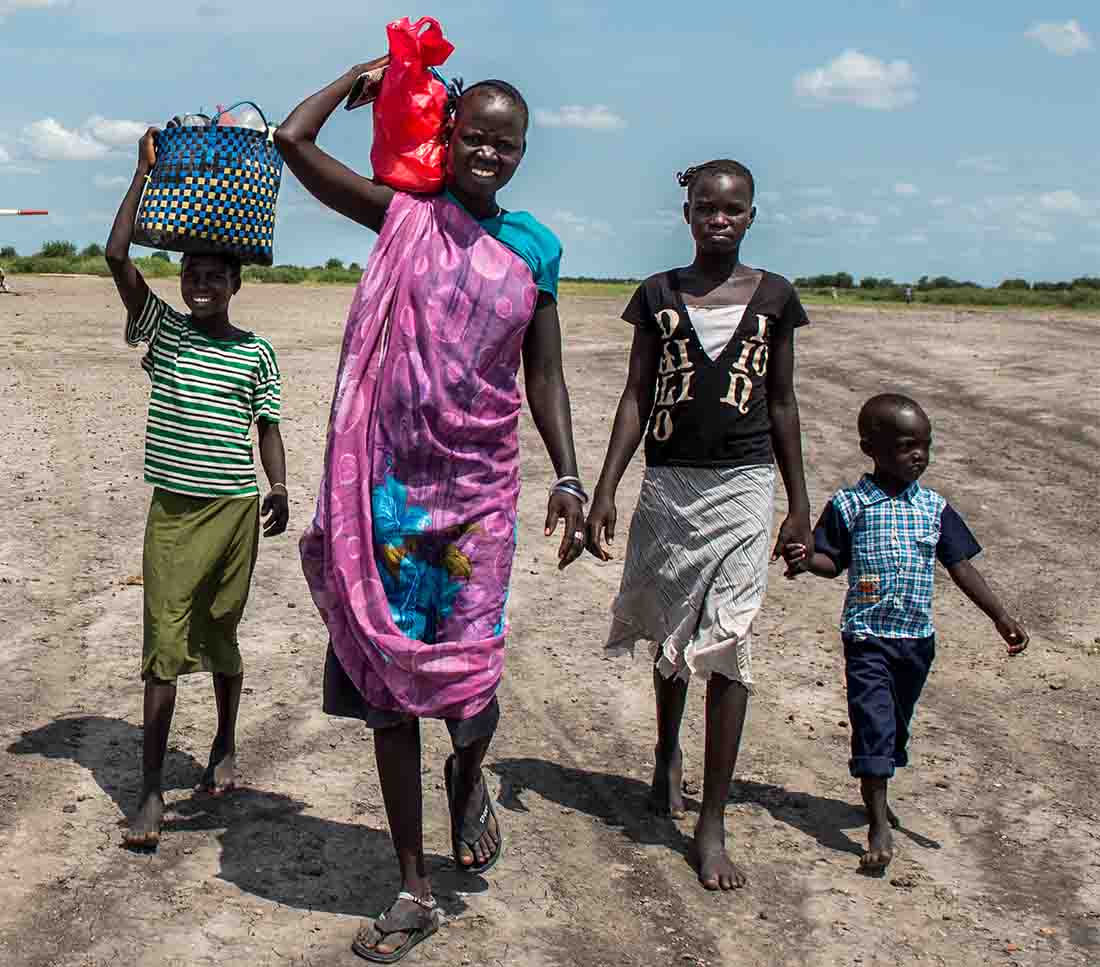 Overview
IMA World Health has been a key partner in addressing South Sudan's health needs since 2008, working closely with the nascent government's Ministry of Health, civil society, donors and other critical partners primarily on health systems strengthening, malaria and HIV/AIDS interventions.
On July 9, 2011, the Republic of South Sudan became an independent nation after nearly three decades of conflict and the displacement of hundreds of thousands of South Sudanese. After more than a generation of conflict, there was peace and celebration.
Jonglei and Upper Nile, where IMA projects focused, were the two most challenging states. Forming a natural corridor from Sudan, the states' populations constantly shifted as citizens made their way home from exile; severe flooding from seasonal rains made access to communities nearly impossible for much of the year and communication systems were very limited. Despite these unique challenges, progress was swift and encouraging. Our projects exceeded targets, and for a time, health indicators in Jonglei and Upper Nile improved faster than the rest of the country.
But in mid-December 2013, violent conflict arose again, and Jonglei and Upper Nile were two of the three hardest-hit states. Many civilians were killed or injured, and more than 2 million have been displaced, facing hunger and other horrors of war. IMA and partners rallied in response, switching gears from long-term interventions to emergency support where most needed. Finding inspiration in the resilience of the people, IMA re-opened ransacked health centers and established mobile clinics in conflict zones, recruiting displaced health workers to staff them and serve their own dislocated communities.
Despite ongoing and ever-changing challenges, IMA's projects have continued to help hundreds of thousands of people in South Sudan, to the credit of IMA staff, our partners and South Sudan's resilient people.
Our Projects
$57 million | Ministry of Health – Republic of South Sudan/World Bank | 2013-Present
In January 2013, IMA and 12 international and local partners began implementing a flagship health systems strengthening initiative, the Rapid Results Health Project. RRHP strengthens the capacity of health systems throughout Jonglei and Upper Nile states to provide preventive and curative health services. This catchment area, which started with 24 counties in two states but expanded to 29 counties upon the creation of the Greater Pibor Administrative Area, comprises 3.1 million people — more than 25 percent of South Sudan's population.
Key activities include preventive and curative services, reproductive health services, delivery of essential medicines and training of health care workers. The conflict that erupted in December 2013 displaced hundreds of thousands in IMA's catchment area and greatly affected project efforts. Despite extreme challenges, IMA and partners have continued to support health services throughout the conflict period and have continued to support basic health care in the face of ongoing instability.
$2.35 million | Population Services International/Global Fund | January–December 2016
A key component of the Ministry of Health's malaria prevention strategy is to distribute long-lasting insecticide-treated nets, or LLINs, across the entire population every three years. With resources from the Global Fund through Population Services International, IMA World Health works with the Ministry, as well as implementing partners that work directly with beneficiaries, to mass distribute LLINs in every community across Jonglei and Upper Nile states.
The political crisis that began in 2013 hit Jonglei and Upper Nile hardest. Ongoing conflict, poor roads and rainy season flooding have challenged net distribution, but IMA and partners have continued to overcome obstacles to train volunteers on distribution procedures and key malaria messaging for recipients and to mobilize the distributions at the community level.
$3.7 million | OFDA | 2014–2016
IMA World Health launched emergency health services in South Sudan in 2014 in response to conflict. Conflict-related emergencies contribute to disproportionately high levels of morbidity and mortality, and 90 percent of countries with the highest rates of maternal mortality recently experienced conflict—including South Sudan.
With support from the U.S. Agency for International Development's Office of Foreign Disaster Assistance, IMA provides vital primary health care and emergency health services through seven mobile clinics and outreach sites in Upper Nile and Jonglei states. The project's emergency health services include disability and trauma referral, screening for gender-based violence and psychosocial needs, and immediate primary health care. Working with partners, IMA also expanded its activities to include nutrition service provision in areas of Jonglei with high rates of malnutrition. Nutrition services focus on children under 5 years of age, pregnant or lactating women and other vulnerable persons through prevention, screening and treatment of acute malnutrition to reduce morbidity and mortality.
$3 million | UK's Department for International Development | 2015–2018
Visceral leishmaniasis, also known as kala-azar, is a parasitic disease that afflicts many people in South Sudan. It is almost always fatal if not treated. Fever, weight loss, an enlarged spleen and liver and anemia are common signs of this disease, which is transmitted by the sandfly. With support from KalaCORE, a partnership dedicated to the control and elimination of kala-azar, IMA partners with Mott MacDonald to implement a kala-azar control program in South Sudan with the primary goal of scaling up access to lifesaving treatment and catalyzing the collaboration necessary to reduce the disease burden in East Africa.
The focus of the program includes improved diagnosis and effective treatment, building surveillance capacity and improving the ability to respond to outbreaks. IMA trains health workers, establishes emergency response teams, provides pharmaceuticals and supplies, re-activates previous kala-azar treatment centers destroyed during conflict and supports the Ministry of Health's neglected tropical disease departments.
Emergency Reproductive Health Services of IDPs and Host Community
$1.2 million | UNFPA | January 2014–Present
The UNFPA-funded project provides new services through mobile clinics and outreach as well as through strengthening local capacity to implement the Minimum Initial Service Package for reproductive health, including interventions to address gender-based violence, sexually transmitted infections and HIV services. It also supports sexual and reproductive health outreach activities in partnership with community-based organizations or support groups. Internally displaced people, who would have otherwise had no access to reproductive health services, are seeking services at an average of 200 patients per month at the temporary clinic in Mingkaman, where thousands of IDPs from Jonglei are still encamped. The program includes procurement of supplies, which is no small feat; the remoteness of the area makes it difficult to obtain quotes, especially given the rapid inflation of the South Sudan pound, and materials usually must be transported by small boats that can carry only a few cartons at a time as they cross the Nile from the city of Bor.