According to the WHO, Haiti has the worst health indicators in the Americas – the highest rates of infant and maternal mortality, malnutrition, and persons living with HIV/AIDS. Many Haitians living in poverty lack access to potable water and quality health care and are regularly exposed to serious waterborne illnesses as well as neglected tropical diseases (NTDs).
IMA World Health began its work in Haiti in 1998, partnering with the Haitian Ministry of Health and others to open a clinic to treat lymphedema, one of the debilitating symptoms of lymphatic filariasis, or LF. Since then, IMA World Health has been successfully partnering with national and local government and civil society organizations (CSOs) in Haiti to support local capacity strengthening among service authorities and providers across health, WASH, and emergency response with particular focus on NTD elimination and mitigation and improve health service delivery. 
Our Projects
ACT TO END NTDs | EAST
Funded by USAID and led by RTI International, the Act to End NTDs | East project assists national NTD control programs to eliminate and mitigate NTDs. IMA supported the Haiti Neglected Tropical Disease Control Program (HNTDCP) to achieve its goals toward lymphatic filariasis (LF) elimination and soil-transmitted helminthiasis (STH) control through mass drug administration (MDA). IMA tracked progress toward LF elimination through transmission assessment surveys (TAS). Based on TAS results, 122 out of 140 communes are under surveillance and no longer require MDA (87%) for LF. Activities included conducting MDA in 22 communes and conducting TAS throughout the country while working with HNTDCP on developing the WHO LF Elimination dossier.
HAITI ENVISION PROJECT
As a partner on the global USAID ENVISION project, led by RTI International, IMA led implementation in Haiti and worked alongside the Haiti NTDCP, a joint effort between the Ministry of Health and Population and the Ministry of Education, and other partners. IMA helped the government conduct community and school-based MDAs across Haiti's 10 departments for the elimination and control of LF and STH.
IMA trained approximately 34,000 community leaders, promoters, and distributors to educate the population about LF and STH, persuade the highest number of households possible to participate in MDA, and conduct MDA through community distribution posts and schools. In Haiti, IMA led the scale-up of nationwide treatment and treated nearly 6 million people annually for LF and STH. Following WHO guidance, IMA and its partners also conducted TAS in communes which have had at least 5 consecutive MDAs at high coverage. Of the 140 communes in Haiti, 118 communes are now under surveillance with 22 communes still undergoing MDA (now covered under Act to End NTDs | East). IMA assisted the HNTDCP and partners in revamping an urban MDA strategy for the Port au Prince metropolitan area communes to increase coverage.
IDA TRIPLE DRUG THERAPY IN HAITI
With funding by the Bill and Melinda Gates Foundation/University of Washington, Haiti was selected as one of five countries to participate in a high-profile clinical safety and efficacy trial and acceptability study. The study — which was led by the Haiti MSPP, U.S. Centers for Disease Control and Prevention (CDC), RTI and the University of Florida with IMA as the implementing partner — was instrumental in facilitating progress toward the global LF elimination effort and shaping WHO's LF treatment guidance.
HEALTHY SCHOOLS, SUCCESSFUL CHILDREN (SANTE NAN LEKOL, SE SIKSE TIMOUN YO)
According to a Ministry of Education report, more than 74 percent of Haiti's schools lack a water installation, 84 percent lack treated drinking water and more than 40 percent lack functional toilets or latrines. In 2015, IMA partnered with member agency Episcopal Relief & Development to improve students' health, school participation and educational success through water, sanitation and hygiene interventions in 60 public and Episcopalian schools in the Southeast, South and Grand'Anse departments. The project aims to provide or build latrines, reservoirs, water filters, and handwashing stations in schools as well as establish frameworks that enable schools and communities to sustain progress and maintain the infrastructure beyond the project's lifespan.
PARTNERSHIP WITH TOMS
Shoes are one of the first levels of defense when it comes to good health—and they were a great complement to the ENVISION program IMA implemented in Haiti. In 2010, IMA and TOMS partnered to add shoe distribution to its work to prevent and treat hookworm and other neglected tropical diseases. Using the same network of volunteers who distribute drugs at MDAs, IMA efficiently worked with TOMS to provide new shoes to school children to help keep them healthy and able to attend school. In addition to preventing cuts and injuries that can become infected, shoes help prevent the spread of hookworm and other soil-transmitted diseases that can enter through the feet. Shoes are also required for school enrollment.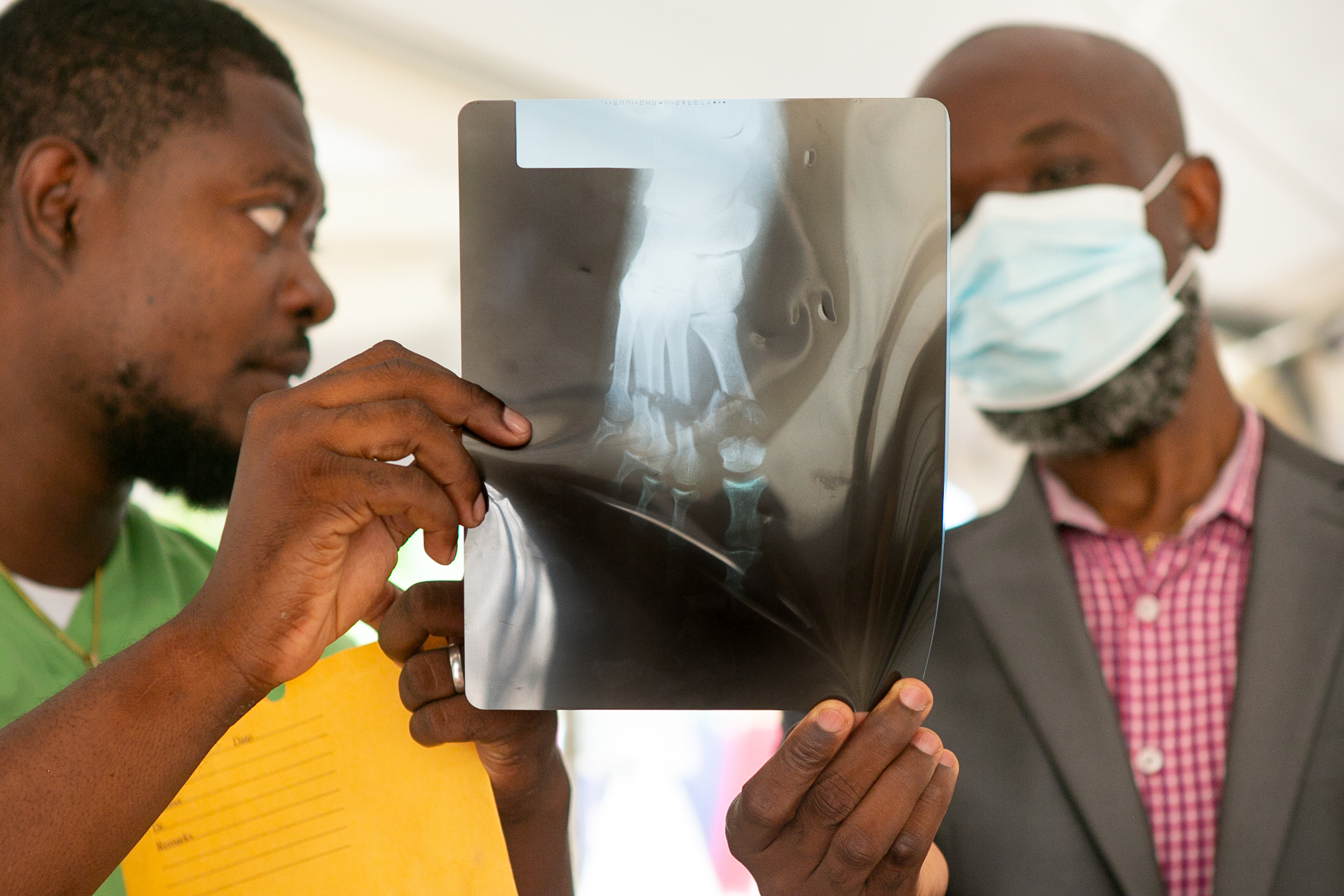 The Corus Effect
Founded in 1960, IMA World Health is part of Corus International, an ensemble of long-serving, global leaders in international development and humanitarian assistance committed to ending poverty and building healthy communities across Asia, Latin America and the Caribbean, the Middle East, and Africa.
In addition to IMA World Health, the Corus family includes global aid and development organization Lutheran World Relief, U.K.-based technology for development company CGA Technologies, impact investing firm Ground Up Investing, and direct trade company Farmers Market Brands.
Alongside communities and local partners in fragile settings, our dedicated experts across our organizations integrate disciplines, approaches and resources to overcome global health challenges, develop productive and stable economies, improve resilience in the face of climate change, and respond to natural disasters and humanitarian crises. We invest in solutions that are innovative, scalable, holistic and move the needle towards transformational change.