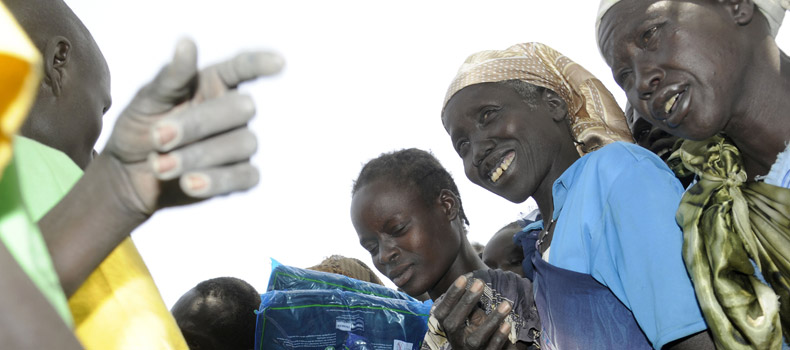 All it takes is a tiny mosquito.
Malaria is the leading killer of children worldwide. This mosquito-borne disease most heavily impacts Sub-Saharan Africa, where an estimated one million people die from malaria annually. Pregnant women are also at increased risk of dying or delivering low birth weight infants due to malaria.
Tracking with disease risk, IMA delivers malaria interventions that target pregnant women and children under five with a package of World Health Organization (WHO)-endorsed strategies that effectively prevent, diagnose and treat malaria.  IMA concentrates its malaria work in the Democratic Republic of Congo (DRC) and South Sudan, two countries that experience disproportionate malaria burden. Here, IMA ensures that pregnant women access intermittent preventative therapy (IPTp) to prevent malaria during pregnancy and that they and their young children sleep under long-lasting insecticide-treated nets (LLINs).
At the diagnostic and treatment level, IMA works with health care providers to accurately diagnose malaria through Rapid Diagnostic Tests (RDTs) and to provide Artemisinin-Based Combination Therapy (ACT) treatment. These interventions increase treatment effectiveness and success.
IMA also helps country health systems better integrate malaria interventions within the overall primary healthcare package at the facility and community level as part of IMA's health systems strengthening (HSS) approach. Specifically, IMA strengthens the supply chain to better manage malaria commodities like LLINs and RDTs.
IMA's efforts are reducing malaria cases and deaths in countries where it works. In DRC, for example, IMA increased pregnant women's IPTp access from 5 percent to 71 percent through one of its projects, dramatically reducing risk to pregnant women. IMA is also piloting a new LLIN distribution mobile phone tracking system in DRC that will help community health volunteers better monitor that families receive LLINs and hang them properly. The innovative project achieved 98 percent net coverage in its first health zone during 2014.
Our Projects
DRC/Access to Primary Health Care Project (ASSP) (2012-Present): IMA prioritizes delivering essential health packages that improve maternal, newborn, and child health for access to primary health care. The project's malaria component trains and equips health facilities with the supplies needed to prevent, diagnose, and treat malaria in five provinces. By 2014, IMA reached nearly 201,730 pregnant women with two doses of IPTp to prevent malaria thereby preventing thousands of potential fetal, newborn, and maternal deaths.
DRC/Global Fund Malaria Project (2012-Present): Working as a sub-recipient to long-time partner SANRU, IMA delivered essential malaria prevention, diagnostic and treatment commodities in 38 health zones in eastern DRC. By the end of 2014, the project helped treat more than 1.4 million malaria cases and ensured nearly 270,000 pregnant women accessed at least two doses of IPTp. In addition, IMA implemented community-based malaria care at 58 sites, helping community health volunteers diagnose and treat basic malaria, diarrhea, and acute respiratory infections among children under five, increasing access to life-saving care.
DRC/Global Fund Technical Assistance (2012-Present): IMA provides technical assistance in financial management, planning, M&E, and supply chain to longtime partner SANRU to effectively implement malaria prevention, diagnosis, and treatment programs. SANRU is a Global Fund Principal Recipient of both malaria and HIV/AIDS grants and recognized as one of the few local NGOs managing Global Fund grants of this size. These capacity-building efforts support improved management and implementation of critical malaria prevention and treatment services.
South Sudan/Rapid Results for Health Project (2013-Present): IMA ensured that malaria diagnostics and treatment reached some of the most rural health facilities in this 24 County primary health care improvement project. By using innovative performance-based contracting, IMA incentivized the government to ensure RDTs and ACTs reached target health facilities and were used appropriately to diagnose and treat malaria.
South Sudan/Global Fund Malaria Project: IMA helped reduce malaria case incidence in heavily-affected Jonglei and Upper Nile states through the provision of LLINs to pregnant women and households with children. IMA distributed more than 1 million LLINs through community-based distribution and via antenatal care services at health facilities.