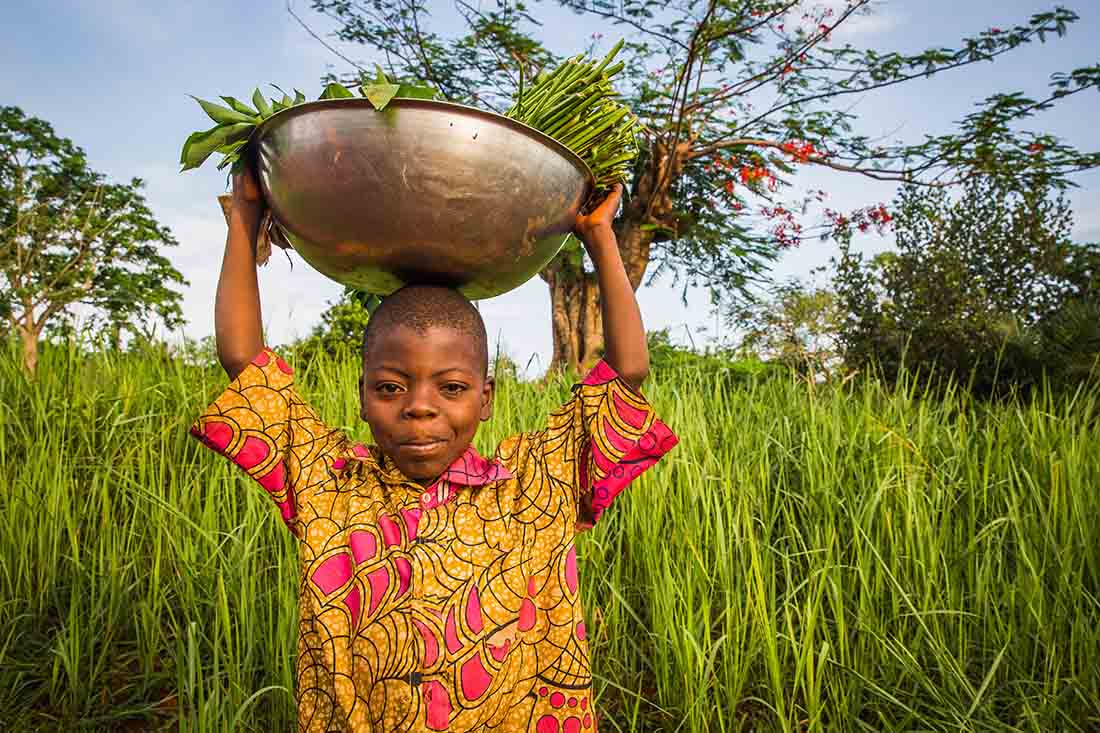 Overview
Since 2000, IMA has worked alongside the Congolese government, donors and an array of local and international partners to revitalize the country's health system, fight diseases and improve key health indicators. Such long-term investment in the Democratic Republic of Congo has required resilience, creativity, and an incredible network of staff and partners to navigate successive armed conflicts, political instability, impassable roads and other obstacles that continue to threaten the health and well-being of the population.
In its fourth year, the UK aid-funded Access to Primary Health Care Project, known locally as Accès aux Soins de Santé Primaires or ASSP, hit its stride. The nutrition component, which facilitates household and community gardens along with traditional growth monitoring and treatment, is itself growing in both impact and interest. ASSP is also celebrating its innovative Hang Up and Track strategy, which uses smartphone technology to track malaria net distribution with GPS coordinates and photos. The HUT approach was found to promote higher net-use rates than traditional methods, in addition to giving an unprecedented level of transparency and accountability to net distributions.
In a challenging, decentralized health system, the USAID-funded Ushindi program extends care to survivors and those affected by sexual and gender-based violence, and interventions around malaria and neglected tropical diseases are improving lives.
IMA is proud to be a part of the team that is changing the narrative and the trajectory of health care in the DRC. Powered by partnership, new technologies are solving stubborn problems, successes are scaling up into widespread solutions and—most importantly—our vision of health, healing, and well-being for all is becoming more of a reality in the DRC every day.
Our Projects
$283 million | DFID | 2013-2018
The Access to Primary Health Care Project, known locally as Projet d'Accès aux Soins de Santé Primaire or ASSP, aims to strengthen priority interventions such as the treatment of malaria, pneumonia and diarrhea; nutrition; obstetric and neonatal care; family planning; immunization; and water, hygiene and sanitation that are delivered through the health system. ASSP supports an estimated 8,980,238 people across 52 health zones.
This year, the WASH component surged forward. IMA World Health, in consortium with partners SANRU, World Vision and Caritas Congo Asbl, supports five Provincial Health Divisions (Kasai, Kasai Central, Nord-Ubangi, Maniema and Tshopo) to implement WASH projects at clinics and hospitals. Nearly 60,000 people now have access to safe drinking water and 56,852 to sanitary toilets.
With support from the Against Malaria Foundation, ASSP distributed 2 million long lasting insecticidal nets, or LLINs, using the project's Hang Up and Track strategy for added transparency and accountability. ASSP trained local health workers and volunteers on basic computing, data collection using Open Data Kit software on Android cellphones and data management using Excel. Health workers use the phones to collect basic demographic data, GPS coordinates and information on malaria prevalence and bed net usage. The phones also play an instructional video, recorded in the local tribal language, on the importance of bed net usage to prevent malaria and how to care for and repair nets. ASSP goes beyond simple distribution to ensure all LLINs distributed have been hung and are being used correctly, overcoming a significant barrier in efforts to combat and eliminate malaria.
$791,547 | USAID | 2015-2019
The ENVISION project, led by RTI International, aims for the control and elimination of four neglected tropical diseases in the DRC: lymphatic filariasis, onchocerciasis, schistosomiasis and soil transmitted helminths. As an implementing partner, IMA conducts annual mass drug administration of three medications among more than 500,000 people in six zones of Maniema Province, with the goal of treating 80 percent of the population. This year, IMA achieved 98.9 percent coverage for soil transmitted helminths, exceeding the prescribed target for the third year in a row.
$20 million | USAID | 2010-2017
Ushindi, which means "we overcome" in Swahili, takes a holistic approach to addressing sexual and gender-based violence, or SGBV, in the Eastern region of the Democratic Republic of Congo. Coordinating a range of interventions—medical, legal, psychosocial and economic—Ushindi increases access to timely and quality services for survivors as well as individuals and communities affected by SGBV, and reduces the vulnerability of individuals to future acts of abuse and violence. The project has trained more than 3,700 service providers, involving 1,186 health clinics in vulnerable, conflict-affected communities. To date, more than 26,000 people have received comprehensive care through the program.
USAID reports show Ushindi reached about four times as many survivors as projects with similar funding levels and timeframes. As a result, this year Ushindi received an 18-month extension to conduct in-depth research on the project's implementation model and to develop a readily accessible package for USAID to implement high-quality SGBV interventions in new areas. Through this extension phase, IMA will pilot this new package, including cognitive processing therapy-based psychotherapy, in three new health zones to present evidence of efficacy and cost and other practical considerations for scale up.
One hallmark of Ushindi is our local implementing partners, who have an extensive history of providing services to victims of SGBV in DRC. In the past five years, Heal Africa has received visitors including U.N. General Secretary Ban Ki-moon, World Bank President Dr. Jim Yong Kim and then-U.S. Secretary of State Hillary Clinton. Panzi Foundation's CEO Dr. Denis Mukwege has been three times nominated for a Nobel Peace Prize for his work to support survivors of SGBV and was listed as one of TIME magazine's 100 most influential people in May 2016. The Program for Promotion of Primary Health Care, or PPSSP, is a small faith-based organization with a commanding presence in North Kivu province, highly effective at community level interventions. Additional partners rounding out the interventions included CARE, Children's Voice, SAVE and the American Bar Association's Rule of Law Initiative.
Key achievements through March 2016:
26,118 individuals have received Ushindi services to date
1,186 clinics in conflict-affected communities are equipped to provide SGBV support
3,700 service providers have been trained to provide SGBV services
$4.2 million | The Global Fund to Fight AIDS, Tuberculosis and Malaria | 2015-2019
With the new Global Fund financing model, IMA World Health implements malaria interventions in 35 health zones in North Kivu (33 health zones) and South Kivu (two health zones) provinces. Through this program, IMA has launched 163 health sites, providing malaria prevention, screening and care to thousands at risk. In fiscal year 2016, 207,688 pregnant women received a long-lasting insecticide-treated net through the system, as well as prenatal consultations and preschool medical screening for children. Out of 1,065,595 patients suspected of malaria, 93 percent of cases were tested in health facilities and community care sites using Rapid Diagnostic Tests or Stained Blood Films.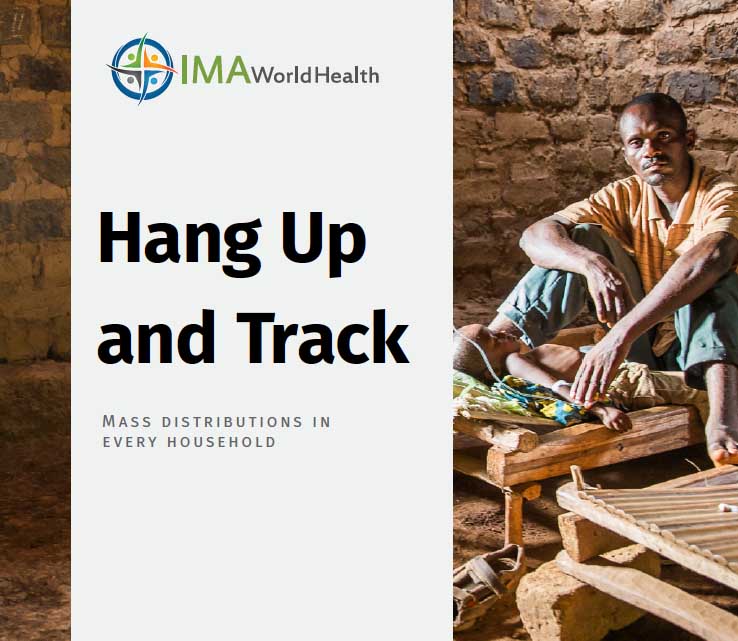 IMA DRC Revolutionizing bed net distributions and taking accountability to another level
IMA is the first organization in the DRC to leverage mobile health technology for mass long-lasting insecticidal nets distribution campaigns. By using the 'Hang Up and Track' strategy, not only is each household pinpointed through GPS, but the entire distribution is aggregated visually.