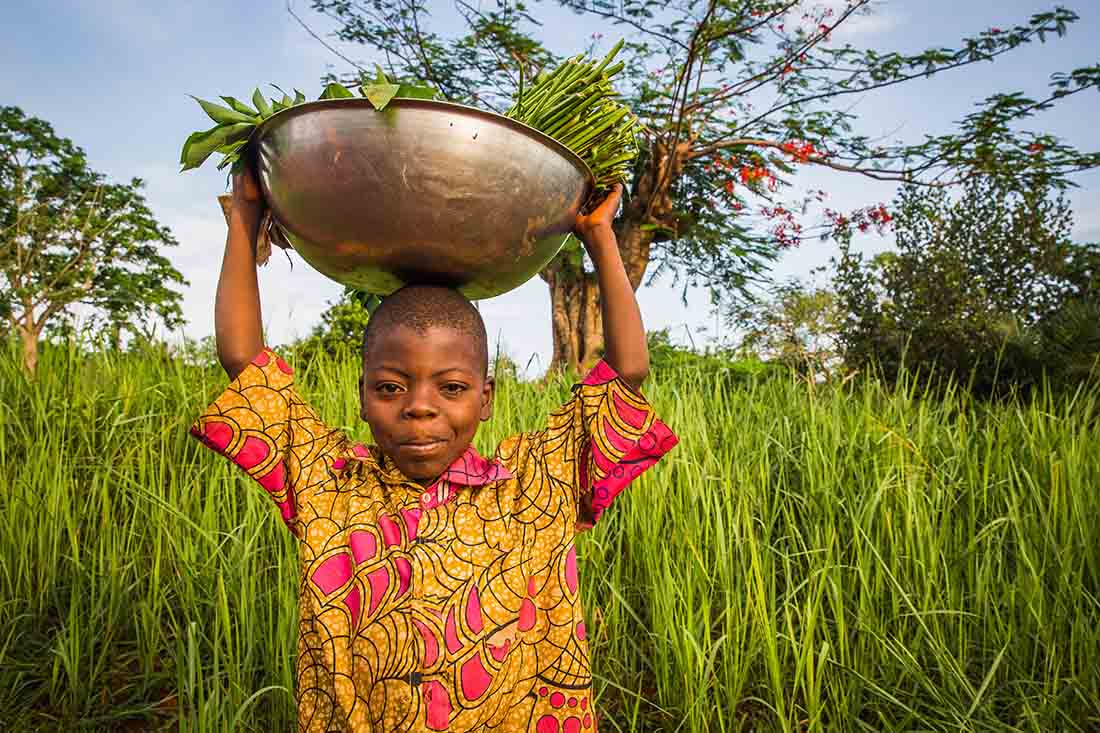 Overview
Since 2000, IMA has worked alongside the Congolese government, donors and an array of local and international partners to revitalize the country's health system, fight diseases and improve the health for a population in desperate need. Such long-term investment in the Democratic Republic of Congo has required resilience, creativity, and an incredible network of staff and partners to navigate successive armed conflicts, political instability, impassable roads and other obstacles that continue to threaten the health and well-being of the population.
Committed to reducing morbidity and mortality in women and children under age 5 by strengthening the national health system in 52 health zones in the Democratic Republic of Congo, the Access to Primary Health Care Project, known locally as ASSP, had an exceptional year in many ways. Despite recent civil unrest and insecurity in central Congo that affected approximately 3.3 million Congolese—entire communities, health center staff, and partners—the achievements demonstrate a significant resiliency of the health care system that is being reinforced through the ASSP project. During project year 4, which ended on March 31, 2017, the project supported over 5 million health facility visits.
After seven years, 2017 was the last full year of implementation for the Ushindi project in the eastern region of the Democratic Republic of Congo. But, because IMA World Health and our partners focused on training local champions, building resilience and facilitating cultural shifts in the villages we served, Ushindi's impact will carry on. "Through Ushindi, we were able to empower communities to address their own issues, and this started to break down the stigma around sexual and gender-based violence and expand our reach," IMA Senior Technical Advisor Mary Linehan said.
IMA is proud to be a part of the team that is changing the narrative and the trajectory of health care in the DRC. Powered by partnership, new technologies are solving stubborn problems, successes are scaling up into widespread solutions and—most importantly—our vision of health, healing, and well-being for all is becoming more of a reality in the DRC every day.
Our Projects
$283 million | DFID | 2013-2018
The Access to Primary Health Care Project, known locally as Accès aux Soins de Santé Primaires or ASSP, aims to strengthen priority interventions such as the treatment of malaria, pneumonia and diarrhea; nutrition; obstetric and neonatal care; family planning; immunization; and water, hygiene and sanitation that are delivered through the health system. ASSP supports an estimated 8,980,238 (almost 9 million) people across 52 health zones in five Provincial Health Divisions (Kasai, Kasai Central, Maniema, Nord-Ubangi, and Tshopo).
$791,547 | USAID | 2015-2019
The ENVISION project, led by RTI International, aims for the control and elimination of four neglected tropical diseases in the DRC: lymphatic filariasis, onchocerciasis, schistosomiasis and soil transmitted helminths. As an implementing partner, IMA conducts annual mass drug administration of three medications among more than 300,000 people in three zones of Maniema Province, with the goal of treating 80 percent of the population. IMA has helped the government to exceed the target of 80 percent coverage for four years in a row.
With valuable experience gleaned from our ASSP project, IMA expanded the activity of data collection by questionnaires completed using smartphones, tailored to the needs of ENVISION. This year, IMA focused collaboration with the Ministry of Health on improving data collection, cleaning, and validation, with over 5,000 individual surveys collected and sent electronically to a central database. Electronic transmission drastically reduces the time it takes to transmit data compared to paper collection, and significantly increases data quality, as surveys can be reviewed and problems identified almost immediately.
$20 million | USAID | 2010-2017
The Ushindi program, which means "to overcome" in Swahili, is a $20 million U.S. Agency for International Development cooperative agreement to implement comprehensive approaches to combat sexual and gender-based violence, or SGBV, in eastern Democratic Republic of Congo. The project worked in 10 health zones and 108 health areas with a target population of 1,592,198.USAID reports show the Ushindi program reached about four times as many survivors as projects with similar funding levels and timeframes. As a result, Ushindi received an 18-month extension in fiscal year 2016 to conduct in-depth research on the project's implementation model and to develop a readily accessible package for USAID to implement high-quality SGBV interventions in new areas. Through this extension phase, IMA piloted this new package, including cognitive processing therapy-based psychotherapy, in three new health zones to present evidence of efficacy and cost and other practical considerations for scale up.
One hallmark of Ushindi is our local implementing partners, who have an extensive history of providing services to victims of SGBV in DRC. The project was managed under the direction of IMA with three local implementing partners: HEAL Africa, Panzi Foundation, and Program for the Promotion of Primary Health Care. To complement implementation by local partners, IMA partnered with four technical partners: American Bar Association Rule of Law Initiative, Save the Children, CARE and Children's Voice. During the second and third phase of the project, technical partners were modified to reflect the current needs. The technical partners for the closing extension phase include three technical partners: American Bar Association Rule of Law Initiative, University of Washington with Johns Hopkins University, and OSC.
$4.2 million | The Global Fund to Fight AIDS, Tuberculosis and Malaria | 2015-2019
IMA World Health implements malaria interventions in 34 health zones in the province of North Kivu. Citing the statistics from January to June 2017, malaria prevention, screening and treatment results have been tremendous, especially given the constraints of security (kidnappings, increased conflict between rebel and government groups, and curtailed access) in North Kivu. IMA has continued to provide malaria prevention, screening and care to thousands at risk in a context where other international NGOs have departed.
The distribution of long-lasting insecticide treated nets has exceeded expectations by 127 percent. During the first six months of 2017, the project reports that 239,102 nets were distributed to pregnant women and children under one year of age. In addition, the percentage of pregnant women receiving the therapeutic course of preventative treatment for malaria realized a 115 percent success rate for two doses and 117 percent for 3 doses.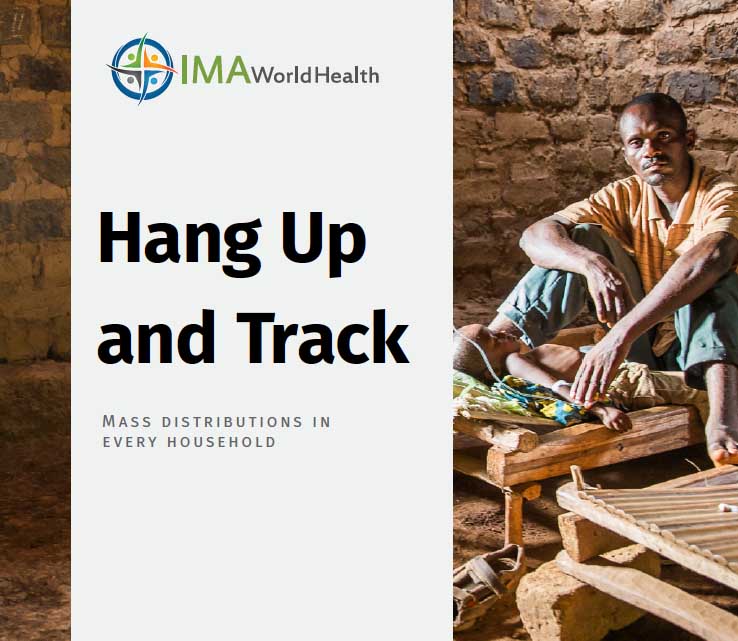 IMA DRC Revolutionizing bed net distributions and taking accountability to another level
IMA is the first organization in the DRC to leverage mobile health technology for mass long-lasting insecticidal nets distribution campaigns. By using the 'Hang Up and Track' strategy, not only is each household pinpointed through GPS, but the entire distribution is aggregated visually.
$1.5 million | USAID Office of U.S. Foreign Disaster Assistance | September 2017-March 2018
In response to the humanitarian crisis in the Kasai and Central Kasai provinces, this project is providing free primary health care services to Internally Displaced Persons and destabilized populations made vulnerable by recent militia and ethnic violence in the conflict-affected provinces where IMA already manages a health-systems strengthening development project.
The first essential component of this project is to make health care free at a time when health needs are increased due to the violence, stress and physical duress that internal refugees are subjected to in repeatedly fleeing their villages. The second component is to provide mobile clinics to bring health care to areas where the local health facility has closed down because of lack of health care personnel as a result of the mounting insecurity or because of destruction of the facility in a very few cases. This project will provide health care to a population of 1,844,000 people. Of that total, the number of targeted internal refugees is 1,309,850.
This project proposes to provide access to free health care for internal refugees and populations affected by violence using the existing health infrastructure that has been under development by the ASSP project in these areas for the last 4 years. Rather than bring in humanitarian organizations to provide free care to the population, IMA proposes a unique approach: provide short-term emergency financial support to a previously increasingly functional national health care delivery system in order to meet the acute needs of the destabilized population affected by the violence in the region. In doing so, this humanitarian response and emergency financial support would contribute to further strengthening the ongoing development work and increasing the system's resilience rather than undermining it by establishing a parallel health service delivery system during this time of dire need.