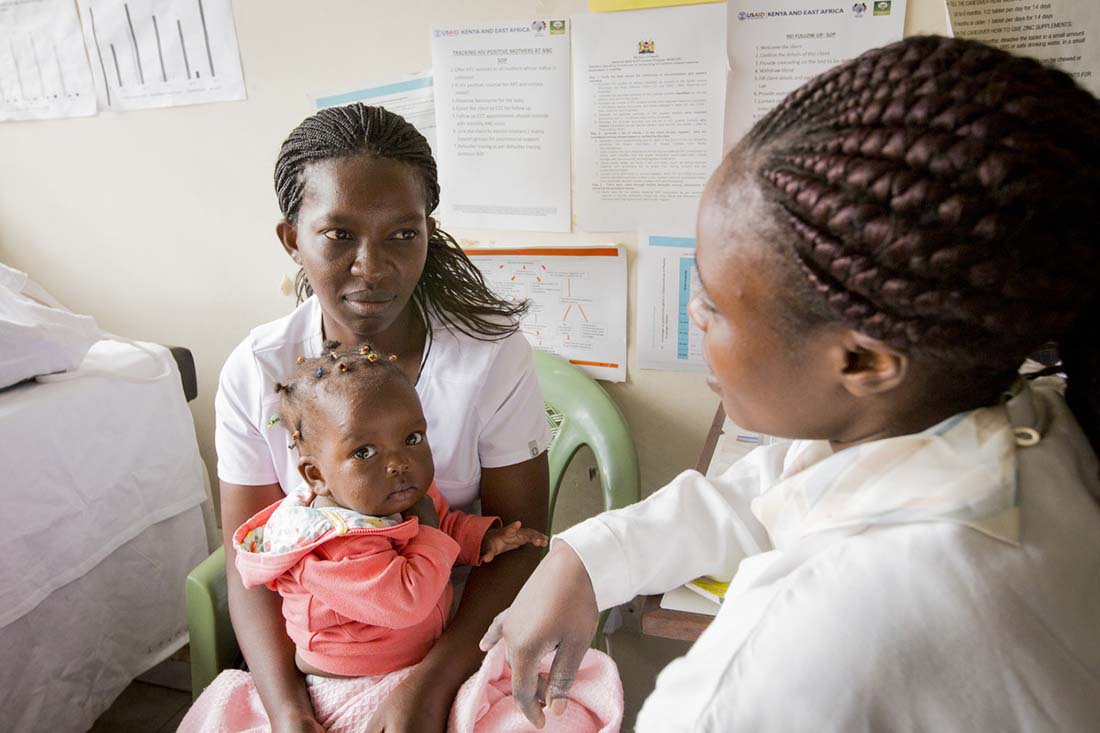 CONTRIBUTING TO AN AIDS-Free Generation
Since 2004, IMA World Health has implemented and strengthened a full range of community- and facility-based interventions to prevent and treat HIV and AIDS in sub-Saharan Africa. IMA addresses HIV and AIDS both through direct disease-specific programming, as well as through integrating interventions into broader primary health care packages. IMA has been a repeated recipient of grants from the President's Emergency Plan for AIDS Relief, the Global Fund to Fight AIDS, Tuberculosis and Malaria, and others.
One of IMA's core approaches is strengthening the capacity of local health facilities to provide testing, care and treatment. This approach includes training health workers and supporting sites to improve and scale up Prevention of Mother-to-Child Transmission, HIV testing and counseling, antiretroviral therapy, and care and support services. The best results come, however, when our clinical work is combined with community-based education and empowerment to encourage prevention and testing.
Currently, IMA provides direct support for HIV and AIDS testing and treatment services in Kenya through the Afya Jijini project, funded by the United States Agency for International Development. In addition to improving facility-based testing and treatment, IMA also supports the Determined, Resilient, Empowered, AIDS-Free, Mentored, and Safe Women, or DREAMS, initiative, which mentors and empowers young women to reduce sexual risk, strengthen families and promote change in community norms to stop the spread of HIV.

Will We See You In Amsterdam?
IMA World Health is heading to the 22nd International AIDS Conference July 23-27 in Amsterdam, and we'd love to see you there!
We will have a number of engagement points, starting with a presentation at the World Council of Churches – Ecumenical Advocacy Alliance pre-conference event, "Faith Building Bridges," Saturday, July 21.
During the conference, we will have two poster presentations, including an oral abstract session from 2:30-4 p.m. Thursday, July 26.
Please also stop by our booth – #233 – to say hello and connect with us!
Our Projects
USAID/Kenya and East Africa Afya Jijini: The USAID/Kenya and East Africa Afya Jijini program works to increase access to and use of quality health services—especially HIV and AIDS testing and treatment services—in Nairobi City County, which has one of the highest HIV burdens in Kenya. Young women participating in the DREAMS component receive access to HIV testing services, reproductive health and family planning counseling, vocational and income diversification training and more to empower healthy choices, resilience and opportunity.
USAID-IMA World Health Counter-Gender Based Violence: As part of the broader USAID-funded response to sexual and gender-based violence in eastern regions of the DRC, IMA provides post-exposure prophylaxis, or PEP kits, to health facilities and trains health workers how to administer them to survivors of rape for HIV prevention.
AIDSFree: In the Maseru and Berea districts of Lesotho, HIV prevalence spikes dramatically after age 19 among adolescent girls and young women—from 4 percent to 25 percent. With funding from USAID, IMA works with partners JSI and EnCompass to implement evidence-based DREAMS interventions to help PEPFAR reach AGYW aged 10 to 24 years. Interventions include increasing condom promotion and provision, strengthening care structures for victims of sexual and gender-based violence, strengthening school-based HIV and violence prevention education and promoting norms change within communities.
In Dedza, Malawi, IMA partners with the Malawi Network of Religious Leaders Living with or Personally Affected by HIV and AIDS, also known as MANERELA+, along with the Christian Health Association of Malawi to improve HIV testing uptake and mother-baby pair retention for PMTCT. Through this partnership, AIDSFree trained and mobilized 20 faith leaders (Christian and Muslim, male and female) as community HIV educators/advocates and developed PMTCT messages that addressed HIV stigma and the importance of HIV counseling and testing for pregnant women.
Cervical Cancer Prevention and Control: Cervical cancer is the deadliest cancer for women in Tanzania, and being HIV positive increases the risk of developing cervical cancer by at least half and hastens onset of the disease by as much as 10 years. Offering low-cost, high-demand cervical cancer screening has proven to be a successful strategy for identifying HIV and AIDS clients and enrolling them into further care. This program, funded by foundations and private donors, offers same-day screening for cervical cancer, HIV and breast cancer at partner facilities in high-risk regions of Tanzania.
Global Fund Technical Assistance Project: IMA provides technical assistance to longtime non-governmental partner SANRU to help improve its financial management, planning, M&E, and supply chain services for HIV programming. SANRU is a Global Fund Principal Recipient of both malaria and HIV/AIDS grants and recognized as one of the few local NGOs managing Global Fund grants of this size. These capacity-building efforts support improved management and implementation of critical health programs nationally.