By Matt Hackworth
IMA World Health 

B
OR, South Sudan – With a stethoscope around his neck, Simon Ateu Chol takes a moment to survey the line of a dozen or so women who have brought their babies for vaccinations at this makeshift clinic under a jacaranda tree.
"Today's not so bad," he says. "When the rainy season comes we'll have 200 people here on average seeking treatment."
Like an approaching storm on a distant horizon, the threat of the rainy season looms large for the people of South Sudan. The rainy and dry seasons are part of this country's natural balance, about the only sure events South Sudan's people can expect following years of war and famine.
A few benches and plastic chairs give patients a place to rest out of the baking sun, which averages 110 degrees during this dry season.
As wind blows sand and dust it's hard to think about the rainy season that begins in late April to early May. Yet the pressure is on now to deliver medicines and supplies before roads and runways become impassable. With the rains come mosquitos and South Sudan's leading killer: malaria.
Malaria expected to rise
The World Health Organization reports South Sudan bears the highest burden of malaria in sub-Saharan Africa.
Nearly 3 out of every 4 people who died in the country in 2017 perished from complications from malaria. This, in a country on the brink of famine and where violence continues to claim lives.
"The cycle of violence directly impacts our ability to stop malaria's spread," IMA World Health Country Director Dr. Mounir Lado said. "When people flee, they have to leave nets, medicines, everything. That allows malaria to continue to spread to communities where those forced to flee might seek refuge. Then the cycle begins again."
With funding from The Global Fund through Population Services International, IMA World Health recently distributed 1 million bed nets treated with insecticide to get an edge on the disease. In the end, around 2 million people will sleep under the nets, protected from mosquitoes.
IMA World Health mobilized volunteers, chartered aircraft, boats and trucks, and leaned on its in-country networks to distribute the nets. A recent WHO assessment put logistical challenges as the leading barrier to protecting South Sudan's people from malaria, no surprise in a country without formal roadways and barely functioning airways. Yet, moving medicines and supplies to clinics in South Sudan's hardest-to-reach areas is a key role IMA provides to the burgeoning country's Ministry of Health.
The phone never stops ringing
As he stands on a baking tarmac, Douglas Juba's cellphone seems permanently glued to his ear.
"What do you mean you can't?" he says to the caller. "Are you going to fly today or not?"
It's one in literally hundreds of exchanges one hears when traveling with Juba, who serves as IMA's director of operations in South Sudan. Juba (who, despite sharing the name with South Sudan's capital city, is actually from Zimbabwe) is waiting to board a flight to Bor, while checking in to see if a different charter flight is available to deliver supplies and pick up two IMA colleagues in another remote area.
With funding from the World Bank, South Sudan's Ministry of Health contracts with IMA to provide access to basic health services, and ensure supplies and medicines are delivered where needed in the Greater Upper Nile and Greater Jonglei regions. IMA relies on a network of charter trucks, boats and aircraft to move medicines and supplies from a central warehouse just outside of Juba to more than 250 facilities. It's a network that serves a population reflecting about 1 in every 4 people in South Sudan.
The warehouse is stocked with medicines to treat the three leading illnesses in South Sudan: diarrhea, malaria and pneumonia, among others. There are also supplies to heal everything from gunshot wounds to basic cuts; latex gloves, bandages … everything one might need to stock a clinic in an unstable, unpredictable environment. Douglas Juba's responsibility is, in part, to make sure more than 200 metric tons of goods move from this warehouse to clinics and hospitals. Most will be delivered to remote airstrips by six chartered aircraft, the most secure and reliable method of delivery.
Even if it's the most reliable way, air deliveries can be challenging here: aircraft do not fly past 5 p.m., as no airports in the country are yet equipped with lights. Even the occasional passing shower, still possible in the dry season, can make dirt airstrips in remote areas too muddy to land or take off.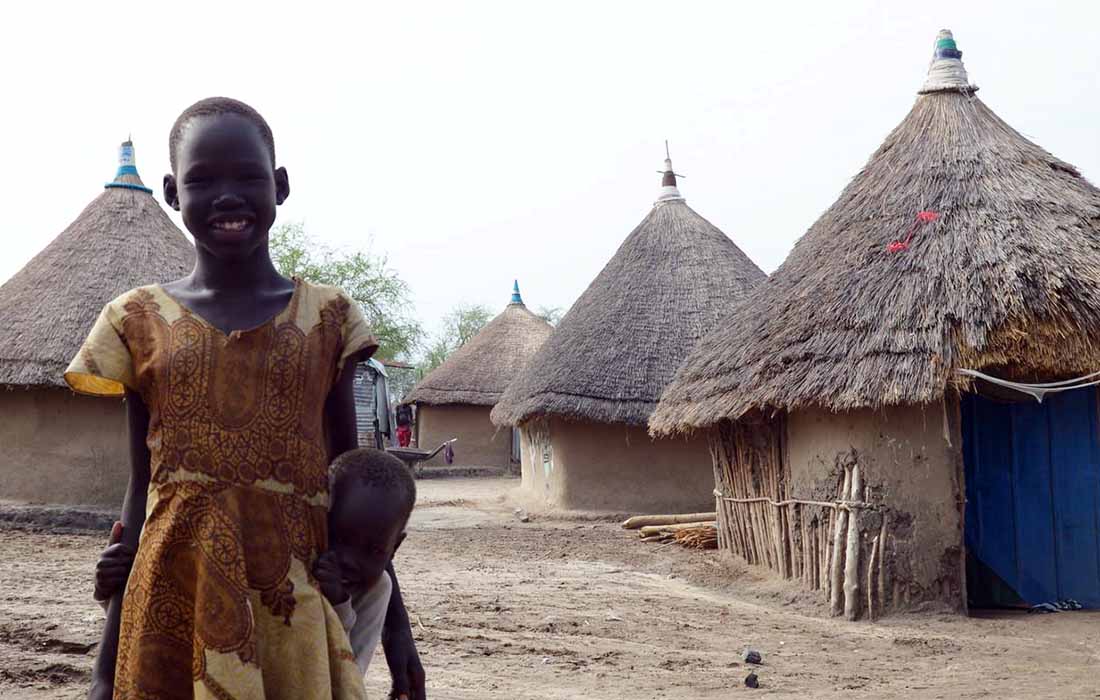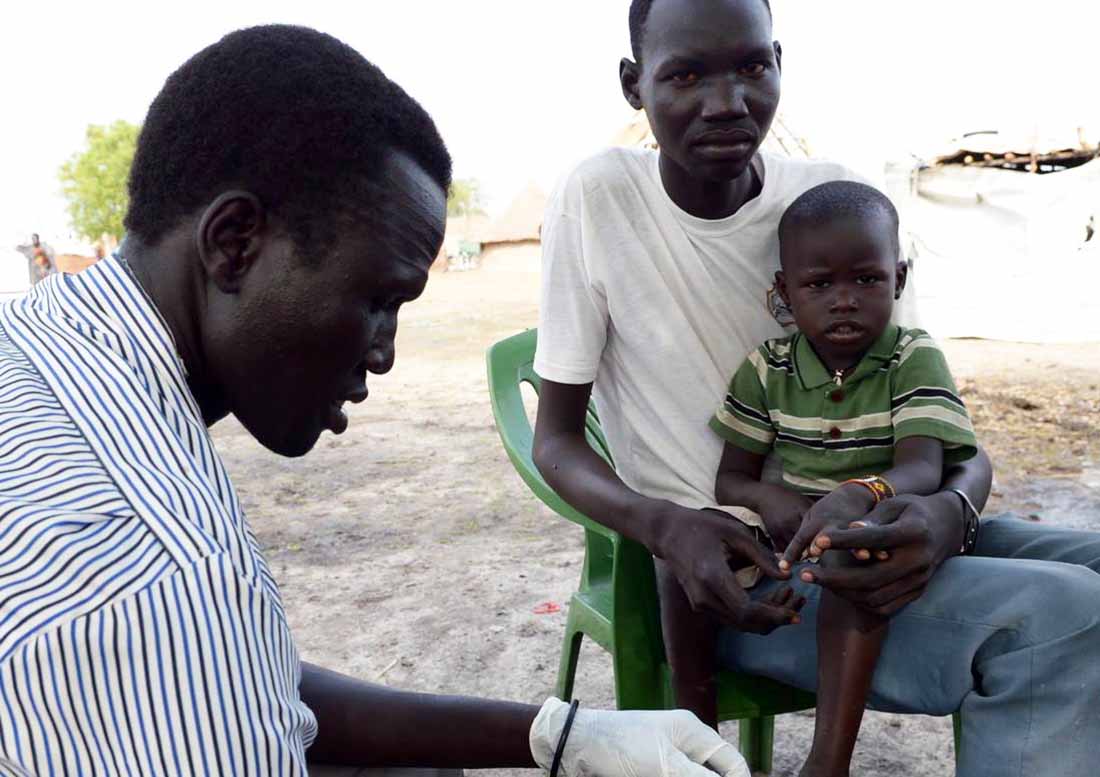 As forklifts and workers sort boxes and take inventory at the warehouse, Juba and his team are lining up the logistics to deliver the goods before the rainy season makes travel nearly impossible. The pressure is on for the IMA logistical team.
Bless the rains, beat the rains
At the Sudan Medical Care clinic in Bor, manager John Ajith Anyieth is a little worried. "The rainy season is coming, and malaria will be responsible for about 90 percent of the deaths we see," he says. "We need the drugs, especially injectable ones."
Anyieth confirms malaria will come back in force once the rains come. He anticipates lines for treatment, where people will queue around the pair of donated cargo containers that serve as the local clinic. Sudan Medical Care is a critical local partner whose clinics are stocked by the Rapid Results Health Project.
Under a nearby shade tree, Juba assures Anyieth the drugs will arrive within two weeks. "The severe cases we treat with IV quinine," he says. "We want to be ready to serve our community. The drugs the Ministry of Health provides through RRHP will save lives."
The free clinics supported by RRHP are the only option for health services for those who flee conflict and end up in one of hundreds of makeshift communities for the displaced. Some, like those Anyieth serves, have an actual structure in which to see patients. Others, like Chol, work under the shade of a tree with a small collection of plastic chairs and benches.
"These people can't return home," he said. "That's why we're working and serving them here."

Founded in 1960, IMA World Health is a global, faith-based nonprofit that works with communities to overcome their public health challenges.