IMA World Health/Matt Hackworth

T
he highly cerebral field of global public health cannot and should not be disconnected from the visceral center of compassion.
The conclusion of a four-member panel that brought together experts in public health and spirituality resonated with an audience at the Rollins School of Public Health at Emory University in Atlanta.
"Compassion is especially prominent in the training and the literature of nursing but what about global health?" asked Dr. David Addiss, MPH, Director of Children Without Worms, as keynote speaker. Addiss has worked in global health for more than 30 years. "You have to listen very hard to hear the word compassion in global health. It's virtually absent in our discourse."
Addiss offered various definitions of compassion, including a sample of the practice in a variety of faith traditions. "Compassion is central not only to global health, it is central to religion, ethics and spirituality."
Of particular note was the concept of caring for one's self in a profession so heavily focused on caring for others, and the idea of balancing the need for data and statistics to guide decision making with the human element.
Dr. Stephen Blount, the Director of Special Health Projects at The Carter Center, quoted a mentor.
"Statistics are patients with the tears washed away," Blount recounted. "It really struck me. We're trained to look at numbers and think about the meaning of the numbers. They can tell us a lot but they can't tell us everything."
It is a phenomenon not lost on young professionals like Lisa Sthreshley, who works for Emory in the School of Medicine's Infectious Diseases Division, as a project coordinator. Her parents, Dr. Larry and Inge Sthreshley, are missionaries with IMA member Presbyterian Church (U.S.A.) in the Democratic Republic of Congo, where she was raised. Dr. Larry Sthreshley serves as a health liaison with the Presbyterian Mission Agency and is seconded to IMA World Health, serving as IMA's Country Director for DRC.
"These are people we're serving, I feel connected to," Sthreshley said. "For me I see Congo, and that's my home. We bring our own values and motivations. It'd be silly to pretend otherwise. We can get separated from the population behind the spreadsheets."
The notion of balancing education about compassion with scientific acumen resonated with the crowd of around 100. Dr. Joseph Njau, the Senior Service Fellow with the Division of Global Migration and Quarantine – National Center for Zoonotic and Emerging Infectious Diseases of the Center for Disease Control and Prevention, spoke of interconnectedness.
"Compassion, faith and health should be complimentary," Njau said. "They shouldn't be a substitute (for one another)."
Home to the U.S. government's CDC, Atlanta is considered a global capital of the public health movement. The Rollins School hosted IMA's spring Board of Directors meeting, of which the panel was a highlight.
IMA Vice President for External Relations, the Rev. Amy Gopp moderated, and thanked, the panel.
"We have brought compassion into this very room tonight, and succeeded in holding the many 'truths' of global health—the numbers and the faces—simultaneously. Thanks to Dr. Addiss' work and words, we have also broken the conspiracy of silence around our own motivations for doing this work and have been reminded that to actively engage in global health, we must first attend to our own health and inner lives."
As a faith-based organization, IMA World Health is committed to serving the health needs of the most vulnerable. But we do so through not only medical interventions and delivery of services, we do so through our compassion. We strive to see the people we serve. The "Compassion and Global Health" panel emphasized the importance of not only what we do, but how we do it.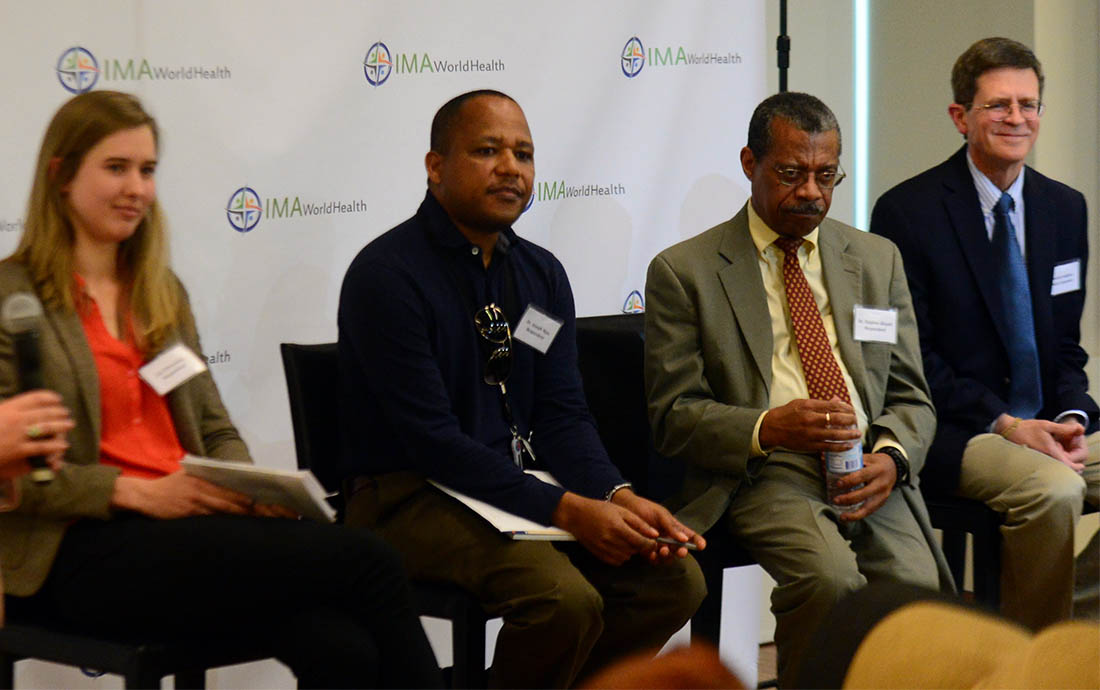 Please support IMA World Health and our efforts to ensure health, healing and well-being for all.  You can make a tangible difference. Donate today.