IMA World Health/Kara Eberle
Louise Bashige has spent 30 years working in areas of gender and justice.
In her role as IMA's Sexual and Gender Based Violence Advisor, she helps empower women, counsel men and strengthen healthy marriages in the Democratic Republic of Congo. She is in charge of designing strategies and capacity building through the ongoing Ushindi Project.
And it is for her inspirational work on the frontlines of addressing SGBV in one of the most challenging places on Earth that she was named a finalist for the Coventry International Prize for Peace and Reconciliation.
The prize is aimed at world-wide grassroots projects and local communities, according to a news release. "All the finalists are an inspiration to anyone committed to peace and the eradication of war," the Right Rev. Dr. Christopher Cocksworth, Bishop of Coventry stated in the release.
On Nov. 3, Thérèse Mapenzi from the DR Congo was announced as the winner of Coventry Peace Prize 2014, and we congratulate her on this honor.
Louise, who spends much of her time in the field, spared a few moments to share her thoughts about being a finalist for such a prestigious award. We're sharing her responses in French for our global audience. English translations were made with the help of Google Translate.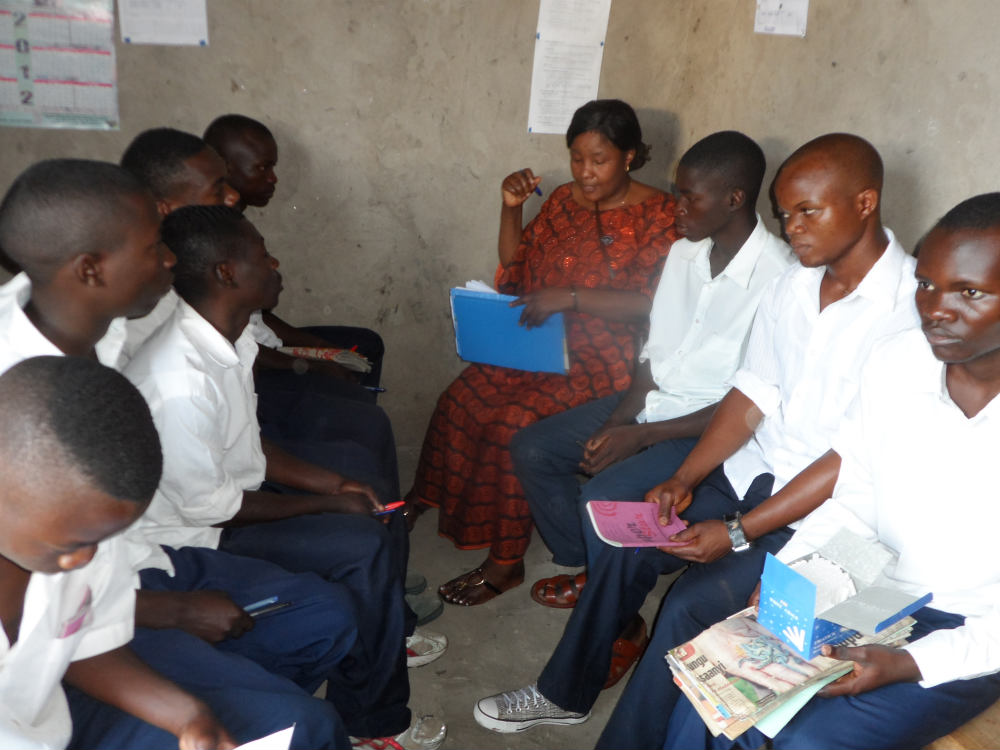 Q: How does it feel to be a finalist?
A: Premièrement c'est une grâce exceptionnelle de Dieu, ensuite ceci témoigne la capacité et la compétence dans  le domaine dans lequel on évolue enfin c'est une fierté de l'organisation dans laquelle le candidat évolue.
(English translation: Firstly it is an exceptional grace from God, then this demonstrates the capacity and competence in the field in which I am working. Finally, this is a pride of the organization in which I am operating.) She added: Je me sens heureux et fier de cette grâce exceptionnelle. (Translation: I feel glad and proud for this exceptional grace.)
Q: Could you talk about your participation in the Global Summit to End Sexual Violence in June and how your work in Ushindi impressed the Coventry judging panel?
A: Ma participation au sommet mondial pour mettre fin aux violences sexuelles au mois de Juin 2014 à Londres a été une occasion pour moi de parler de l'implication des organisations et des confessions religieuses  dans la lutte contre les violences basées sur le genre. Je pense que le jury Conventry était impressionné par le travail du projet USHINDI par le fait que les leaders religieux formés par le projet sont beaucoup plus impliqués non seulement dans la prévention par les messages de lutte contre les violences sexuelles qui sont vulgarisés dans leurs assemblées mais aussi dans les réponses  psychosociales aux victimes des violences sexuelles.
(English translation: My participation in the Global Summit to end sexual violence in June 2014 in London was an opportunity for me to talk about the involvement of organizations and religious denominations in the fight against gender based violence. I think the Coventry jury  was impressed by the work of Ushindi on how religious leaders trained by Ushindi are much more involved, not only in the prevention using the messages of struggle against sexual violence that are disseminated in their assemblies but also in psychosocial responses to victims of sexual violence.)
About Louise
She is IMA World Health's SGBV Technical Advisor in the DRC dealing with a holistic SGBV Project approach (medical, psychosocial, legal, socio-economical reinsertion and community mobilization). She has a UD in Public Health and Health Promotion from the School of Public Health of Nancy in France and a degree in financial and administrative studies in DRC.
About Coventry International Prize for Peace and Reconciliation
The prize rewards and encourages creative and courageous peace builders around the world, according to a news release. It honors initiatives, organizations, individuals or projects that have made an exemplary contribution to working for peace and reconciliation or in campaigns for social and environmental well-being.
Ushindi is a Swahili word for "victory" or "to overcome." Funded by USAID and led by IMA, the project integrates medical, legal, psychosocial counseling and economic support services for survivors and those affected by sexual and gender based violence in the Democratic Republic of Congo.