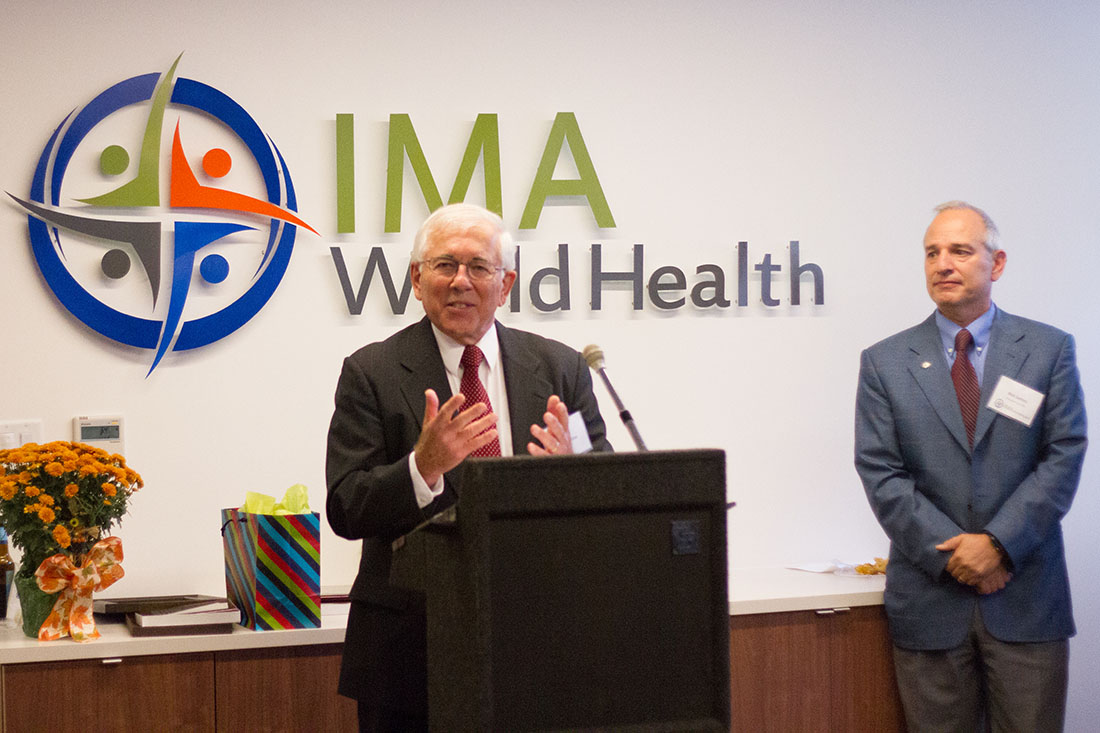 When the Rev. Dr. Rodney Page blessed IMA World Health's new office space on Oct. 3, he called it a little piece of heaven.
"There is, right here, in this room, a little bit of heaven on Earth," he said. "From this place, there emanates justice, compassion, kindness, generosity, the world over."
He spoke in front of nearly 100 staff members, colleagues and longtime supporters gathered in the conference room of Suite 1100 at 1730 M St., NW, Washington, D.C., which is IMA's new headquarters. During the Open House—held between the annual Members meeting and fall Board of Directors meeting—IMA's leaders also took a moment to commemorate spaces as a tribute to special people in the agency's nearly 60-year history.
The conference room where everyone gathered was officially named in honor of Paul Derstine, who once led IMA and helped it grow into the organization it is today.
"Paul Derstine led IMA through a profound season of change as executive director and later president. Never losing sight of the potential for IMA to serve, Paul used incomparable vision in leading IMA to broaden its mission," President and CEO Rick Santos said. "We hope the work herein will be influenced by his spirit of service and passion to serve a world in need."
Derstine, who attended the event, said he was moved by the gesture. "It's been a blessing to be a part of this organization through the years," he said to the crowd. "Now I'm at a time where I have to step back and see it through the eyes and activities that all of you are carrying forward."
A different conference room was named after Bertha "Bert" Marker, who is credited with the idea that was the foundation for IMA World Health. Marker passed away several years ago, but her granddaughters, Stacy Marker Ruble and Dawn Marker Waterkeyn, were able to attend to accept the honor in her memory.
IMA made the move to Suite 1100 as part of its continued growth. During its 56 years in operation, IMA has grown from just a handful of employees to more than 200 people working in offices in Tanzania, Haiti, the Democratic Republic of Congo, South Sudan, and most recently in Indonesia and Kenya. Those field offices are supported by personnel in Washington, D.C.