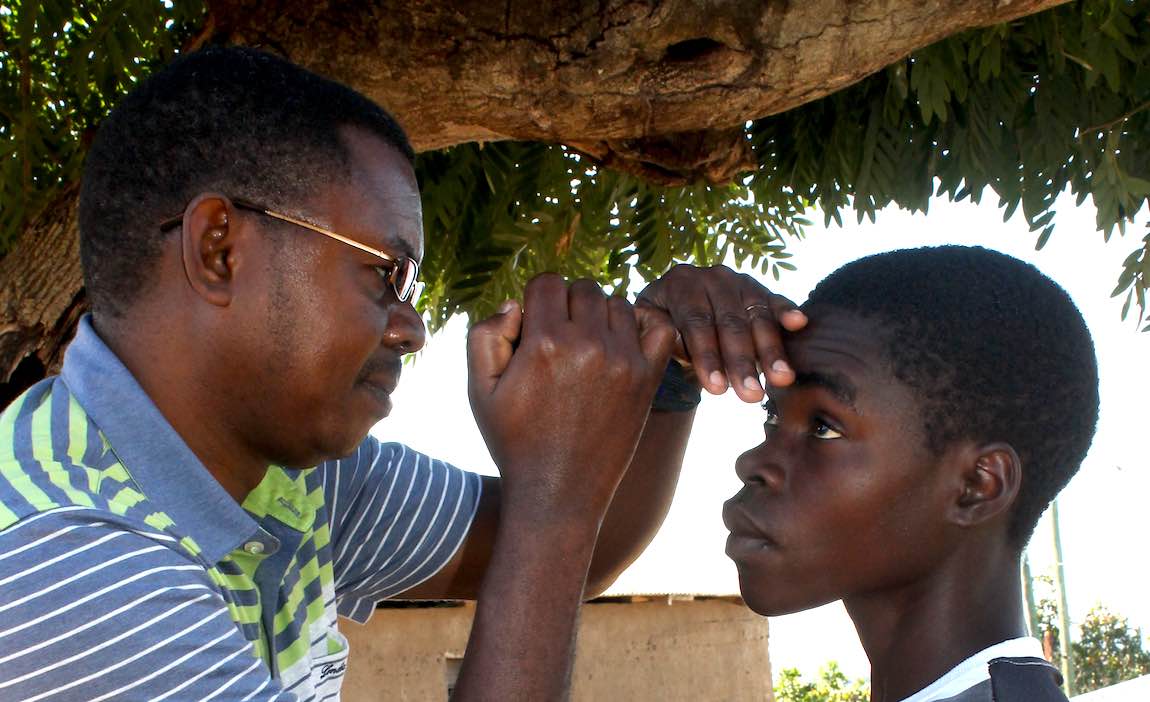 By Emily Esworthy/IMA World Health
Fadhili Ally Likunte, 17, joins the crowd gathered in the shade of a tree in the rural village of Kihamba in Tanzania's Mtwara region. Today IMA World Health and a team of eye surgeons will look into dozens of eyes, including Fadhili's. They're looking for the telltale sign of trachomatous trichiasis or TT: eyelashes that turn inward and scrape the surface of the eye with every blink.
TT is the result of trachoma, the world's leading cause of infectious blindness. Over time, following severe or multiple trachoma infections, TT can develop and cause extreme pain, tearing and eventual blindness.
For weeks leading up to the screening day, a community case finder—a local volunteer whom IMA trained to recognize TT—went door-to-door throughout Kihamba and its outskirts. He talked to people and looked in their eyes, urging those with symptoms to come to the screening. Fadhili, his eyes stinging, itching and constantly tearing, was among the several dozen people who came, some using canes or led by family members, hoping for answers and treatments for the various causes of pain, redness and loss of vision they experienced.
On the day of the screening, about a dozen people from two villages were diagnosed with TT—and thanks to a grant from the U.K.'s Department for International Development, known as the SAFE Program, IMA transported them to the health center that day to undergo surgery to save their vision.
But Fadhili was not diagnosed with TT. His symptoms were from severe allergic conjunctivitis—an easily treatable allergic reaction. Before today, Fadhili would have gone home disappointed and untreated, since funding from the SAFE Program funds is reserved exclusively for TT patients. Fortunately, IMA was able to give him the medicated eye drops he needed thanks to a new grant from Week of Compassion.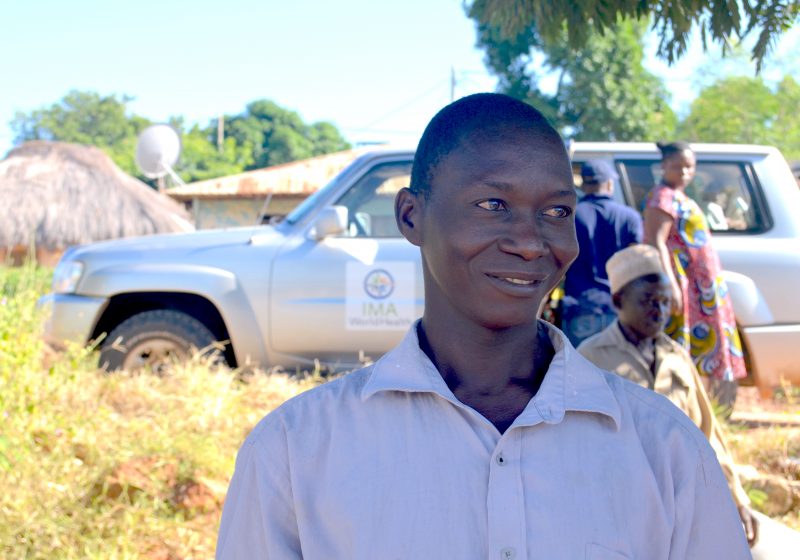 A need for expanded services
Since 2015, IMA has been overwhelmed by the demand for expanded eye care in the areas we serve through the SAFE Program. To date, IMA has diagnosed more than 8,000 people with eye complications like glaucoma, dry eye syndrome, corneal ulcer, cataracts and other chronic eye conditions. While IMA gave these patients referral notes to seek medical attention somewhere else, the majority could not access the treatment because they had no money to buy the medicine or pay for the bus fare to reach the referral health facility. As a result, almost everyone went without treatment. The visual disabilities and inability to work that result from a lack of treatment keep people, especially women, in poverty.
Thanks to Week of Compassion, IMA is now able to leverage our work through the SAFE Program to provide treatment to many people suffering from these other eye conditions, with the goal of serving approximately 3,000 individuals like Fadhili over the next six months. IMA staff now carry the essential medicines and eye drops with them during screenings so they can work with the local health workers to provide treatment and instructions on the spot, saving our patients time, money and a trip to the pharmacy.
Since IMA started to provide these services, staff have recorded increased patient satisfaction with the SAFE Program.
"This grant fills a large gap in service for those suffering from many conditions, of which some might be risking their eyesight, like glaucoma," says IMA Program Manager Alex Msumanje. "Now several thousand people will no longer have to go home disappointed and without hope after our eye screenings. Further, I believe the additional service could attract more people from the area who are in need of eye care services, and thus create an opportunity for the surgeon to screen and identify more TT cases from the crowd."
We are deeply grateful to Week of Compassion for their continued support of our vision of health, healing and well-being for all.

Founded in 1960, IMA World Health is a global, faith-based nonprofit that works with communities to overcome their public health challenges.