IMA World Health/ Emily Esworthy
What does it take to support health care for more than 8 million people? For starters,stuff. Lots and lots of stuff: syringes, malaria nets, drugs to treat HIV and tuberculosis, surgical tables, vaccines, condoms, IMA Safe Motherhood Kits™, and even vehicles.
In 2013, IMA World Health brought $7 million worth of health care essentials like drugs, medical supplies, and equipment into the Democratic Republic of Congo with the help of Services Air, a cargo airline service IMA has worked with for the better part of a decade—in addition to $2 million worth of supplies purchased locally.
This year promises to be even bigger. IMA is gaining momentum on the large-scale "Access to Primary Health Care" Project (ASSP), funded by UK Aid, which launched in 2013 with the goal of improving reproductive, maternal, neonatal and child health in select regions covering more than 10% of health zones in the Congo. A key part of this project is ensuring that hospitals and health clinics, especially in rural areas, have the equipment and supplies they need to provide quality, basic health care for patients.
As the ASSP Project ramps up, IMA is clearing one container of critical supplies after another—often averaging about one 40-foot container a day. In January, the ASSP team cleared eight containers in a single week, working at all hours of the day and night to ensure each item was safely accounted for. And thanks to long-term relationships and experience with the customs process, it has been taking the ASSP team an average of just 25 days to clear the shipments—far faster than the local average—allowing them to send the supplies to their destinations throughout the Congo in record time.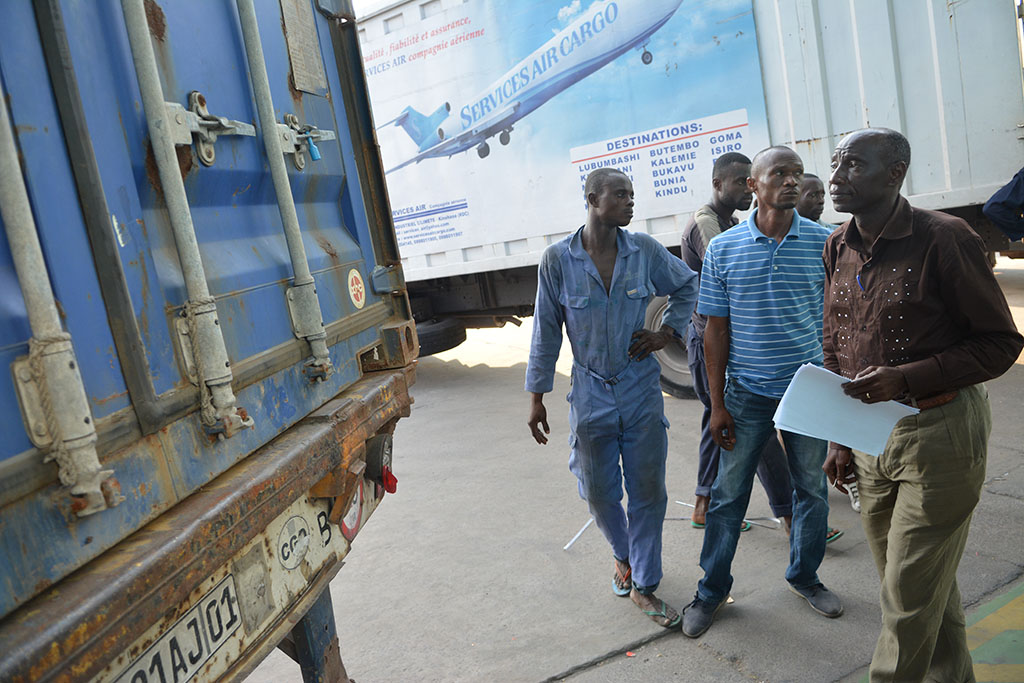 Today the project is receiving a load of glucose to be used in IV drips for hydration and nutrition. John Fumana, Logistics Officer for IMA World Health, carefully checks that the numbers printed on the container's seal match those in his records—ensuring that the container and its contents have remained uncompromised throughout the journey. After John confirms the match, the Services Air crew breaks the seal with a hammer and starts unpacking the load.
The container is packed full, in an impressively efficient use of space; there is barely enough room to wiggle the first box free. The crew of 10 men finds its rhythm and works quickly, passing each box down the line and stacking them on pallets for easy transport inside the Services Air warehouse. Here they'll be stored until the ASSP team divides them up for distribution throughout the Congo – a solar system here, a birthing table there – in another feat of logistics that must overcome the accessibility challenges in some of the most remote areas. One detail that helps: IMA color codes the boxes based on where they need to be shipped, which means they can sort the shipments as they arrive and have most of them on their way to their destinations within 48 hours.
While this busy stream of shipments may ebb over the next four years as the ASSP project advances, these critical supplies are helping to build a solid foundation on which quality health care can grow. Meanwhile, IMA and our partners will be working alongside the Ministry of Health and other local health leaders to strengthen the health system and ensure the supply of quality, basic health care never runs out.
---
The Projet d'Accès aux Soins de Santé Primaire, or the Access to Primary Health Care Project (ASSP) is a 5-year, £182.9 million (US $304.5 million) project funded by UK Aid. The ASSP project seeks to improve primary health care in 56 health zones in five provinces of the Democratic Republic of Congo – Kasaï Occidental, Maniema, Equateur, Oriental and South Kivu – for a population of 8.3 million people. IMA World Health leads the consortium of implementing partners including SANRU, CARITAS, World Vision and IRC, with technical assistance from Tulane University (in collaboration with the University of Kinshasa School of Public Health), Pathfinder, HISP, and IntraHealth.