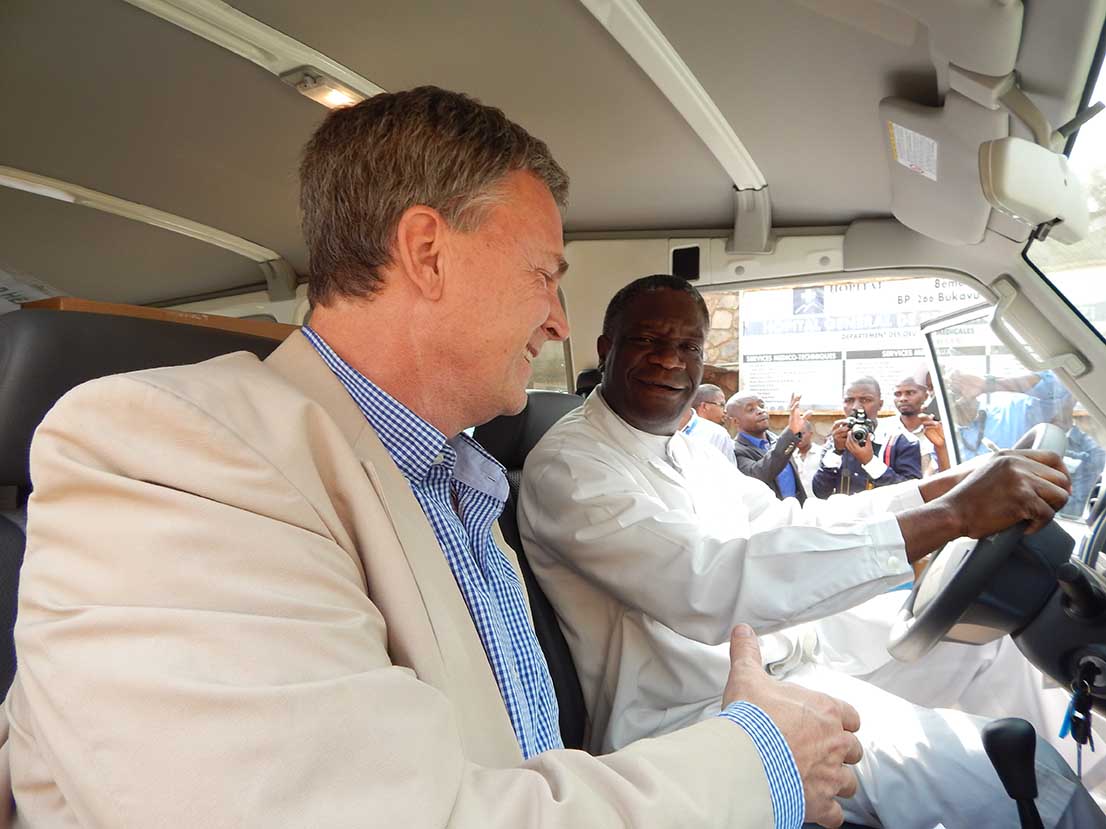 Oct. 5, 2018
FOR IMMEDIATE RELEASE
Contact: Matthew Hackworth: +1.202.417.5883, matthackworth@imaworldhealth.org
Key IMA partner, Dr. Denis Mukwege, co-awarded Nobel Peace Prize
WASHINGTON, D.C. – Longtime activist, champion of women's rights and IMA World Health partner Dr. Denis Mukwege has been co-awarded the Nobel Peace Prize.
"Dr. Mukwege's incredible work with survivors of sexual and gender-based violence in the Democratic Republic of the Congo inspires me, and many of us," IMA President and CEO Rick Santos said. "We are honored to call him and Panzi Hospital a partner in the effort to eradicate SGBV in a place where it is so pervasive."
IMA has worked to address violence against women in the eastern DRC starting with the USAID-funded Ushindi Project in 2010. Ushindi means "to overcome" in Swahili. The goal of that groundbreaking program was to bring holistic solutions to SGBV, providing immediate, emergency help following a crisis as well as long-term, psycho-social and economic support.
Mukwege's Panzi Hospital was a key IMA partner in the Ushindi project and remains one in the project's new iteration, called the USAID-IMA World Health Counter-Gender Based Violence Program.
"I am so pleased at this honor and recognition of our colleague and friend, Dr. Mukwege," Dr. Bill Clemmer said. Clemmer has been a longtime Chief of Party for IMA's effort and knows Mukwege well. "Dr. Mukwege and Panzi Hospital have helped support thousands of survivors in a place where rape and abuse are far too common, and often used as a weapon of war."
Mukwege joined Iraqi Yazidi rape survivor and activist Nadia Murad in accepting the prize.
IMA World Health is a faith-based nonprofit that helps developing communities to overcome their public health challenges. Founded in 1960, IMA World Health helps communities to overcome sexual and gender-based violence, strengthen health systems, have access to basic health services, prevent and treat disease and promote healthy behavior.
About Dr. Denis Mukwege
Denis Mukwege Mukengere is the founder and medical director of Panzi Hospital in the Democratic Republic of Congo. As a young child, Dr. Mukwege accompanied his father, a Pentecostal pastor, while visiting sick members of the community. This later inspired him to become a doctor. The Swedish Pentecostal mission helped support him in his medical studies. He decided to specialize in gynecology and obstetrics after observing that female patients at Lemera Hospital suffered from insufficient medical care, which caused complications during their deliveries.
Amid the war in eastern DRC, in 1998, he initiated the construction of Panzi Hospital in Bukavu. The hospital has become known worldwide for the treatment of survivors of sexual violence and women with severe gynecological problems. Dr. Denis Mukwege has been the recipient of numerous awards and accolades and in 2009 was named African of the Year.
Dr. Mukwege is a tireless advocate for the rights of women in DRC. He has addressed the United Nations General Assembly on the matter and regularly travels abroad raising awareness of the situation in Eastern DRC.

Founded in 1960, IMA World Health is a global, faith-based nonprofit that works with communities to overcome their public health challenges.