Leadership Team
Matt Hackworth, Senior Director, External Relations
Matthew Hackworth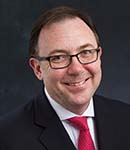 Matt Hackworth is Senior Director of External Relations. He is a veteran of the relief and development field, working extensively in Pakistan, Thailand, Indonesia, Vietnam, Serbia, Kenya, Tanzania and other locales.
A contributor to Help and Hope: Disaster Preparedness and Response Tools for Congregations, he previously served as director of marketing and communications for Church World Service. Matt spent 13 years as a journalist, primarily producing stories for National Public Radio and its member stations across the U.S. His work has appeared on NPR's Morning Edition, All Things Considered, American Public Media's Marketplace, Voice of America and numerous other outlets.
Matt is a candidate for ordained ministry in the PC(USA) and pursuing a master's of divinity from Chicago Theological Seminary. He has attended graduate course work in media studies at Syracuse University and is a graduate of Virginia Tech.
Mary Linehan, Senior Quality Improvement Director
Mary Linehan
Mary Linehan is the Senior Quality Improvement Director.
Sara Melillo, Senior Director, Business Development
Sara Melillo
Sara Melillo is Senior Director, Business Development. Sara began her career in journalism in South Africa before pivoting to global health work. In her role at IMA today, she leads the business development efforts for the organization, ensuring the quality of new program design and proposal development. Sara recently re-located from IMA's Kenya office, where she provided regional leadership in program implementation and business development.
Sara offers technical expertise across a number of health technical areas, including HIV/AIDS, malaria, maternal and child health, and non-communicable diseases. She is an experienced and successful proposal lead and writer, having personally written more than $400 million in winning proposals for bilateral, multi-lateral, and private foundation donors. Prior to joining IMA, Sara worked as an independent consultant and held positions in global health and development with Creative Associates International, CMMB, and Solidarity Center. She also worked in grant making with the McCormick Foundation in Chicago, IL.
Sara holds a Bachelor's of Science degree in Journalism from Northwestern University and a Master's Degree in Public Health from Tulane University School of Public Health and Tropical Medicine.
Jose Ochoa, Director of International Finance
Jose Ochoa
Jose Ochoa is Director of International Finance and brings more than 10 years of experience in strategic financial planning and analysis on an international scale.
Jose came to IMA from Rainforest Alliance, where he was the finance manager for Africa and Asia Pacific. Prior to that, he served as a Financial Manager for Financial Planning and Analysis and other roles at Pact Inc., In these roles, he oversaw and contributed to financial reporting and successfully improved the financial visibility of the organization at all levels.
Jose earned his master's of commerce majoring in finance and logistics from RMIT University Melbourne in Australia in addition to his bachelor's degree in industrial engineering from Pontificia Universidad Javeriana in Colombia.
Scott Torres, Senior Director, Programs
Scott Torres
Scott Torres has more than 13 years of experience in numerous countries in Asia, Africa, and Latin America and is a highly accomplished leader in designing, managing, monitoring, and evaluating international health and development projects.
Scott's diverse leadership roles have included working for and with such organizations as the U.S. Agency for International Development, RTI International, the U.K. Department for International Development, the Millennium Challenge Corporation,  the U.S. President's Malaria Initiative, the World Health Organization, National Institutes of Health, the U.S. Centers for Disease Control and Prevention, and the World Bank.
Nino Willsea, Senior Director of Contracts and Grants
Nino Willsea
Nino Willsea is Senior Director of Contracts, Grants, Compliance and Procurement. She brings more than 20 years of experience in international development and more than 10 years of experience in Award, Grants and Contracts Management and Compliance, as well as policy development and implementation, proposal development, budget planning and oversight, team leadership, compliance, and regulatory oversight.
Prior to IMA, Nino was the director of Awards Management and Compliance Unit, Policy and International Contracting at Management Sciences for Health. She also worked in the United States Agency for International Development, Office of Acquisition and Assistance as lead contracts/agreement specialist.
Nino holds a bachelor's degree from Tbilisi Technical University in Tbilisi, Georgia. She also earned relevant certificates from the Federal Acquisition Institute and USAID University.