When Lavender Atienos' tiny miracle twins were born at 24 weeks in May 2020, they weighed below 1.6 kilograms. To save their lives, baby Eden Havard and Jesus Navas were rushed to a hospital 10 kilometers away.
However, because the birth had taken place at home, they could not be put onto a ventilator and were sent back home. Lavender was devastated – she had just given birth under very stressful circumstances, and she did not expect to be sent home with her preterm babies. She felt helpless. One of her twins' heart kept stopping, and he wasn't expected to live.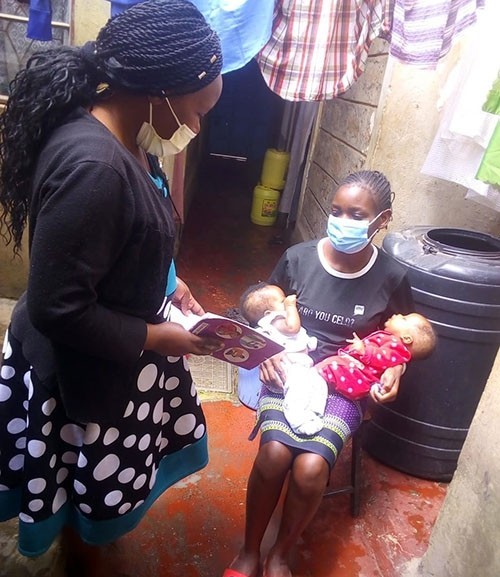 Fortunately, a Kangaroo Mother Care (KMC) champion trained by Afya Jijini introduced Lavender to the benefits of KMC. Three months later, Lavender's story has a happy ending. "I put the babies close to me on my chest all the time," she said. "My goal was to ensure that the babies added weight. They are now more than 2.8kgs each, and I am delighted. They are my miracle babies."
Prematurity is a leading cause of neonatal mortality in Kenya. Approximately 200,000 babies in Kenya are born too soon, and more than 15,000 die each year. The health workforce shortage in Nairobi, coupled with limited skills and lack of infrastructure, including appropriate equipment, commodities, and space, poses a problem for managing preterm births. At many clinics, even when the equipment is available, it is often inadequate and poorly maintained. KMC involves continuous skin-to-skin contact between mother and baby and has been shown to decrease mortality and morbidity in preterm and low birth weight infants by providing protection from infection, regulating temperature, breathing, and brain activity, encouraging the mother, and promoting bonding, which increases the likelihood of survival.
Implementing kangaroo mother care in a high-burden county
In Nairobi County, USAID is supporting Afya Jijini to roll out this low cost, high impact intervention in four high-volume health facilities:  Mbagathi Hospital, St. Marys Mission Hospital, Pumwani Maternity Hospital, and Mama Lucy Kibaki Hospital. Before this support, hospitals lacked resources to care for premature babies and would discharge infants weighing 800g or below — sending them home without the vital care they needed to survive.
To address this, Afya Jijini set up KMC units and provided training and mentorship on the KMC technique to 176 health workers. To date, a total of 1,245 premature babies have been nursed with KMC, and the neonatal mortality rate has dropped at the facilities using KMC. The lessons from Nairobi County have informed the development of training materials, clinical guidelines, and reporting tools and spurred momentum for national scaling up of KMC as part of the county's efforts to increase access to quality health services for mothers and children. At the county level, USAID Afya Jijini has supported the Ministry of Health in developing KMC operational guidelines and policy review — so that more mothers like Lavender Atieno across Nairobi County can celebrate happy endings thanks to KMC.