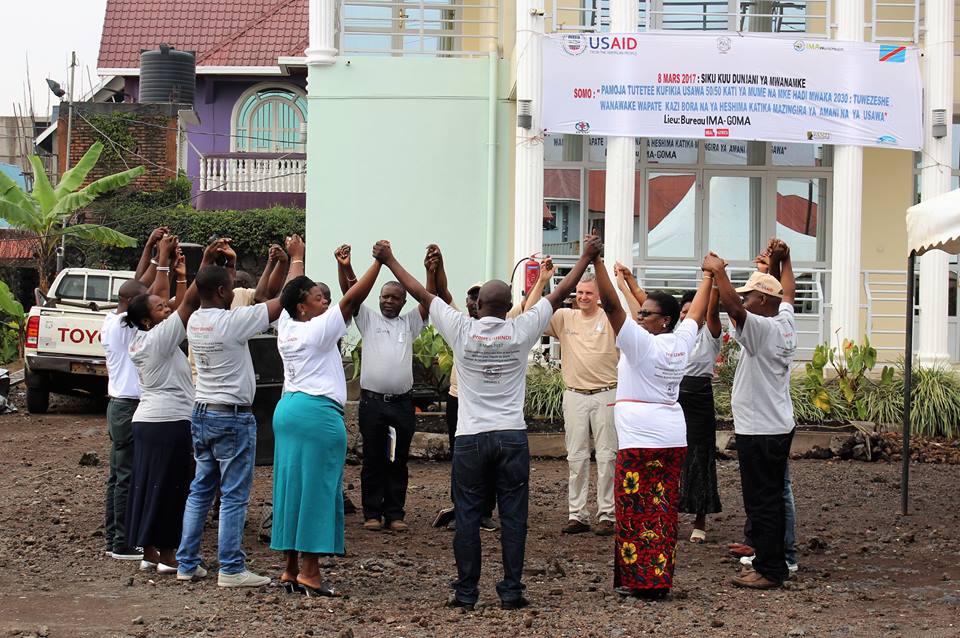 Story and photos by IMA World Health staff

I
nternational Women's Day, celebrated March 8 each year, is a global day celebrating the social, economic, cultural and political achievements of women. The day also marks a call to action for accelerating gender parity.
In the Democratic Republic of Congo, where IMA World Health manages the Ushindi Project, International Women's Day is such an important event that this year we stretched celebrations and behavior change communication activities across two days to make the most of educational opportunities. 
Funded by the U.S. Agency for International Development, Ushindi takes a holistic approach to addressing sexual and gender-based violence in the eastern region of the DRC.
Day 1
To kick off activities, the Ushindi team gathered people in the city of Goma for several rounds of "Vrai ou Faux"—a true or false game about gender stereotypes. Ushindi staff also facilitated discussions on equality under the law, and they invited a local theater group to perform four sketches about positive masculinity, the importance of sending girls to school and how to respect women.
About 30 minutes into the event, rain poured on the festivities, but that didn't stop organizers from reaching more than 150 people—including about 20 moto drivers, who crowded around the gates with their motorcycles to listen to the messages.
Alice Mudekereza, Technical Advisor for Ushindi, served as the emcee and brought the crowd to rousing applause as she declared the importance of the day.
"We are not here to demand flowers. We are not here to demand candies, a party, or even a day off. We are here to demand our equal rights."
-Alice Mudekereza
Day 2
The second day drew more crowds with a parade around several of the major markets in the Karisimbi commune of Goma. The Ushindi team hired a float to travel from market to market, carrying a local comedian to warm up the spectators. Using roaming mics and speakers mounted to the float, staff from IMA and implementing partner PPSSP interviewed community members and shared key messages about women's rights and equality.
Later in the afternoon, Ushindi hosted a time of formal dialog and reflection for community leaders at the Karisimbi Safe House. They invited leaders from Ushindi's 12 community-led activist groups, called Noyau Communautaire, along with the Chefs de Quarter or neighborhood chiefs (with 9 out of 11 attending), about 30 youth club leaders and even the mayor, to learn about and discuss key issues affecting women and girls with the goal of reducing violence and increasing equality and opportunity.