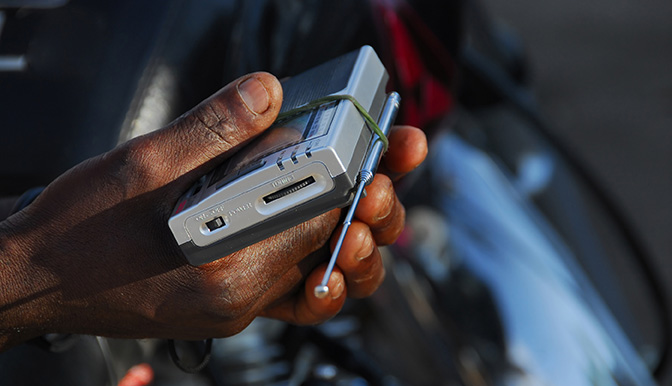 A
s the United Nations Educational, Scientific and Cultural Organization, or UNESCO, commemorates World Radio Day, we take the opportunity to celebrate how IMA World Health uses radio to achieve its vision of health, healing and well-being for all.
In many rural parts of the world, terrestrial radio continues to be the most accessible form of mass media. Its ability to reach and educate communities in remote locations is incredibly important for any behavior change campaigns.
IMA World Health integrates radio in two ways.
Democratic Republic of Congo
Ushindi, which means "we overcome" in Swahili, is one of the two programs that benefit from the use of radio. The program takes a holistic approach to addressing sexual and gender-based violence, or SGBV, in the Eastern region of the Democratic Republic of Congo, or DRC. It does this through increasing access to timely and quality services for survivors as well as individuals and communities affected by SGBV, and by reducing the vulnerability of individuals to future acts of abuse and violence.
Through a radio program called "Sauti ya USHINDI" (The Voice of USHINDI), we are reaching hundreds of thousands of people thanks to the Rwenzori Voice Radio. The station broadcasts educational messages to people through this radio program in order to discourage SGBV throughout the region, and since radio is the primary form of mass communication in this part of the Congo, Sauti ya USHINDI has a rapt audience.
Indonesia
For the National Nutrition Communications Campaign, or NNCC, which aims to reduce childhood stunting in Indonesia, radio is an integral part of the campaign that has already touched over 30 million people. The team uses radio talk shows to educate communities about stunting and nutrition; to encourage community leaders to take action and to give these leaders a platform to educate the public about their stunting reduction programs. So far, the campaign has made tremendous progress in advocating for the implementation of district plans on stunting in the Landak, Kapuas and Sumatera Selatan districts. These plans help gain commitment from district government counterparts and identify areas where stakeholders can contribute.
To date, the campaign has conducted 16 radio talk shows in the three aforementioned districts. The NNCC is currently planning to scale up its use of radio in eight new districts, as well as at the national level, to further strengthen the overall fight to end stunting.