A
sha Wanda survived multiple rapes from armed men and the young men with her that were coerced into assaulting her. Her husband was later abducted, and she hasn't seen him since.
Asha is one of nearly 40 percent of women in the Democratic Republic of Congo that are at risk of serious, long-term depression. Survivors of sexual and gender-based violence stand a greater risk for suffering from depression, and its life-long consequences if left untreated.
Depression affects more than 300 million people around the world. The World Health Organization lists it as the leading cause of disability worldwide and a major contributor to the overall global burden of disease. It is a particular concern for women who, according to WHO, experience depression more often than men.
A 2013 report by WHO indicates that women who have been physically or sexually abused by a partner are almost twice as likely to experience depression. Worse yet, for women like Asha that have been sexually assaulted by a non-partner, they are 2.6 times more likely to experience depression and anxiety.
For over a decade, the U.S. Government has invested in responding to and preventing SGBV in DRC where stigma, cultural practices, gender inequity and conflict contribute to high rates of violence against women and girls. As a result, in 2010 USAID launched the Ushindi program in Eastern DRC. Ushindi, which means "we overcome" in Swahili, takes a holistic approach to addressing SGBV, coordinating a range of interventions—medical, legal, psychosocial and economic—that increase access to timely and quality services for survivors and reduce the vulnerability of individuals to future acts of abuse and violence. Since its inception, the program has provided psychosocial support to over 27,000 survivors in the region.
During the initial phase, the program provided SGBV survivors with individual active-listening counseling from village-based laypersons. However, research from a trial in 2013 determined that Cognitive Processing Therapy, or CPT, is more effective for survivors in Eastern DRC. While active listening is what one might think of as typical counseling, CPT is a protocol-based therapy that teaches survivors how to evaluate and change the upsetting thoughts since trauma occurred.
As a result, in August 2016, Ushindi scaled up mental health services in three districts where the project was expanding to include CPT, which is only offered to survivors following a mental health screening tool developed by the program and advisors from the University of Washington and Johns Hopkins University.
Since the expansion, 13 Congolese psychologists have been trained to provide CPT. However, with only 13 trained, placing one in each village was not feasible. Now, psychologists ride motorbikes to move from one remote village to another providing CPT services to survivors. It's a basic change that has had profound results: no longer do survivors have to find the strength to leave their home or village to seek treatment. By bringing treatment to the survivors, hassles of poor infrastructure, travel expenses, stigma, and political instability are avoided. Survivors can now access CPT where they live.
As of December 2016, 182 survivors were enrolled in individual (47) or group (135) CPT, with the majority (145) receiving mobile CPT services via psychologists on motorbikes. More importantly, the dropout rate has been less than 5 percent, demonstrating the value of not just CPT but the creative provision of services.
For women like Asha, CPT through the Ushindi program has been life changing. In her time of need, it provided a safe space for her to heal and find support not just from a psychologist but other women who share similar experiences. Together, their camaraderie and support for one another has enabled them to overcome the stigma, find healing and leave their trauma – and their greater risk for depression – in the past.
Ushindi
The project is implemented under the direction of IMA World Health with three implementing partners (HEAL Africa, Panzi Foundation, and PPSSP) and one technical partner (ABA-ROLI). Learn more
Stories from Survivors
Read the stories of survivors in Eastern Democratic Republic of Congo and see how the Ushindi program and Cognitive Processing Therapy has benefited them. Learn more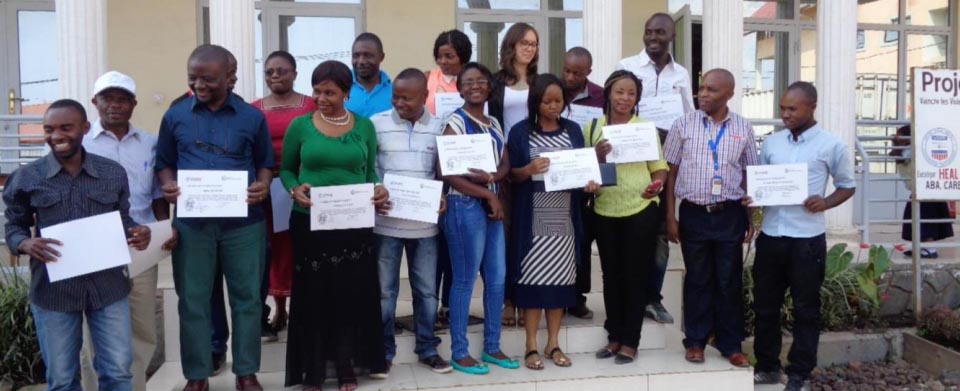 Participants with their certificates following CPT training.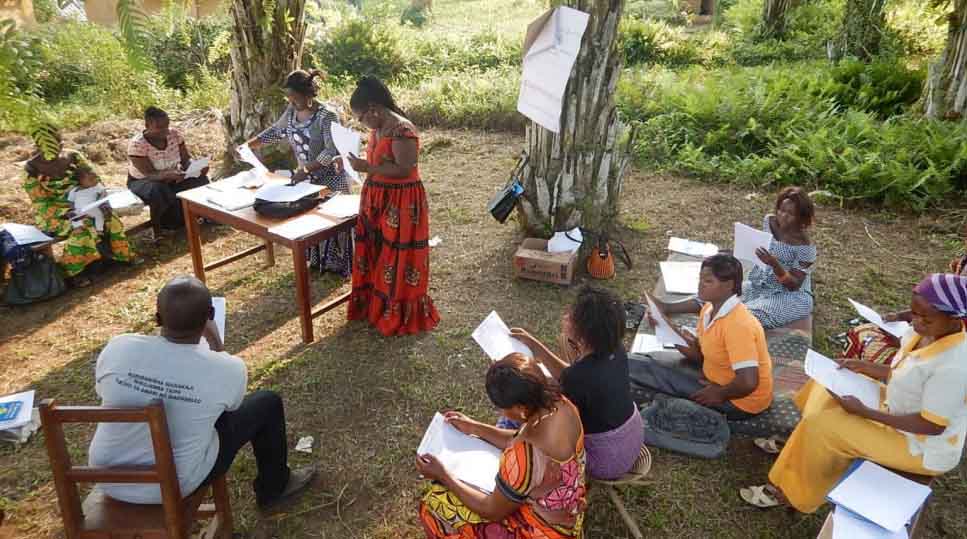 Ushindi senior psychologists reviewing referral guidelines for CPT with lay community psychosocial counselors in Walikale.