IMA World Health/ Emily Esworthy
At the outskirts of the village of Nzenga, close to the Ugandan Border, a tiny, nondescript building sits near the base of the snowcapped Rwenzori Mountains. Opening the door of this two-room shack reveals an unexpected sight for this part of DR Congo: a two-room recording studio with microphones, sound mixing equipment, computer screens glowing blue.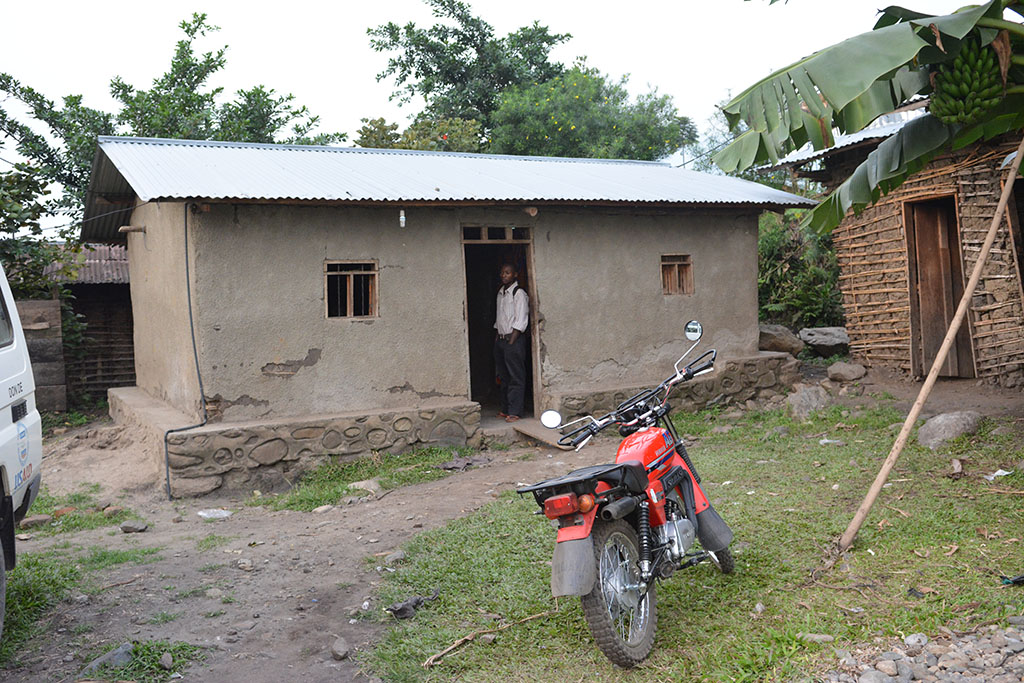 Every Tuesday and Thursday from 5:30 to 8pm—the prime time after workers have returned from the fields—the small but mighty Rwenzori Voice Radio blasts a program called "Sauti ya USHINDI" (The Voice of USHINDI) to the hundreds of thousands of people living within its 50 kilometer listening area.
USHINDI, managed by IMA World Health, is a holistic program that works to prevent sexual and gender based violence (SGBV) and support survivors in 10 health zones in the eastern regions of the DR Congo.
In Nzenga, SGBV has been part of the fabric of everyday life for generations. Girls are often denied education because they aren't valued as highly as boys. It is not uncommon for a man to "discipline" his wife with physical violence. Sometimes women are raped and beaten while working in the fields. These are the common and often culturally accepted behaviors that IMA and the USHINDI project are working to change.
To date, USHINDI has provided 9,921 survivors with medical care and counseled 15,626 more, provided legal support to 9,014 beneficiaries and supported 2,479 people through literacy training. In addition to providing for the medical, psychosocial, economic and legal needs of survivors, USHINDI works to raise awareness, educate people and change behaviors to transform cultural norms and prevent SGBV from continuing.
Under the supervision of a Congolese organization called "Program for the Promotion of Primary Health Care" (PPSSP), an implementing partner in the USHINDI Project, Rwenzori Voice Radio is broadcasting educational messages to discourage SGBV throughout the region. Since radio is the primary form of mass communication in this part of the Congo, the Sauti ya USHINDI program has a rapt audience.
On today's program, radio host Kakule Kirimba Richard and PPSSP program manager Kasereka Kalikabo are sitting elbow-to-elbow in the studio, discussing the diseases that can be spread through rape. The hope of today's broadcast is twofold: first, that those listening will be deterred from committing rape due to the risk of disease, and second, that people might seek medical care for any sexually transmitted diseases they may have contracted. Other Sauti ya USHINDI topics have included the importance of education for girls, women's rights, what to do if you are raped, and more.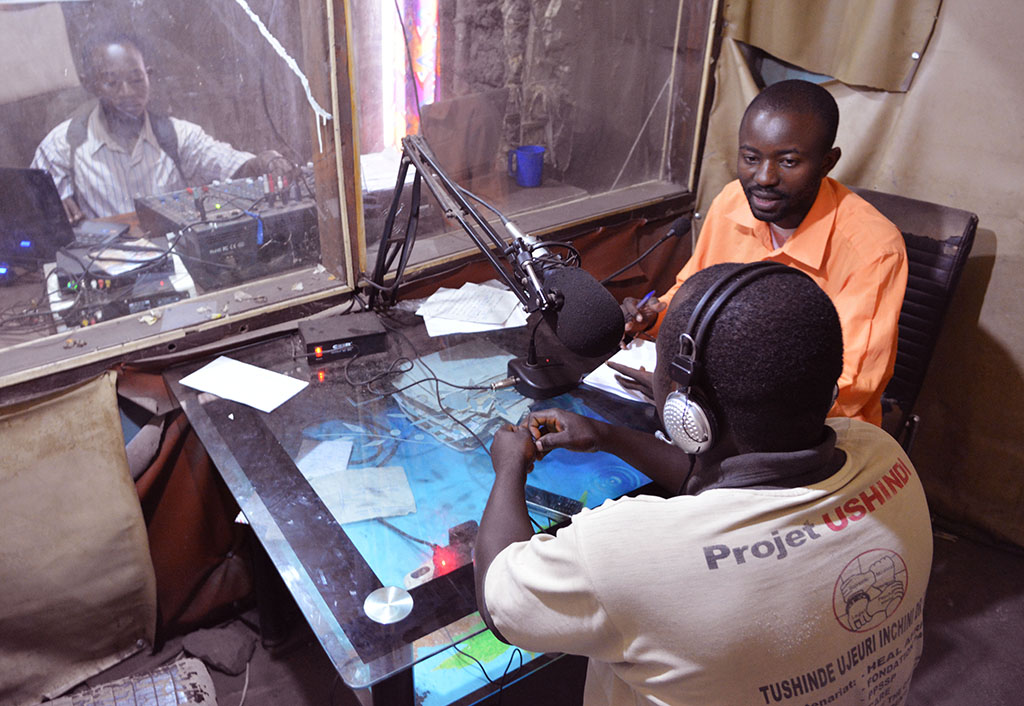 Just down the hill from the radio station, a group of schoolchildren are huddled around a radio, listening. What they hear reinforces a similar message they heard from PPSSP staff during a USHINDI presentation at their school earlier that day, and one they may hear again at church on Sunday. Through this multi-channel effort, the USHINDI Project—small but mighty in its own right—is chipping away the cultural norms that enable violence, believing that messages of peace and equality will become the new norms in Nzenga and beyond.
---
The USHINDI Project is a five-year (2010-2015) USAID-funded project that uses a holistic approach integrating medical, legal, psychosocial, and economic support services to survivors and those affected by SGBV in 10 health zones in the eastern regions of the DR Congo. USHINDI is managed by IMA World Health, and implementing partners include Program for the Promotion of Primary Health Care (PPSSP), HEAL Africa, and the Panzi Foundation. Technical partners include the American Bar Association Rule of Law Initiative, Save the Children, CARE, and Children's Voice.