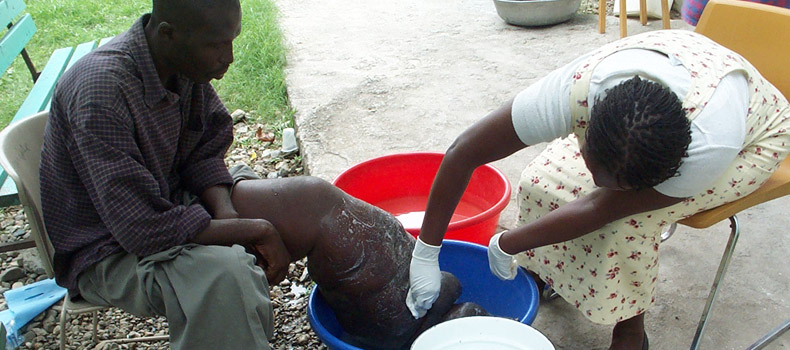 Advancing prevention and treatment of NTDs in hard-to-reach rural areas that suffer disproportionately and lack services.
Background
Nearly one in six people worldwide suffer from neglected tropical diseases (NTDs). This collection of diseases primarily impact the world's poor, who commonly contract the diseases through bites from insects or by ingesting or having contact with contaminated water or soil. More than a half billion children suffer from NTDs each year.
IMA has been working to address NTDs since the 1990s in Asia, Africa, and the Caribbean. Our projects primarily target five of the NTDs that cause the greatest morbidity and mortality: lymphatic filariasis (LF), onchocerciasis (River Blindness), trachoma, schistosomiasis, and soil-transmitted helminthes (worms). Controlling and eliminating NTDs is critical, as they impact the achievement of most health and development indicators. NTDs inhibit children from learning and developing to their full potential, and adults from working and supporting their families economically. Some diseases also cause physical deformities and cause patients to suffer from disability, stigma, social isolation and shame. IMA has also recently begun to address visceral leishmaniasis, commonly known as kala-azar, in endemic areas within South Sudan.
IMA is a recognized leader in the control and elimination of NTDs. IMA uses a combination of evidenced-based strategies to map and scale-up NTD control in partnership with governments and civil society partners, and through funding from USG and other donors. IMA is proud of its work advancing the prevention and treatment of NTDs, particularly in hard-to-reach rural areas that suffer disproportionately and lack services. In Haiti, IMA treats nearly 5 million people annually for STH, and two departments are nearing elimination for LF and STH. It does this cost efficiently as well, leveraging its implementation experience and cost efficiencies to reduce costs from $2.23 per patient to 64 cents. Similarly in Tanzania, IMA works with the Ministry of Health and Social Welfare to leverage schools and communities as NTD control platforms, and has established a corps of more than 46,000 community volunteers to provide MDA regularly.
NTDs inhibit children from learning and developing to their full potential, and adults from working and supporting their families economically.
Our Projects
GLOBAL
Haiti and Tanzania/ENVISION NTD Control and Elimination Project
(2014-present)
IMA is a partner on the global USAID ENVISION project, led by RTI International, which assists NTD control programs to eliminate and control NTDs. In Haiti, IMA partners with the Ministries of Health and Education to combat LF and STH through community- and school-based MDA. In Tanzania, IMA has provided capacity building to the NTD Secretariat to train a network of more than 40,000 community volunteers who provide treatment to more than 14 million people annually.
Advancing the Control and Elimination of NTDs
(2012-Present)
IMA contributes to the global goals of LF elimination by 2020 through a non-research cooperative agreement with CDC. IMA's activities include providing transmission assessment survey (TAS) trainings in Ghana and Uganda. It has worked closely with the CDC to lead efforts in contributing to the development of global guidelines for integrated LF TAS surveys through pilot LF TAS, STH, and malaria surveys in Tanzania and Haiti. IMA has also been working with a nationwide NGO in India, Church's Auxiliary for Social Action (CASA), to develop and implement community-led home-based care and treatment programs for patients suffering from lymphedema.
DEMOCRATIC REPUBLIC OF CONGO
Access to Primary Health Care Project
(2012-Present)
IMA assists the MOH in 56 health zones to integrate NTDs within the overall basic health care package and better plan and implement MDAs in this UK aid-funded project. A Vitamin A supplementation campaign for children 6-59 months and the de-worming with mebendazole of children 12-59 months was organized in all of ASSP's supported health zones. In total, 1,542,053 children received Vitamin A and 1,261,398 children received mebendazole during this campaign.
SOUTH SUDAN
Tackling Visceral Leishmaniasis
(2014-present)
IMA is working with partners to provide emergency response for treatment of visceral leishmaniasis (kala azar) in Jonglei and Upper Nile states.
TANZANIA
DFID SAFE NTD Project
(2015-Present)
With DFID support, IMA is helping trachoma sufferers by providing them with surgical services and other case management support to help relieve pain, enable them to return to work, and prevent vision loss and blindness. IMA is leading implementation in Mtwara region, building district surgical team capacity. It will expand its work to reach nearly 14,000 patients within four years, working closely with project partners HKI, Sightsavers, and KCCO.
Morbidity Management
(2013-Present)
IMA mitigates the devastating impact of lymphatic filariasis through health care worker surgical training and direct surgery for patients suffering from fluid-filled hydroceles. With support of partners Presbyterian Church USA and Izumi Foundation, more than 900 people have received life-changing surgeries to date, freeing them from addressing what is often seen as a shameful condition.