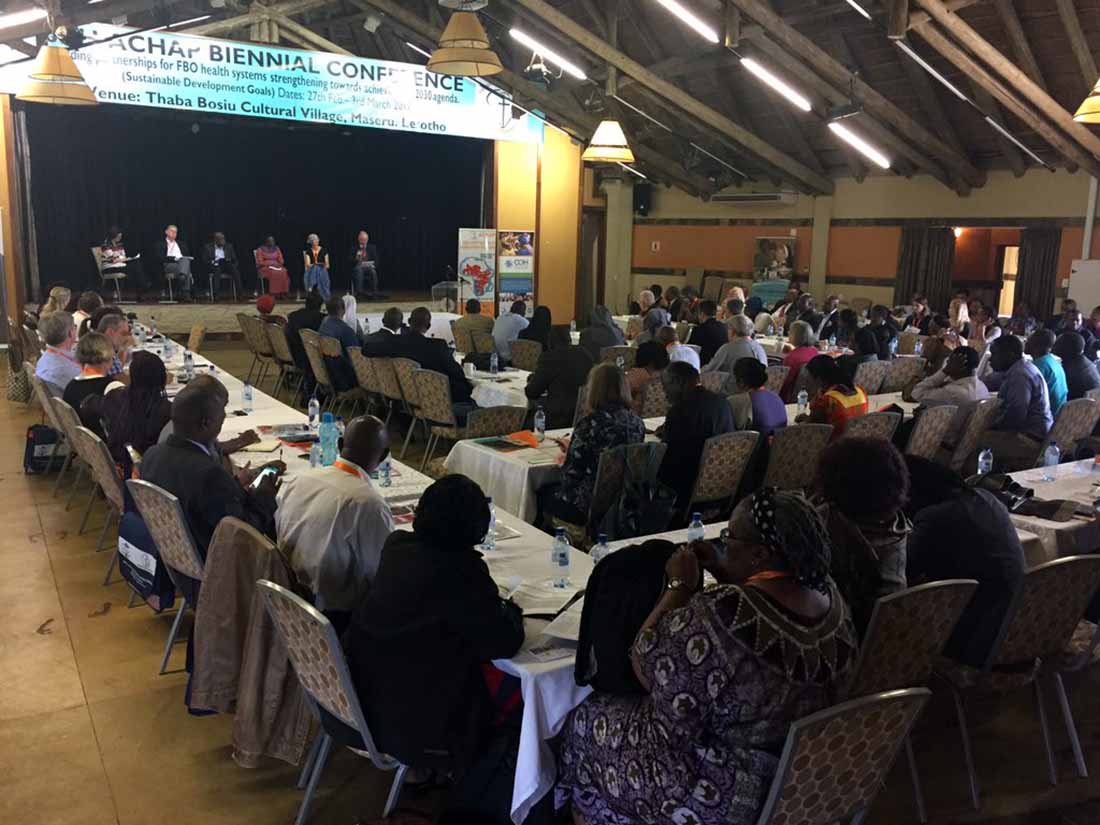 By Kara Eberle
IMA World Health
MASERU, Lesotho – Partnerships between faith-based organizations and secular, governmental and private donors must grow in order to reach the U.N.'s Sustainable Development Goals.
"Nothing we do could be done without partners," said Rick Santos, President and CEO of IMA World Health. The agency is a global, faith-based nonprofit based in Washington, D.C. that works in tandem with local partners and private donors to improve health and healing in some of the most vulnerable areas of the world.
Santos moderated a panel about global health partnership opportunities for faith-based organizations at the Africa Christian Health Associations Platform biennial conference in Lesotho this week. The assembly reflects faith-based organizations that provide at least half of all health care on the continent. Nearly 150 faith leaders and global health representatives from across Africa and the world attended the event.
"Faith-based organizations bring a trust at community level that no one else can bring," said Ellen Starbird, Director of the Office of Population and Reproductive Health for the United States Agency for International Development. "Often they are there when others are not."
For this and many other reasons, FBOs have been partners at USAID for a long time. "We make the world a better place," she said.
Health care, in its various forms, connects with five of the 17 U.N.'s Sustainable Development Goals: good health and well-being; gender equality; reduced inequalities; peace, justice and strong institutions; and partnerships.
"Religious leaders and faith communities are a formidable force to be reckoned with in community response to HIV," said Alti Zwandor, a public health specialist with UNAIDS Lesotho. "The faith-based organizations were among the first to respond to AIDS globally."
Omer Ramses Zang Sidjou, a health economist for World Bank Lesotho, agreed that FBOs are an asset, particularly in developing countries. Organizations, such as the Christian Health Association of Lesotho, have a flexibility that allows for a different model of financing.
"The potential is really huge," he said.
And FBOs must build on that potential, said Jean Duff, Coordinator, Joint Learning Initiative on Faith & Local Communities. She stressed that FBOs need to improve the quality of the evidence they provide so they are better positioned to negotiate as quality service providers.
She suggested that the organizations share more information about best practices and the collective activities across the Christian Health Associations in Africa. "If ACHAP can be strengthened, it can build advocacy," Duff said.
Yet the impact brought by FBOs goes beyond anything that might be cataloged by the U.N.'s SDG effort and common indicators.
"Love thy neighbor. We know where that came from. It's not in an SDG," said Maurice Adams, CEO of the UK Methodist organization, All We Can. "It's a higher calling."