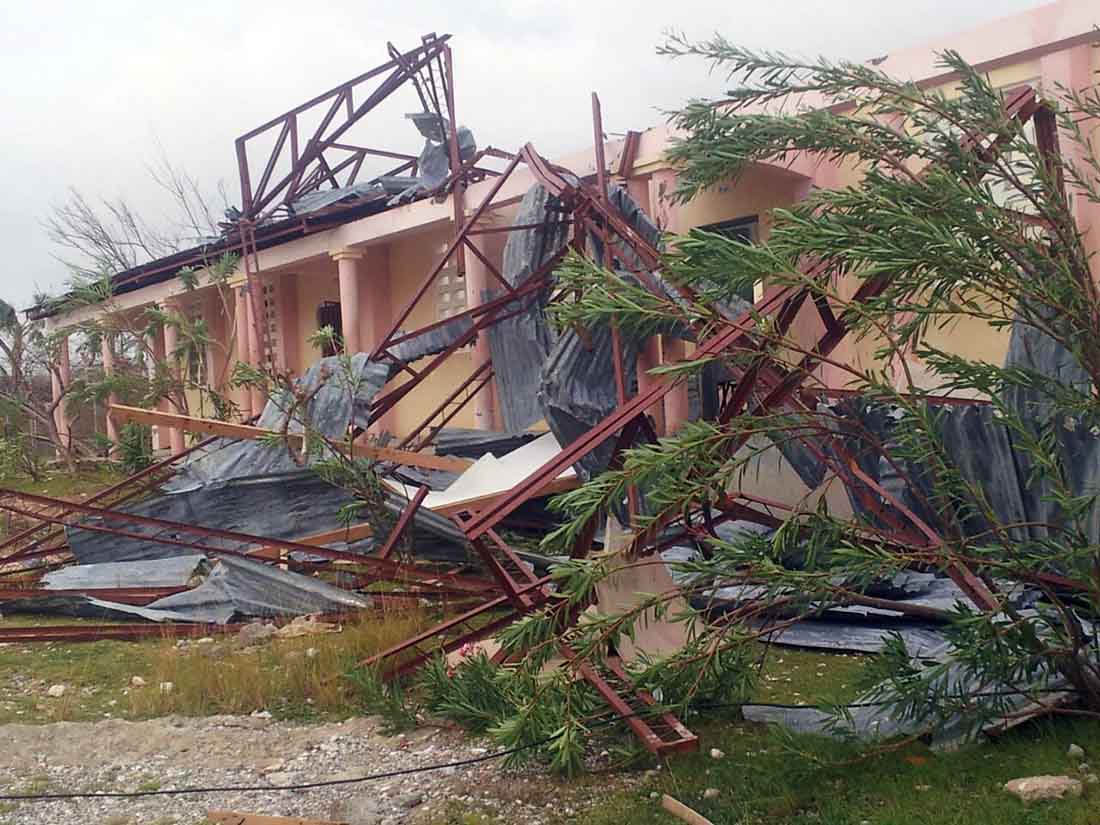 A
ll IMA World Health staff members in Haiti are safe and accounted for after Hurricane Matthew battered the Caribbean country last week. The catastrophic winds and relentless rainfall affected every department, every commune and every community of the Western Hemisphere's poorest country. The government has confirmed 372 deaths, according to The Wall Street Journal, but other reports are much higher and continued to rise on Monday.
The Haiti IMA team endured a harrowing four days of lack of contact with their team of 33 technicians working on a malaria study after the hurricane battered Grand'Anse and the South Departments' coastal towns and isolated mountainous communities on Oct. 4. With no cellphone communication going through, IMA sent a team of two drivers out to Grand'Anse to establish contact with the technicians. They used motorcycles to cross rivers where bridges had fallen. After over a day of travel, the drivers reached the team and everyone safely made it back to Port-au-Prince.
Right after the Category 4 storm hit, Joseph Beneche, an engineer for IMA, visited his parents who live on the southern coast. When he arrived, he found that the roof of his parents' home was destroyed. Since there is no drinkable water where they live and cholera reappeared in surrounding communities, Beneche took his mother home with him so she would be safer.
The inordinate amount of rain Hurricane Matthew dumped on Haiti caused widespread flash flooding and high coastal storm surges devastating towns and triggering landslides in the southern peninsula and beyond. People have been forced to wade in sewage-tainted water in search of loved ones, food, water and shelter, raising the real spectre of rapid resurgence of widespread cholera outbreaks.
Schools and any public spaces on higher ground are being used for shelter; however, forcing people to live in proximity brings its own set of public health risks. Disaster mitigation and recovery will take a long time, said Dr. Luula Mariano, IMA's Country Director in Haiti.
Given that the U.N. Office for the Coordination of Humanitarian Affairs ranks Haiti as the fifth-most disaster-prone country in the world, IMA's future work will need to focus on health systems strengthening as its core programming approach to help build healthy communities and resilient health systems in Haiti.
Damage assessment continues
IMA's Healthy Schools, Successful Children project has been working to improve students' health, school participation and educational success through water, sanitation and hygiene interventions in 60 public and Episcopalian schools in the Southeast, South and Grand'Anse departments. The project provides or builds latrines, reservoirs, water filters, and handwashing stations in schools as well as establishes frameworks that enable schools and communities to sustain progress and maintain the infrastructure beyond the project's lifespan.
As of Sept. 30, construction in the schools was on track to provide students with proper latrines and clean water. However, at the Ecole Nationale Marcabee, in the South, the hurricane had a devastating impact. The roof of the newly repaired latrine is gone and the new fence was destroyed in places as well. It is very likely that other project schools have also been heavily damaged, and IMA will be sending out a team soon to assess the situation.