By Emily Esworthy / Photos by IMA World Health staff

I
n April 2018, IMA World Health completed work on the highly successful National Nutrition Communications Campaign in Indonesia. Its primary goal was to contribute to the reduction of childhood stunting, which affects about nine million—or more than 37 percent—of Indonesian children. The NNCC launched in 2014 with funding from the Millennium Challenge Account-Indonesia. NNCC used a holistic approach incorporating social and behavior change communication, or SBCC. The campaign used mass media, interpersonal communication and advocacy strategies to achieve three key objectives:
Increase awareness and understanding of the causes, symptoms, long-term implications and prevention of stunting.

Foster individual and community behavior change related to health and nutrition. Specifically, the project targeted maternal nutrition, infant and young child feeding and water, sanitation and hygiene practices.

Gain commitment from a broad array of stakeholders in the public and private sectors to tackle the problem of stunting.
About the Campaign
The NNCC's first phase was formative research. IMA completed this year-long process to understand local knowledge, attitudes and practices surrounding stunting-related issues. For example, formative research found that 68 percent of Indonesians attributed a child's small stature to genetics, while the real problem is inadequate nutrition and WASH practices during the first 1,000 days from conception to age 2. From the research data, IMA developed an SBCC strategy for the Government of Indonesia which helped guide the development of a national level mass media campaign reaching over 44 million people across Indonesia and SBCC interventions targeting 11 districts in 3 provinces.
The project also used direct interpersonal SBCC strategies to spread campaign messages via activities at health posts, home visits, group discussions, education of health workers and more. This approach equipped midwives and other health workers with knowledge and educational tools to disseminate key messages about stunting to mothers and other caregivers.
I learned so much about nutrition from the midwife. Now more and more mothers are coming to the Posyandu because they have activities like health quizzes which makes it a lot more fun."
—Mother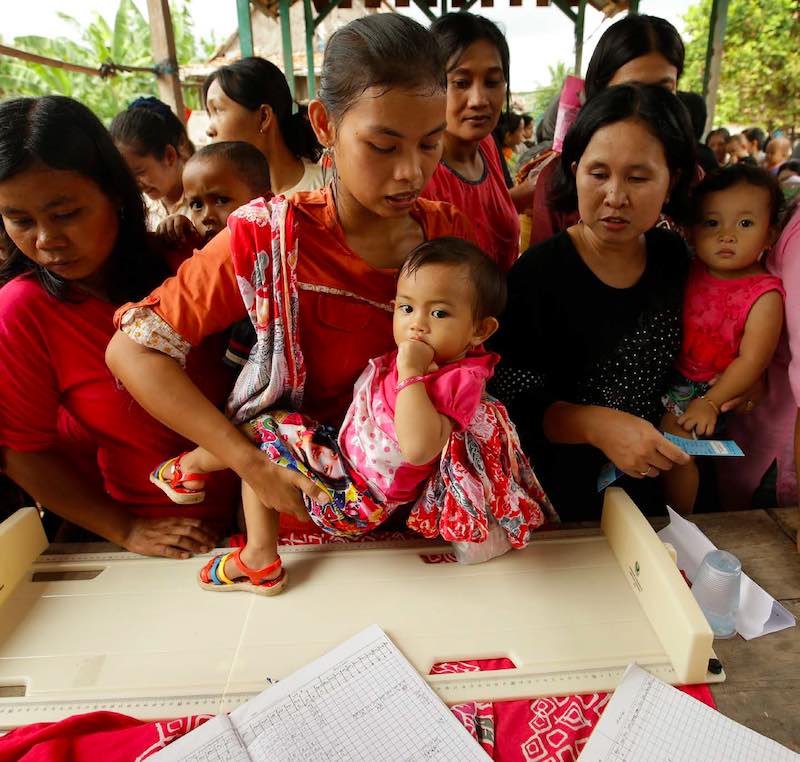 Notable Successes
The NNCC realized many significant successes, including:
Program expansion.

Following successful implementation in the project's original three priority districts, MCA-Indonesia

and the national government

extended the program

to an additional eight priority districts as well advocacy activities at the national level.
Massive audience reach.

More than 44 million people, including 70 percent of the NNCC target audience, were reached through TV, web and social media channels. Through its strategic television campaign, from November 2015 to June 2017 the NNCC reached more than 44 million viewers with its TV spots on sanitation and infant and young child feeding—smashing its goal of reaching 5 million viewers.
Creating advocacy champions.

Through

continuous dialogue and advocacy with key decision makers, the NNCC turned influential government counterparts from advocacy targets to active

advocates for stunting reduction

. The NNCC assisted district leaders to develop district-level plans and to advocate for the use of village funds to reduce and prevent stunting.

These plans were then signed off as a mayoral decree—a huge step that meant efforts to reduce stunting would be backed by committed funding.
Engagement with journalists.

The NNCC regularly engaged and trained journalists, who in turn

produced a remarkable

534 print and online articles about stunting in two years

—an average of one article every business day. These articles were an important advocacy and public awareness tool to reach influential government stakeholders.
Achieved support from the President.

Through continual advocacy efforts, the NNCC secured commitment from the President of Indonesia to make stunting a national priority.
Indonesia's first Stunting Summit.

To close the NNCC, in March 2018 IMA hosted 34 governors representing every province in Indonesia, 10 ministers and the Vice President of Indonesia to the nation's first

Stunting Summit

. Speakers included

Indonesia's Minister of Health, Prof. Dr. Nila Moeloek; Indonesia Vice President Jusuf Kalla; and the U.S. Ambassador to Indonesia, Joseph R. Donovan, Jr. It was at this summit that the Government of Indonesia committed to prioritizing 106 districts to actively fight stunting.
Strengthened mothers' groups and one-on-one counseling.

The NNCC conducted trainings for health workers and held special activities to attract more mothers to attend support groups at local health posts. The projects also designed communication materials, such as brochures and posters, to help midwives and other local health workers explain stunting prevention to women attending mothers' groups and one-on-one counseling sessions. Through these efforts, 83% of target health posts, known as posyandus, participated in project activities—surpassing the target of 80 percent.
The printed materials I received made it much easier to explain things to mothers during counselling or consultations and for mothers who have a hard time reading or understanding complex information, the pictures really helped."

—Midwife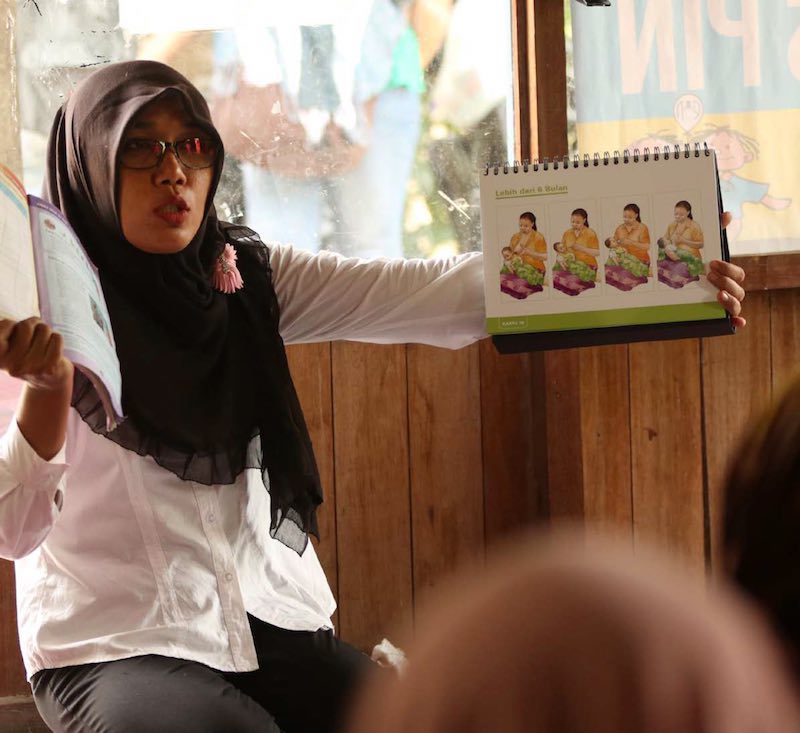 Created a unique university partnership.

IMA and Brigham Young University

forged a partnership

that

offered real-world public health experience to students from both universities while deepening IMA's scientific depth. This partnership has led to the development of seven academic papers, which were presented at the

2018 SBCC Summit

in Bali, Indonesia.
New expertise in a new country.

The NNCC was IMA World Health's first project in Indonesia and its first project targeting stunting. In part through the successes of this project, IMA was subsequently awarded funding from the Department for International Development to conduct a national communications campaign to reduce stunting in Tanzania.
Thank you!
As we celebrate the successes of this project, IMA World Health is especially grateful to the Millennium Challenge Account-Indonesia, the many officials from the Government of Indonesia we worked alongside and our partners at the University of Indonesia, Fatayat Nahdlatul Ulama, Nasyiatul Aisyiyah, Persatuan Ahli Gizi Indonesia, Activate and many more of our wonderful district level partners.  
Because of this collaborative effort, millions of children in Indonesia have the hope of a healthier and more prosperous future.
ALTHOUGH THE NNCC IS COMING TO AN END, ITS SUCCESSES ARE JUST THE BEGINNING, AND WE NEED TO CARRY ON."

—Director, Regional Development Planning Board or BAPPEDA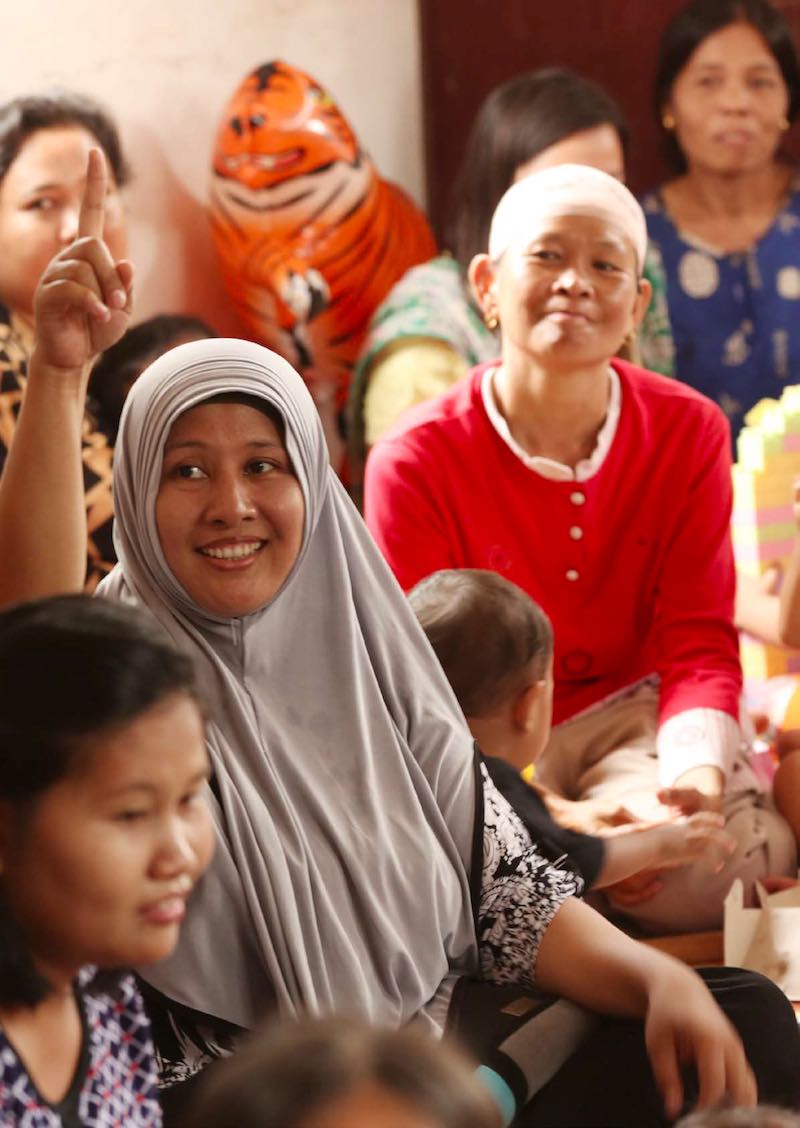 A Healthier Future Through the NNCC
HAMIDAH'S STORY
Hamidah lives with her three children in Tanjung Baru, a farming village in OKI, South Sumatra. Before the NNCC program, Hamidah and mothers like her would go to the local posyandu to immunize and weigh their children. But now they have a new source of life saving information.
"Things are different now because there are mother classes and this makes me love going to the posyandu even more. The cadres teach us so much about healthy food as well as the importance of exercise," said Hamidah.
Together with other mothers, Hamidah also learns all about the importance of staying healthy during pregnancy, how to take care of and feed her baby and avoid infectious diseases. She also learns about myths that can often harm a mother and her child and about the importance of making sure her baby has a birth certificate.
Despite the one kilometer walk she has to make to get to these classes, she attends every month. Hamidah says she loves the interactive activities such as pregnancy exercises, quizzes, cooking demonstrations and competitions, and even planting vegetables. Hamidah says her favorite activity always involves cooking.
"I learned so much from these classes, especially about how most instant baby food contains a lot of preservatives. Now I can make use of so many local ingredients like fish and eel. They taste just as good, if not better," she said. "I somehow feel like a chef now, so that's nice."
Hamidah says she and her friends now understand why it is so important to monitor their children's growth and to pay close attention to nutrition.
"Children are a gift from God. It's my duty to keep them healthy," said Hamidah.

Founded in 1960, IMA World Health is a global, faith-based nonprofit that works with communities to overcome their public health challenges.