By Kara Eberle
IMA World Health 

C
AP-HAÏTIEN, Haiti – Noriston Vereas is a 57-year-old farmer in the Port-Margot commune of the Nord Department of Haiti. Six people live in his concrete-block house, including his son and grandchildren. Their home is next to a shallow stream, where children play after school and women wash clothes during the day. Everyone gets their drinking water from a nearby source, a natural spring that pumps water from the ground.
Finding water here isn't a problem. The challenge is making sure the water is safe.
Speaking in Haitian Creole, Vereas explains that his family hasn't been sick from contaminated water in years, but he has heard that people in the nearby communes of Plaisance and Pilate contracted cholera this spring. Haiti's Ministry of Public Health and Population's Cholera Program recorded at least 24 new cases in recent months in the Nord Department.
Cholera is a severe diarrheal illness that can swiftly lead to dehydration and shock. It can be deadly within hours if not treated with oral or intravenous rehydration. Until eight years ago, a case of cholera hadn't been recorded in Haiti for nearly a century. The current outbreak, one of the deadliest in modern history, began after the 7.0-magnitude earthquake that devastated Haiti in 2010. Nine months after the quake, the Ministry confirmed cases of cholera for the first time and has since reported nearly 9,500 deaths. Poor sanitation in a U.N. peacekeeping force encampment is suspected to have caused the outbreak.
Containing the outbreak has been a challenge as Haiti continues to struggle with adequate sanitation and healthy hygiene practices. Seasonal hurricanes that cause flooding make cholera even more difficult to contain.
After Hurricane Irma brought torrential rains and flooding in September 2017, IMA World Health, a faith-based nonprofit working in Haiti since 1998, asked its members and donors to help. Week of Compassion, United Church of Christ and many individual donors responded generously.
As a result, IMA teamed up with the Ministry's Cholera Program to reach some of the most vulnerable people throughout Haiti with the information and supplies they need to protect themselves from cholera. In partnership with the Ministry, IMA started by training community health workers who help spread the word to the communities about healthy hygiene and the importance of proper sanitation. Twenty community health workers were trained and an additional five supervisors were put in place.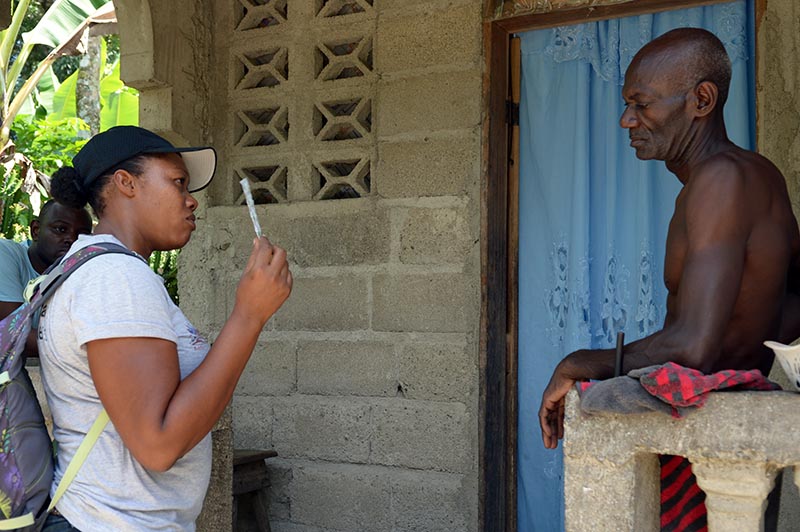 Once the team was assembled, a large-scale social mobilization was launched. Activities included distributing buckets, water-purification tablets and rehydration salts, as well as visits to schools and communities to share messages about the importance of healthy hygiene and proper sanitation.
Each household in Port-Margot received two buckets: one with a lid and one without. One bucket is to carry water from the source to their homes and the other is to use for drinking water. The buckets enable people to conserve and purify water to make sure it's safe to drink. Someone at each home received instruction on ways to purify water after the tablets ran out. Community health workers also educated them on how to treat cholera symptoms with home remedies.
Overall, the program distributed 600 buckets, 30,000 water purification tablets, 1,500 packets of rehydration salts to 7,900 residents.
Dr. Paul-Emile Dalexis manages the program for IMA and said the buckets are a vital tool. "Without the buckets, people don't have supplies for water conservation," he said.
Dr. Victor Cadet, head of the Haitian Ministry of Public Health and Population North Cholera Program, said the partnership with IMA has been key in reaching people with life-saving tools and information. "We are able to train the community health workers and to keep them active, enabling us to reach more people and defend against cholera outbreaks," he said.
The message the community health workers share is vital to students and their families, Principal Helvè Carmelle said. "It's really important to keep students healthy," she said. Her school, Eglise La Foi Apostolique, received buckets and purification tablets as part of the program.
The children who attend Eglise La Foi Apostolique live along the stream in the commune of Port-Margot. When one of the schoolgirls arrived home from school, the community health workers were educating her grandfather, Noriston Vereas, on how to make sure her drinking water is safe.
Thanks to the partnership between the Ministry and IMA, and support from IMA's generous donors, their family can protect themselves from cholera and have the knowledge to continue living a healthy life.

Founded in 1960, IMA World Health is a global, faith-based nonprofit that works with communities to overcome their public health challenges.