IMA World Health/Crystal Stafford

A
t IMA World Health, our focus is not on giving hand outs, it is on giving a hand up. Our number one goal is to provide people in the world's poorest communities the knowledge and tools they need to develop a healthy, safe environment for themselves and their families.
Since the start of the ASSP project, the Gardening program has trained 8,878 community volunteers in home gardening as a means to prevent malnutrition. Once trained, these community health workers and volunteers are equipped to take to the village streets and spread knowledge that will save lives by reducing malnutrition and preventing disease.
Suzanne Mbombo, pictured above, is one such community volunteer. Suzanne is a 53-year-old farmer and mother of 11 living in the village of Nkashama, Tshikaji in Kasai province. With her training, she has learned to spot the signs and symptoms of malnutrition. She regularly visits neighbors in her community and counsels them on ways to improve their health. She is teaching her community to fight malnutrition by planting gardens of moringa and amaranth on their own plots, not only as a means of supplementing their diet but also supplementing their income and obtaining self-sufficiency.
"To me the training has been the most important benefit of the program (ASSP). Because of the teachings we have received we are able to take charge. We have for example training on the care of malnourished children. There were a large percentage of malnourished children, but this program has helped us to support these cases. Myself, I now see myself as capable of resolving difficulties." — Suzanne Mbombo
Tshinyama, pictured below, was a severely malnourished 2-year-old in Suzanne's village. He was so weak that he had never even taken his first step. Two months ago, Suzanne found him and took him to Tudisha Bana Bimpe Malnutrition Center in Tshikaji. For only $1 per child, Tudisha Bana Bimpe rehabilitates malnourished children using foods found locally. Mothers stay with their children at the center for three months until their children are fully recovered. Because the center uses locally sourced foods, mothers learn how to continue caring for their children once they have left the center.

Today, Tshinyama is a new child. He has not started walking yet, but his strength has greatly improved. 
Because of community health workers like Suzanne, many children have been brought back from the grasps of malnutrition. Monique Kalanga is 35 years old and is the mother of five. She lives in the village ofKamilabe. Her daughter, Josee, was severely malnourished, exhibiting signs of Kwashiorkor, which is malnutrition produced by a severely inadequate amount of protein in the diet. The community volunteers, trained by ASSP's Gardening Program, found Josee and nursed her back to health with porridge (Plumpy'nut) and other supplemental foods. The community volunteers then trained Monique and her family on how to grow and harvest nutrient rich foods such as amaranth.
"Before this program we had a great suffering because we lacked anything to feed our children. When we lacked money we slept hungry. But then this program arrived to us and taught us how to grow and harvest. Now we can sell these agricultural products and we are self-sufficient. I have confidence because my children were malnourished, they were supported with food and porridge, today they are healthy." – Monique Kalanga
Many of the community volunteers in Kamilabi village have already taken the knowledge they have gained from the ASSP training and applied it to improve their community. These community volunteers used the moringa and amaranth seeds they were given during an ASSP training and planted a large community garden.
These are just a few of the stories of success that we are finding in Congo. The 2010 Global Hunger Index report identified the DRC as having the most alarming undernutrition problem in the world, reporting 75% of the population as being undernourished. Fortunately, ASSP's army of close to 9,000 garden volunteers is making great strides to decrease this alarming number.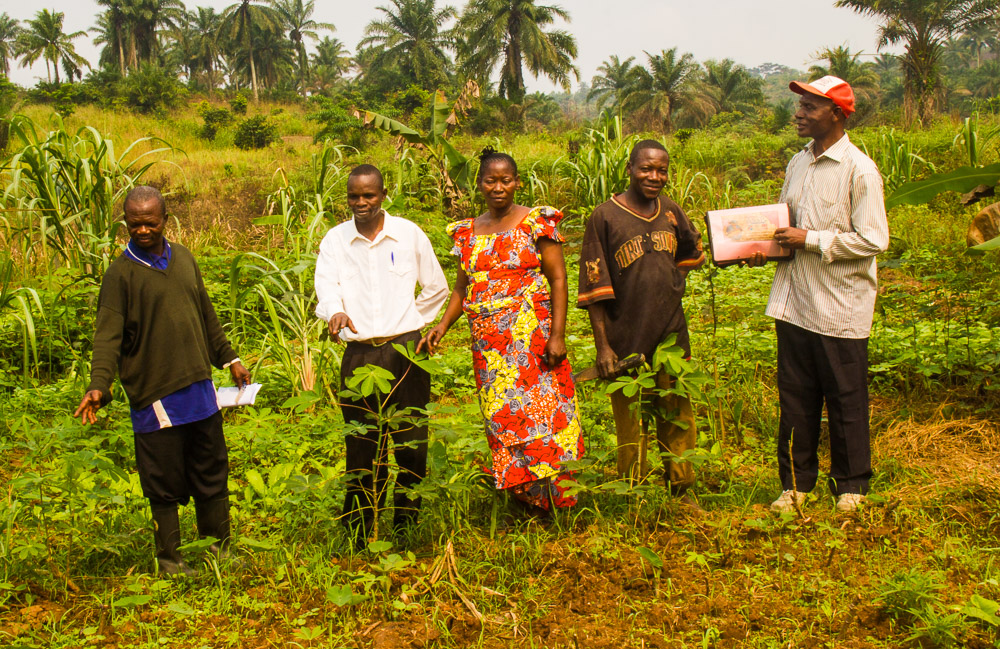 The Projet d'Accès aux Soins de Santé Primaire, or the Access to Primary Health Care Project (ASSP) is a 5-year, £182.9 million (US $304.5 million) project funded by the department for International development (DFID) through UK aid and the Swedish International Development Cooperation Agency (Sida). The ASSP project seeks to improve primary health care in 56 health zones in five provinces of the Democratic Republic of Congo – Kasaï Occidental, Maniema, Equateur, Oriental and South Kivu – for a population of 8.3 million people. IMA World Health leads the consortium of implementing partners including SANRU, CARITAS, World Vision and IRC, with technical assistance from Tulane University (in collaboration with the University Of Kinshasa School Of Public Health), Pathfinder, HISP, and IntraHealth.