IMA World Health/Nancy McGaughey

O
ne does not expect travel in South Sudan to be easy. After all, it is a new country, in which infrastructure is still under construction.  But, still….
I needed to travel to Poktop, in Duk County, Jonglei State. First, this involved flying to Bor, the capital of Jonglei State. No problem, as there are three commercial flights every morning. I  had a ticket to fly on one of these. As I needed to carry cash to our office in Bor, I needed to get special clearance. This means going to the airport early (before the 7 a.m. check-in time).
We were there by 6:30, but no one was at the office. We wait about 20 minutes, until finally someone comes. He looks at my passport and stamps the required letters.
Off to the next office.
The office door is open, the light is on, but no one is there. We wait again. I leave my co-worker with my passport and go to check in. Having completed that process, I return. Still, no one has appeared. We wait. Finally someone comes, looks at my passport, stamps the letters and I am off to get in line for final scanning of luggage.
I am greeted by a long, slow-moving line. Just as my turn comes and my bags are on the conveyor belt and going through the machine, the electricity goes off. There was just enough time for them to notice I had cash. I produce the required, stamped letters, but it is dark and the attendant cannot read them. Off she goes to find a flashlight in working order. After some minutes of waiting in the dark, she returns and looks at my documents. Finally, I am cleared to go.
Next, we are transported to the plane by minivans. Our luggage is loaded on the plane, we are about to board and someone comes and says there has been a change of planes.  "Please collect your luggage and proceed to another plane," we are told.  About half way to the other aircraft someone comes along and says, "No, go back to the original plane."
Back to the plane and this time we actually board it. Just as our seatbelts are fastened, the pilot says, "There is too much fuel on this plane. We will need to take a different aircraft. Everyone please disembark and walk to the other plane."
So we continue to the next aircraft.
Somewhere along the way, we pick up three more passengers. No problem, because this is South Sudan. One person will sit on the floor in the back, one in the co-pilot's seat and the other will sit between two other passengers.
I am met at the airport by a Land Cruiser and other staff who will be traveling with me.
Now for the road trip to Panyagor, and then on to Poktop the following morning.
Applying the term "roads" to rural South Sudan is stretching the term. You always need to be sure the spare tire is in good repair. There are parts of the road that are like travelling across a washboard–consistent small bumps. And those are the good part.  In other areas, there are deep holes that need to be avoided. As we near Panyagor, we got stuck on the ridge between two ruts. Couldn't go forward, couldn't go backward. Our driver switches to 4-wheel drive. Still, we do not move. He gets out and, using a tire iron, attempts to knock off part of the "ridge" of the rut. We still do not move. Another passenger walks over to a nearby home and borrows a shovel. Finally, we are able to move and within another 15 minutes have made it to Panyagor.
The vehicle has stopped moving, but it is some time yet before the body stops shaking.
Nancy McGaughey works for IMA World Health as a reproductive health and nutrition advisor in Juba, South Sudan. Originally from Russellville, Indiana, she went to South Sudan in February 2009. The 65-year-old likes field work and empowering South Sudanese. If she has a day off, she'll probably be reading or cooking. Read more about her here.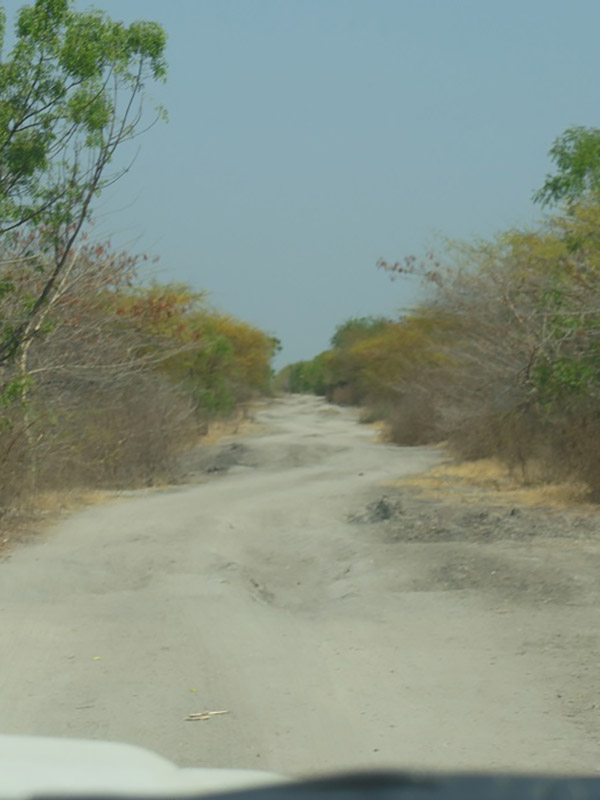 About our field bloggers
Just as our name suggests, IMA World Health works all over the world to bring health, healing and well-being to people in need.
Every day, our staff members are in the field. Some of them are counseling, some are constructing, some are teaching and some are providing life-saving medicine and malaria nets.
No matter what they do, they touch lives.
Several staff members have agreed to write about, photograph and record some of their experiences in the field.
We hope their stories inspire and inform you about IMA's mission and work around the world.