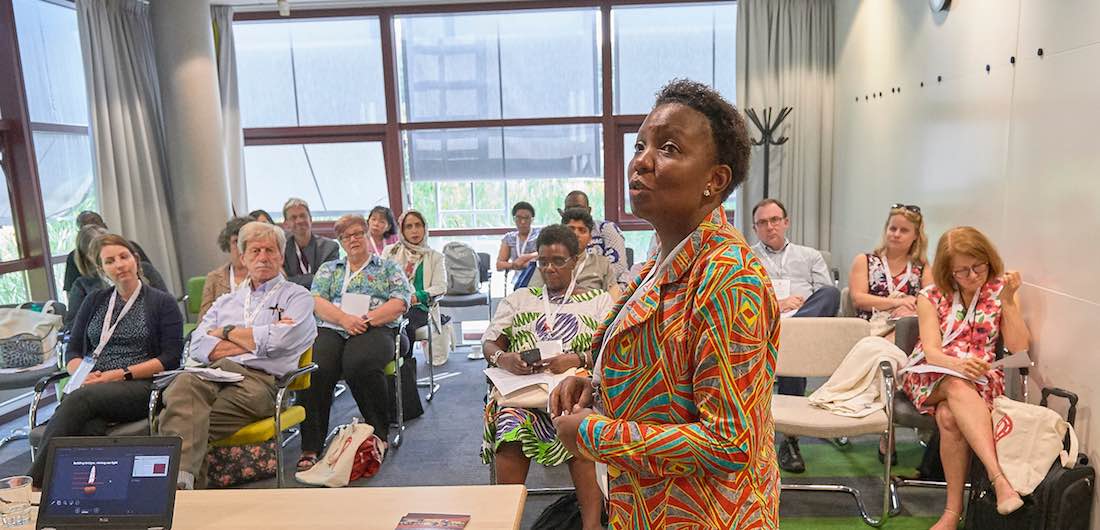 By Matt Hackworth and Kara Eberle/IMA World Health
AMSTERDAM — There are more HIV-infected babies in Nigeria than anywhere else in the world. And if the country stands a chance of eliminating the virus' spread to a whole new generation, it must leverage the potential of faith communities in the effort to prevent mother-to-child transmission.
The potential of faith communities to be a force for connection in the HIV epidemic was the theme from the "Faith Building Bridges" event sponsored by the World Council of Churches-Ecumenical Advocacy Alliance before the 22nd International AIDS Conference in Amsterdam this week. The AIDS 2018 conference is the largest conference on any global health issue in the world.
"In many of our countries we are the largest health provider if not the second largest next to the government," IMA World Health staff member Nkatha Njeru pointed out.
Njeru is the program coordinator for the Africa Christian Health Associations Platform, which facilitates learning and joint advocacy for Christian Health Associations and their development in sub-Saharan Africa where CHAs provide health care services to some of Africa's most vulnerable communities.
"ACHAP helps its members to connect around issues of common interest," Njeru said.
As part of a panel exploring the best practices to end stigma and discrimination, Njeru explained how ACHAP drew on its work in other countries to help the Christian Health Association of Nigeria develop tools to engage faith leaders.
"In the communities we serve you'll find three things: a school, a church and a health facility," she said. "It's important to use these resources to beat the virus' spread."
Religious leaders have deep connections in the communities they serve and wield profound influence over behavior. ACHAP and CHAN worked with indigenous religious leaders to develop  tools for how to make referrals when they encounter families in need of HIV services.
"Religious leaders help with adherence," Njeru said. "They help with psychosocial counseling. They promote testing."  
The effort also revealed the problem of stigma among community health workers, who do not understand the basic science behind HIV transmission. "We trained staff at health facilities to help them put together policies and procedures that helps them feel confident (in handling HIV cases) and ultimately helps the patient," Njeru said.
One of the interfaith efforts highlighted during the pre-conference was the initiative "Leading by Example: Religious Leaders and HIV Testing" developed by WCC-EAA. Francesca Merico, HIV campaign coordinator for WCC-EAA, said the initiative was developed when it was apparent that 70 percent of people living with HIV didn't even know about their status – an essential first step to treatment and support.
"Faith communities have to do something, and religious leaders can lead by example and get themselves tested," she said.
Njeru said religious leaders and health workers alike appreciate not only having information about HIV and what to do to prevent its spread but also the connections made to work together to serve their communities.
"They need a lot of info and they need to be reminded about one another," she said.
Learn more about Faith at AIDS 2018 at iacfaith.org.
WCC-EAA contributed to this report.
1 http://www.sciencemag.org/news/2018/06/nigeria-has-more-hiv-infected-babies-anywhere-world-it-s-distinction-no-country-wants

Founded in 1960, IMA World Health is a global, faith-based nonprofit that works with communities to overcome their public health challenges.