IMA World Health/Kate Harmon

F
or much of Jan Flora's life, the theme of sustainability has rippled through. In her work at the Carroll County Bureau of Aging, she worked with programs for older adults — trying to get them to remain healthy and connected, improve their health and access to programs.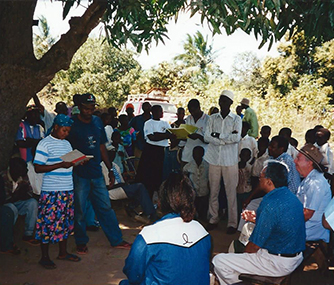 As a member of the Rotary Club of Bonds Meadow in Westminster, Maryland, there's often a focus on giving back and also on giving people the tools to help themselves. Back in 1999, the Rotary group was looking at doing a project in Tanzania and teamed up with IMA World Health, which already had a strong relationship with the group and the country.
The group wasn't sure they'd have a chance at grant funding for the project focused on onchocerciasis (River Blindness). They chose the disease because of its severity in the country and the impact it has on many aspects of life—from a child's development, to whether a woman will be chosen for marriage, to one's ability to work. Dealing with the disease can be difficult because of the distance to or remoteness of some villages.
Flora, who chaired the committee that focused on the project, said members were able to wow Rotary International with their Tanzanian Rotary counterparts and IMA. "It really was the connection with IMA," she said. "IMA had folks on the ground, local credibility, worldwide connections, and the experience to pull this off."
Flora gives a lot of credit to her fellow committee members for making the project happen. "I chaired it, but my fellow Rotarians here and, particularly, in Tanzania, made the project successful."
The $320,000 grant helped the multi-year project that also delivered malaria nets, treatments for lymphoma, and worked on latrines as well. While in-country, the group and IMA had the approach of working hand and glove with the Ministry of Health. The groups worked with Merck to get drugs to treat River Blindness over the years. But it wasn't as simple as flying the pills over. "Sustainability was our key goal," she said, "it was a ground-up project."
Volunteers worked with community distributors to create a system to keep records in black-and-white composition books. They thought about laptops, but they were heavy and needed to be charged. "(Composition books) are a very basic way of doing it, but extremely effective for the community," she noted. Two years later, Flora returned to the country to see how things were going. She said it was a wonderful experience.
Years later, the Rotary was looking for another international project and a member saw an idea on the television. The next day, the member pitched the idea to the group — Safe Motherhood Kits™. Each kit costs only $25 and includes clean and sterile birthing supplies, designed to help prevent infection such as gloves, a scalpel, umbilical tie, and more. But they needed a partner, so they teamed up again with IMA. To date, more than 30,000 kits have been sent to women in post-conflict areas, disaster zones, and developing nations including Haiti, South Sudan, DR Congo and others.
"Without IMA, neither project would have happened," she said. "It's been fun to watch IMA as it's evolved and moved with the times and continues to be a highly respected NGO."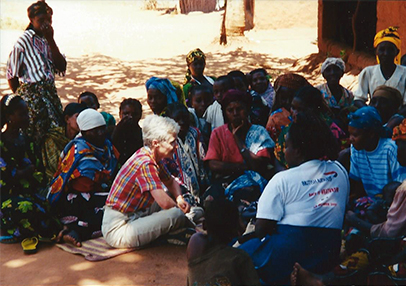 About Jan
Jan Flora learned of IMA through her church, The Westminster Church of the Brethren. Learning about IMA and other programs at the Brethren Service Center in New Windsor, Maryland, prompted her to join the Church of the Brethren 39 years ago.
Flora remains active in the church and is even able to bring international experiences to the congregation. In 2015, they hosted a dinner for six members of the Church of the Brethren (EYN) in Nigeria. They all had been displaced from their homes because of the military group Boko Haram. Some had friends and family killed; children abducted and more. "The Church of the Brethren's response to this horror and disasters throughout the world is what attracted me to and keeps me committed to this denomination," she said.
She remains an active member of the Bonds Meadow Rotary, serves on the Carroll County Commission on Aging and System of Care, Friends of the Library Board, church teams, and recently began serving on the Church of the Brethren's Mid-Atlantic District's Calling and Credentialing Committee. She and her husband, Dave, have two grown children and five grandchildren ages 3 to 16.