IMA World Health is celebrating its 60th year of faithful service to the world — and what an inspiring journey of faith and dedication it has been! 
Like many world-changing ideas, IMA got its start in the heart and home of one woman with a mission, and it has since grown to touch the lives of more than 100 million people and distribute well over $1 billion in medicines and medical supplies in some of the world's most challenging places. As we mark this milestone, we invite you to learn more about our history — and where we're headed in the future. 
Thank you, as always, for making this work possible. Every vaccine given, every baby delivered safely, every life saved is because of our generous donors, our dedicated partners and our incomparable staff. 
1950: A seed of an idea
The seed for IMA World Health was planted in October 1950. Mrs. Bertha "Bert" Marker, Supply Secretary of the New Jersey Annual Conference Woman's Society of the Methodist Church, requested and received 48 drums (nearly 1 ton) of vitamins from Lederle Labs of the American Cyanamid Corporation for clinics in India. From there, she continued to solicit and receive donations from other companies during the next few years to send to clinics internationally.
September 19, 1960: IMA is born
Mrs. Marker joined Dr. Harold Brewster, Medical Secretary of the "Interdivision Committee for Foreign Work of the Board of Missions" of the United Methodist Church, to discuss bringing together various Christian health agencies to collaborate on her work. Dr. Brewster long held a dream of a centralized, inter-agency collaboration for requesting and managing donated medical products for supporting mission hospitals around the world. Interest among other Protestant mission boards was keen. On September 19, 1960, Interchurch Medical Assistance was officially incorporated in New York, taking the name of the newly-constructed Interchurch Center for church agencies. Warehouse services were established at the Brethren Service Center in New Windsor, Maryland, in early 1961. Dr. Arthur Wilde was employed on March 15, 1961, as IMA's first executive director.
IMA's founding member agencies included the United Methodist Church, the United Presbyterian Church in the USA, Church World Service, Lutheran World Relief, the Reformed Church in America, the American Baptist Convention and the National Council of Churches.
The Early Years
Growth was quick and steady, but IMA remained thoughtful in its growth and service. By its second year, IMA's list of members had grown from six to 12, and 80 major corporations donated regularly. Annual donations of medical products in 1963 stood at $300,000, and they grew to $9 million by 1968. Meeting minutes reflect diligent work by the Board of Directors to establish policies to ensure standards for managing donated medical products as well as procedures to ensure equitable distribution of products to member agencies. In 1969, the Brethren Service Center built a new warehouse to accommodate IMA's increasing inventory.
With the official "ribbon cutting" taking place on June 18, 1981, the IMA headquarters office moved from 475 Riverside Drive in New York to New Windsor, Maryland. In approving the move, the IMA board acknowledged the positive relationship between IMA, its members and the Church of the Brethren, and they anticipated lower operating costs, as well as better opportunities for IMA to consolidate operations, if its staff and assets were located in one physical place. 
Though IMA maintained a small staff—only a handful—millions of dollars worth of donated medicines and supplies came in and were sent back out of the warehouse each year to dozens of countries all over the world. In 1989, IMA was listed in the Non-Profit Times as number 95 in the list of 100 largest U.S. charities. U.S. News and World Report and Money Magazine also listed IMA as the second-highest rated charity for diverting the smallest proportion of income to administration or fundraising activities.
Responding to Industry Changes
Though IMA had gained a notable momentum, in the late 1980s the pharmaceutical industry began to shift dramatically: mergers and acquisitions consolidated and eliminated many former donors, and some regularly donated products went off patent and were no longer available for donation. Meanwhile, new technologies for planning and production decreased the surplus of other drugs that formerly stocked IMA shelves. Plus, thanks to new production facilities worldwide, IMA Members found it had become cheaper to purchase supplies regionally than to pay for donated supplies to be shipped from New Windsor. By 1990, IMA was struggling financially, and these external trends would only deepen over the next decade. It was time for a change of direction.
Adapting to a New Normal
On January 6, 1992, Paul Derstine was appointed as the new Executive Director to lead the effort to achieve financial and programmatic stabilization of IMA. One of the first shifts was to rethink how IMA distributed medicines and medical supplies. In response to overseas requests for more targeted products, in 1993 IMA's Don Padgett, R. Ph., developed the IMA Medicine Box®, which could treat up to 1,000 people in a rural clinic for approximately two months. The Medicine Box® program was a new direction for IMA, which would inform a new approach in the coming years. Based on this model, IMA would also later develop the Safe Motherhood Kit™, a package of clean and sterile supplies designed to prevent maternal infection during childbirth.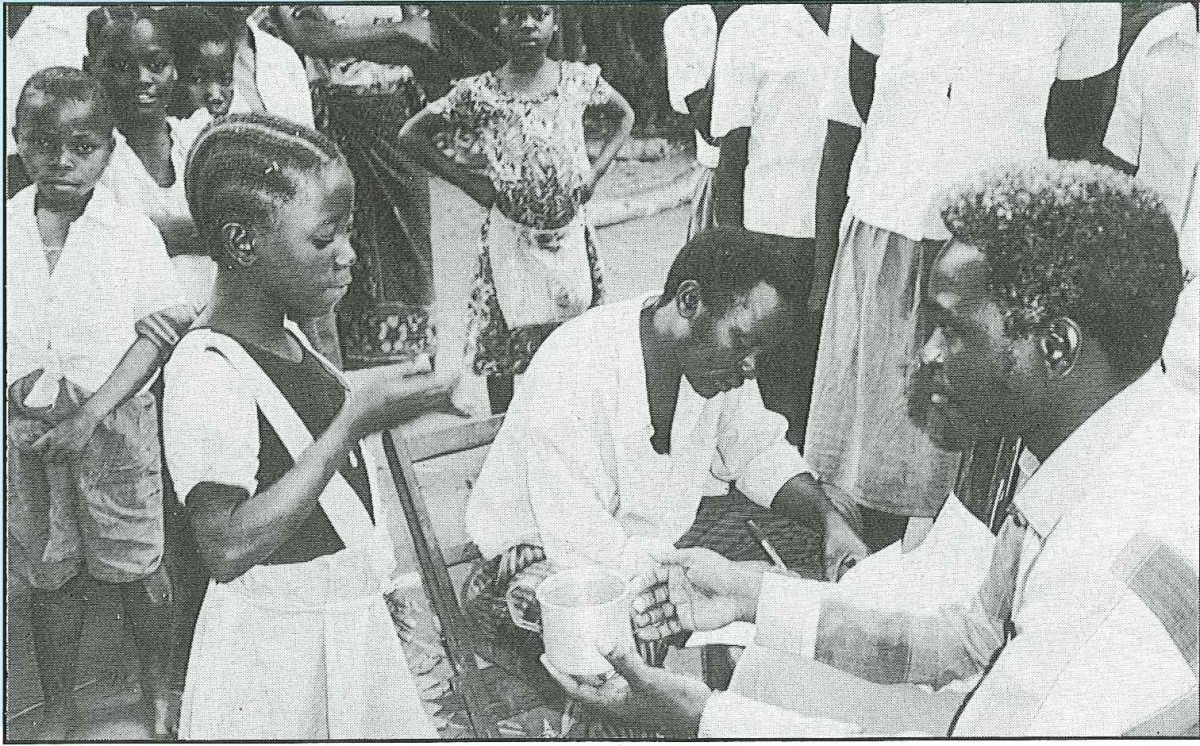 IMA becomes IMA World Health
By 1994, Derstine saw that the trends within the pharmaceutical industry were unsustainable for IMA and its members. With the support of the Board, Derstine made a pivotal decision in the organization's history. Rather than shutting down, IMA would change its mission, update its name and begin directly implementing health care programs in addition to delivering medicine and supplies. IMA was reborn as IMA World Health, and for the first time it would would be an operational organization rather than a supporting one. 
That year, IMA launched its first field program in Tanzania. In partnership with the Tanzanian government, Merck & Co., IMA Members and others, IMA developed a program to treat the neglected tropical disease Onchocerciasis (River Blindness) in Tanzania through the distribution of Mectizan®. With $330,000 in funds, this was the first large grant awarded to IMA by the IMA Members. This program would spur the establishment of IMA's first field office in 1997, and it would launch a 20-plus year legacy of working to control and eliminate neglected tropical diseases globally.
Expanding Operations in the New Millennium
With its new mandate in place and gaining momentum, IMA began seeking new partnerships and new relationships with donors like the U.S. Centers for Disease Control and Prevention, the U.S. Agency for International Development and others. Leveraging its faith-based history and partnerships proved to be an excellent approach to creating a niche as an operational public health organization. IMA began implementing programs in Haiti, Tanzania, the Democratic Republic of Congo, South Sudan, India and others. Programs included targeted efforts to combat diseases including HIV and AIDS, neglected tropical diseases, the childhood cancer Burkitt's Lymphoma, malaria and more; IMA also developed strong expertise in maternal and child health, health systems strengthening and service delivery, human resources for health and more.
Haiti Earthquake
In the fall of 2009, Paul Derstine retired as IMA's Executive Director, and the board appointed Rick Santos as IMA World Health's new President and CEO. In January 2010, in the aftermath of a massive earthquake in Haiti, Rick Santos, along with fellow IMA employees Sarla Chand and Ann Varghese, were trapped for more than two days in the rubble of a collapsed hotel before they were found by a French recovery team. Trapped near them in the collapse were colleagues the Rev. James Gulley, a consultant for the United Methodist Committee on Relief, the Rev. Samuel W. Dixon, Jr., who was an IMA board member and the Deputy General Secretary of Global Health and UMCOR, and the Rev. Clint Rabb, a leader in the United Methodist Church's mission volunteer program. While the Rev. Gulley survived, the Revs. Dixon and Rabb died tragically from injuries sustained in the collapse.
A New Vision for the Future
Early in his tenure, Santos recognized a strong need for a dedicated business development team to position IMA for the increasingly competitive bidding process for grant funding. When this team was established in 2010, IMA opened a new office location in Washington, D.C., to be in closer proximity to institutional donors like USAID and NGO partners. 
Throughout his tenure as President and CEO, Santos was forced to wrestle with a challenging question: What is the purpose of the IMA membership? With IMA's work firmly established in the management and implementation of technical public health programs, and with donations of pharmaceutical overstocks no longer a sustainable or financially viable approach, IMA's original mandate for its members was no longer feasible. While some members had found ways to fund and partner with IMA on projects around the world, others had fewer avenues for engagement. Meanwhile, competition for grant and contract funding was becoming more and more competitive. Again, IMA was at a crossroads. 
In 2017, Santos approached the board with an idea: a strategic partnership. After 18 months of analysis and conversations with the IMA Members, potential partners and the IMA board, the decision was announced in October 2018: the IMA membership would be dissolved, but IMA World Health would join with one of its own founding members, Lutheran World Relief. 
Lutheran World Relief and IMA: Our History and Future Together as Corus International
Over the years, IMA World Health has provided millions of dollars worth of medicines and supplies to LWR operations around the world. As recently as 2017, LWR and IMA teamed up to provide emergency nutrition services in South Sudan.
On January 1, 2019, IMA and LWR officially joined forces. And this year, together they created a powerhouse parent organization called Corus International, led by President and CEO Daniel V. Speckhard. Corus is an ensemble of faith-based organizations working in concert to deliver the holistic, lasting solutions needed to overcome the interrelated challenges of poverty and health. While IMA and LWR still exist as individual organizations with unique skill sets and expertise, they share strategies, staff and a common vision for the future. 
When the new organization was announced, Speckhard commented, "With the Corus model, we're ultimately changing the dynamic so families and communities can become substantially more self-reliant and resilient. And we're deepening our commitment to improve not just the health but the entire well-being of a person." 
The COVID Era and Beyond
This vision came into sharp focus in 2020, when the challenges of COVID-19 married IMA's focus on public health with LWR's expertise in mobilizing emergency responses. Though no one could have predicted it, the new era began just in time. 
Thank you for joining IMA World Health, and now Corus International, on this 60-year journey of service to the world. Fueled by partnership since the beginning, IMA exists because of you — our generous donors, our dedicated partners and our incomparable staff.