Story and photos by Emily Esworthy/IMA World Health

C
harles Justine, 8, and his mother Nyabanane Manyinya share a certain energy. As Nyabanane recounts the events of the past year, Charles rests his arm on her chair. His eyes widen as her voice rises. When she smiles, he smiles too.
It's clear that after the journey they've taken together, they are in sync.
A Stubborn Fever
In June 2017, Charles came down with a high, persistent fever. His mother took him to a dispensary near their home in a small village near Serengeti, Tanzania. Nyabanane was surprised when the malaria test came back negative. Noticing Charles's distended stomach, health workers treated him for intestinal worms.
Charles showed no improvement, so Nyabanane took him to Tarime District Hospital for further testing, which revealed he had low blood counts. Charles received a blood transfusion and was treated again for intestinal worms. He continued to feel worse and worse; his fever continued, his face swelled and his energy declined.
Weeks passed, and Nyabanane became so discouraged that she considered taking Charles to a witch doctor, but her friends and family convinced her to continue seeking trained medical care. Finally a nurse at Tarime suggested they make the journey to Bugando Medical Center, a referral hospital 161 miles from their home—roughly the distance from Philadelphia to Washington, D.C.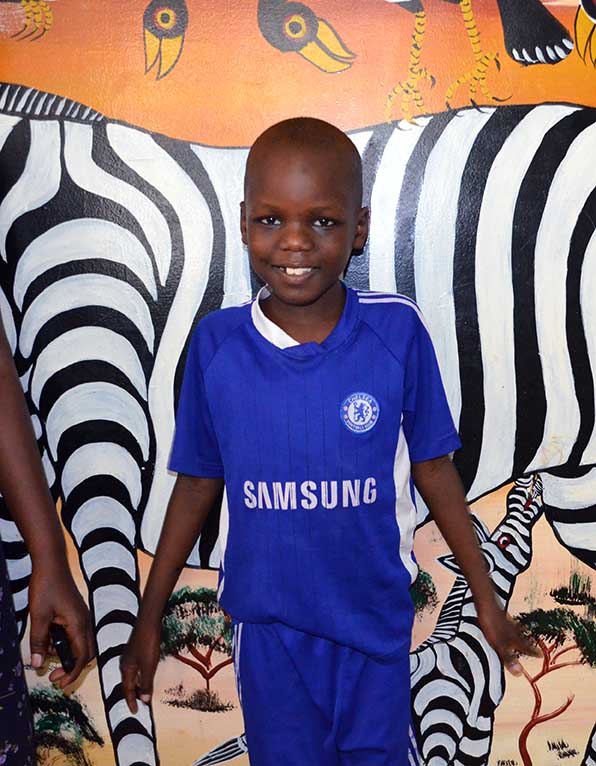 Finding a Diagnosis
At Bugando, health workers began treating Charles for sickle cell anemia based on his symptoms, but they saw no progress.
"I was losing hope," his mother says.
In September, Charles underwent a bone marrow biopsy. After weeks of waiting for results, they learned the sample had been lost in transit to the lab. Nyabanane is animated as she describes her frustration. Charles nods, remembering.
Finally, in November, a second biopsy concluded that Charles had b-cell acute lymphoblastic leukemia, the most common childhood cancer worldwide and—thankfully—one that is highly treatable.
Treatment at Muhimbili
After six months of fevers and declining health, Charles was referred to Muhimbili National Hospital in Dar es Salaam for in-patient cancer treatment—more than 600 miles from home, the distance from Washington, D.C. to Atlanta. There, with support from IMA World Health, Charles has received chemotherapy along with housing, food, schooling and other support from our partner Tumaini La Maisha.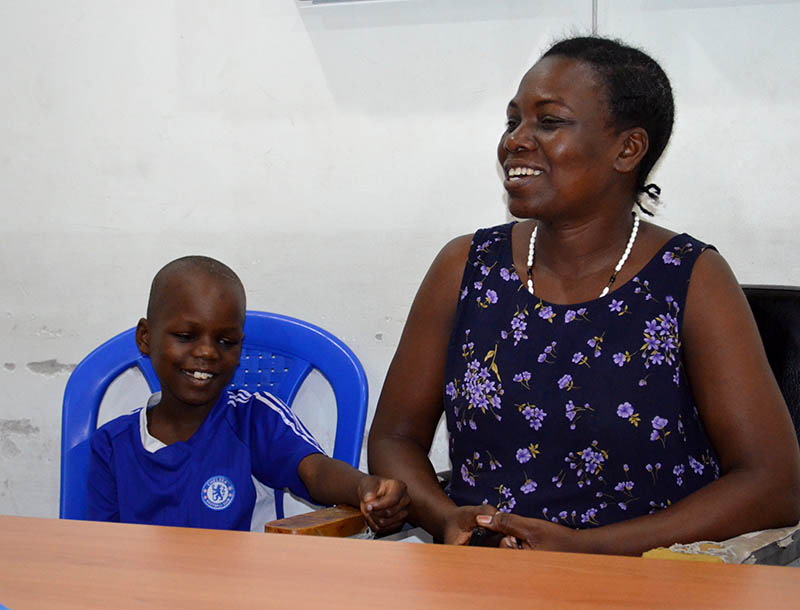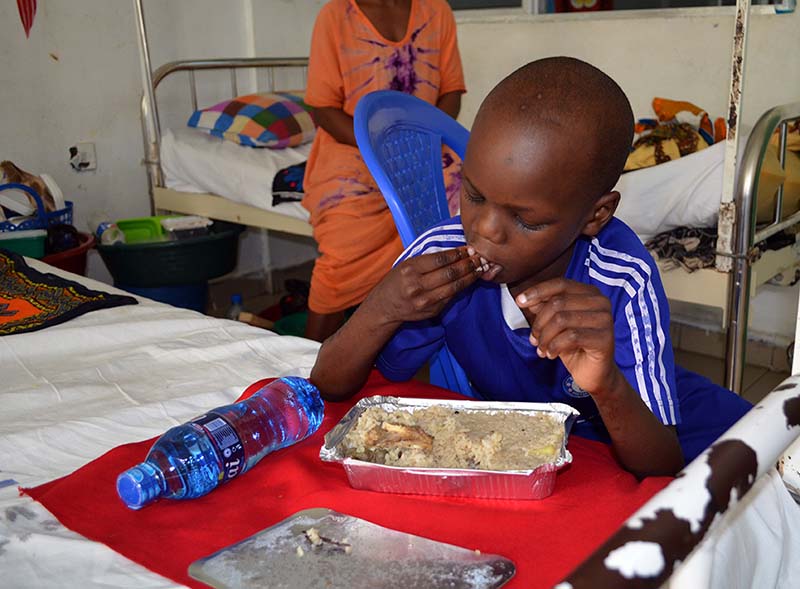 Six months into treatment, Charles is laughing, eating heartily and smiling up at his mother. Nyabanane says their journey has not been easy, and it is far from over. Though he is close to being discharged from the ward, he will continue chemotherapy treatments for at least two more years. Plus, Nyabanane has three other children at home whom she hasn't seen in a year. Her secretarial business has been put on hold, and she is not sure whether she will have any clients or even a working computer when she is finally able to go home.
But, she says, things are looking up. "Before, when he was so sick, I was crying every day, but now I can see that my son is getting better every day. Plus, all our needs are met. We paid $150 per month to stay at Bugando. We paid for catheters, gloves, everything. Now, here at Muhimibili, we pay nothing, and Charles feels much better," she explained.
How Your Gifts Help
With support from IMA and generous donors, TLM fills the gaps for patients and their parents on the pediatric cancer ward at Muhimibili to make cancer care possible for children all over Tanzania and beyond. Plus, Drs. Trish Scanlan and Jane Kaijage are working hard through TLM to strengthen diagnosis and case management at referral hospitals throughout the country to ensure children like Charles have better outcomes through early diagnosis.
"The largest barrier to treatment is that children arrive too late," explains Scanlan. Based on Charles's experience, it's easy to see why this happens.  
"Our vision is to get to every child," says Scanlan. With 18 years of pediatric cancer care behind us, IMA is proud to partner with TLM in this vision, which aligns so well with our own vision of health, healing and well-being for all—including Charles and the thousands of other children who need and deserve our lifesaving support.

Founded in 1960, IMA World Health is a global, faith-based nonprofit that works with communities to overcome their public health challenges.