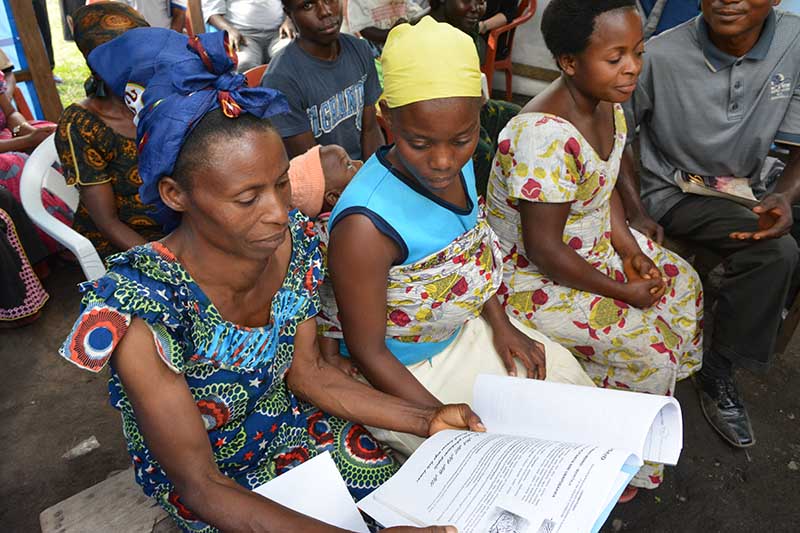 Promoting gender equality and women's empowerment
Background
Women face unique biological and social vulnerabilities place them at greater risk from contracting and dying from disease and violence. The risks start early, with young girls at much greater risk of suffering child abuse as compared to boys. Adolescent girls and young women ages 15-24 are two times as likely to contract HIV as compared to their male counterparts.
IMA is part of the increasing global movement toward addressing issues of gender in health, promoting women's empowerment and gender equity in its programs. By design, IMA's programs promote a comprehensive reproductive health and rights approach and involve women in leadership and planning of its programs. Within the USAID-IMA World Health Counter Gender-Based Violence Program, IMA assists survivors of sexual- and gender-based violence in Eastern DRC to access holistic support services (legal, medical, psychosocial, and economic support).
IMA engages male partners as positive change agents and supporters. IMA also works with communities and village leaders to overcome negative social attitudes toward women.
Our Projects
DEMOCRATIC REPUBLIC OF CONGO
USAID-IMA WORLD HEALTH COUNTER GENDER-BASED VIOLENCE PROGRAM
$15 million | USAID |2017-2022
The USAID-IMA World Health Counter-Gender Based Violence Program (USAID-IMA CGBV Program, or "Tushinde Ujeuri" in Swahili) is a comprehensive program to help communities respond to and prevent gender-based violence in the Democratic Republic of Congo. The USAID-funded program is made possible by the generosity of the American people and implemented by IMA World Health. This project is a key USAID initiative in eastern Congo where years of insecurity and conflict alongside deeply rooted gender inequities and harmful cultural practices have contributed to high rates of sexual and gender-based violence. As a five-year project (November 2017 – October 2022), the USAID-IMA CGBV Program aims to strengthen community-based prevention of and response to GBV in eastern Congo; effectively reducing GBV incidence and improving the quality of and access to holistic care for survivors, particularly among vulnerable groups. The project works in an integrated manner to achieve three intermediate results:
• target communities demonstrate greater acceptance of positive gender roles;
• availability of community-level GBV-related services improved; and
• perceptions of stigma surrounding reintegrated survivors reduced.