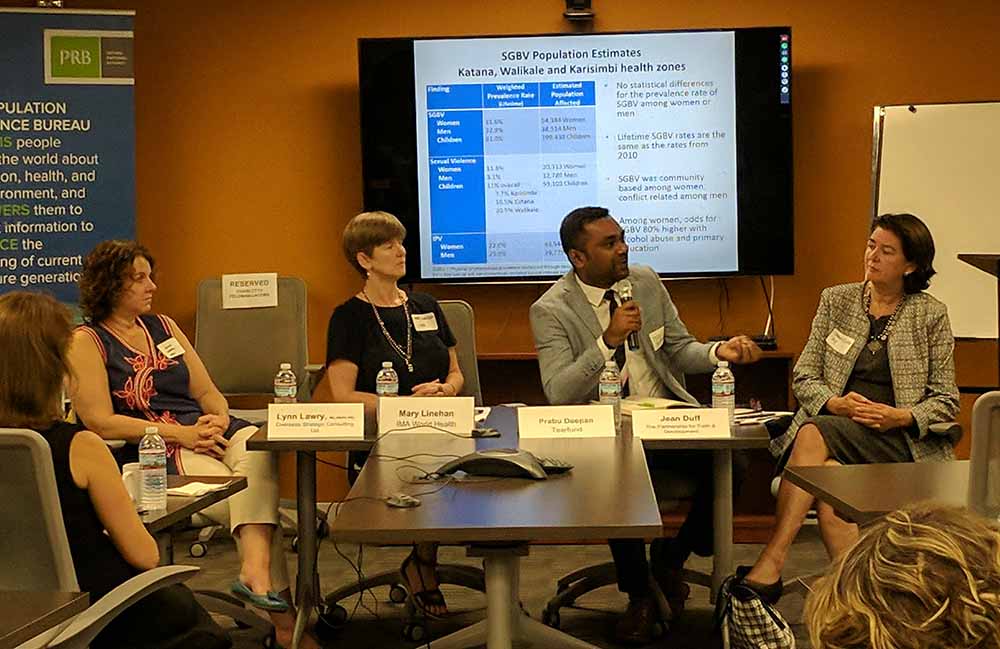 By Gloria Nantulya/IMA World Health
It's agreed.
Faith plays a pivotal role in addressing sexual and gender-based violence, or SGBV, in communities. Whether it be in the conflict-affected eastern region of the Democratic Republic of Congo or the pews of a small church in South America, experts from four different international organizations reported similar findings.
"IMA is a faith-based organization," said Mary Linehan, IMA World Health's Senior Technical Advisor who was a panelist at the event. "By talking in the same language about culture and religion, it makes people more comfortable and therefore makes the message easier to understand."
Why, you may ask? It's likely because more than 8 out of 10 people worldwide identify with a religious group, according to a demographic study of more than 230 countries and territories conducted by the Pew Research Center's Forum on Religion & Public Life. Therefore, a central part of messaging and learning comes from religious leaders in the communities they are integrated in.
"Faith remains one of the few variables that has a significant correlation with reduced physical and intimate partner violence," says Prabu Deepan, gender technical lead at Tearfund. "People's understanding of scripture plays a huge role in their acceptance of sexual and gender-based violence, so changing scriptural-based reflections on gender is key."
Highlights from Event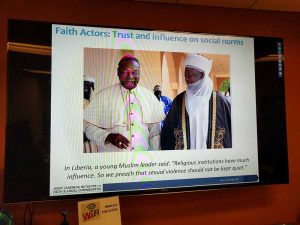 Take a look at the online conversation on Twitter through our Storify from the event held on Sept. 25 at the Population Reference Bureau in Washington, D.C.
Deepan was one of four panelists who shared their findings at the Interagency Working Group on Gender Violence event hosted in Washington, D.C. The panel discussion looked at faith-based organizations, their role in addressing SGBV and the lessons learned. Alongside Linehan and Deepan were Lynn Lawry, Senior Director of Health at Research and Evaluation for Overseas Consulting, Ltd., and Jean Duff, Coordinator of the Joint Learning Initiative on Faith & Local Communities. Both Linehan and Lawry presented findings from the USAID-funded Ushindi program.
Although faith leaders are such powerful influencers in their communities, panelists and audience members agree that faith leaders should not be seen or used as tools but instead as partners and contributors to our work. Most importantly, that SGBV is a complex issue that is not an easy fix and will take continuous work, partnerships and behavior-change interventions to make a difference.
"Dialogues with vulnerable people do not have an end," Linehan said. "They have to be approached sensitively and talked about repeatedly. We are not going to fix this issue once and walk away. We are going to continue to work to improve the lives of everyone."
Linehan was not the only panelist that talked about the need for follow-up. Deepan mirrored similar thoughts, expressing the importance of "refresher trainings" for faith leaders to discuss reflections and share challenges faced with these interventions.
IMA maintains relationships with all three organizations on the panel. In addition to Lawry, who has worked on Ushindi program research, President and CEO Rick Santos is a JLIFLC board member and both organizations continue to work closely together. Most notably, Tearfund, a faith-based organization based in the U.K., is the founder of the We Will Speak Out global coalition, for which IMA is the secretariat and host of the local U.S. chapter. The interfaith coalition focuses on uniting faith communities in the fight to end SGBV.
With such an important discussion taking place less than a week before the launch of Domestic Violence Awareness Month in October, it further emphasizes the importance of including and engaging faith leaders in SGBV work. That's why the We Will Speak Out U.S. coalition celebrates its annual Speak Out Sabbath campaign, which will take place Oct. 13-15 this year. The campaign asks faith leaders and communities to break the silence and take action, and you can use your voice by signing onto a letter asking your faith leader to speak out and support survivors in your community.
You can join the movement today and follow the discussion online using #SpeakOutSabbath or #FaithsAgainstSGBV.
Speak Out Sabbath

Join the We Will Speak Out U.S. coalition for its annual Speak Out Sabbath weekend on Oct. 13-15. We are calling all faith communities to dedicate Speak Out Sabbath to dialogue, teaching, prayer and action around SGBV and its prevention. One of the many ways you can take action is to tell your faith leaders to speak out for survivors of violence by signing this letter.