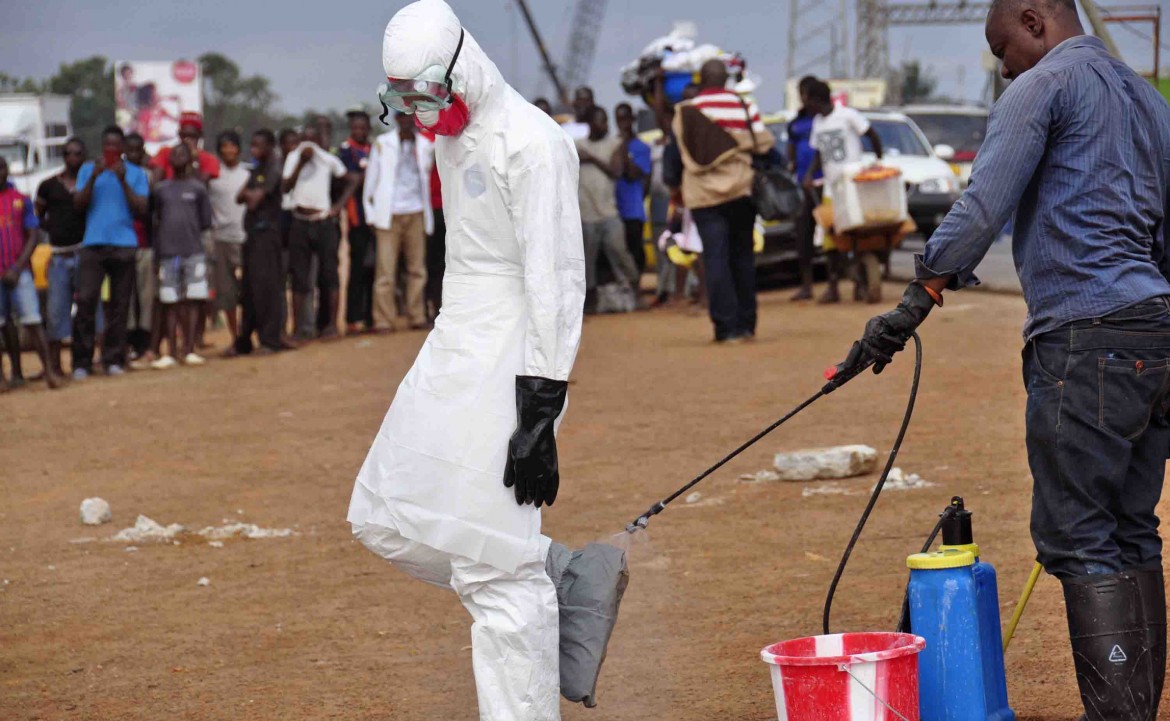 RESPONDING TO THE EBOLA OUTBREAK
BACKGROUND
IMA World Health's work on the frontlines of strengthening health care systems often brings us in contact with new infectious disease outbreaks. One such disease is Ebola, a deadly virus with a case fatality rate of up to 90 percent. It is highly contagious and spreads easily and rapidly through human contact.
IMA's experience in containing Ebola outbreaks began in 1995 in the Democratic Republic of Congo. A brief history and recommendations from this work can be viewed in our special report, Stopping Ebola in its Tracks: Maximizing a Health System Approach for an Improved Epidemic Response.
OUR WORK
2014 Liberia Outbreak (2014): IMA World Health supported the Christian Health Association of Liberia (CHAL) to help stop the spread of the Ebola virus following the March 2014 outbreak. CHAL is working in close collaboration with the Liberia Ministry of Health to train health care professionals, community health volunteers, and religious and traditional leaders on the key facts about Ebola. CHAL is also engaged in the procurement of personal protective equipment (PPE) for health workers, along with the training on its proper use. IMA's material and technical assistance support was made possible thanks to individual donations as well as grants from IMA member agencies including Lutheran World Relief, American Baptist Churches USA, Week of Compassion, and Church of the Brethren. Additional donors include Disaster Aid USA, Inc. and the Rotary Clubs of Baltimore, Bonds Meadow, Chevy Chase-Bethesda, Mt. Airy, Owings Mills, Pikesville, and Sykesville in Maryland, and the Rotary Club of Harrisonburg, Virginia.
KEY ACHIEVEMENTS
Distributed 750 copies of educational materials.
Installed hand washing stations at hospitals and public spaces.
Developed a training plan and trained dozens of health workers, volunteers and faith leaders in disease prevention.
Procured PPE kits and supported minor renovations for the warehouse and in-country distribution to 18 health facilities in Lofa, Bong and Nimba counties.
DRC Outbreak Prevention (2014): Projection maps showed the Democratic Republic of Congo (DRC) was at risk for high fatality from the 2014 Ebola outbreak in west Africa. Already working to strengthen health systems in DRC, IMA World Health took swift preemptive measures by providing 200 Personal Protective Equipment (PPE) kits to protect health workers and contain a potential outbreak before it started. Of these kits, 76 were sent to 38 hospitals in two high risk health zones, Equateur and Kasai Occidental, which are supported by IMA's Access to Primary Health Care Project (ASSP). Another 40 kits were prepositioned in IMA's five ASSP-supported provinces, 55 were turned over to the government for storage in the Central Hospital, 8 were donated to Baptist hospitals, and the remaining 21 kits will be stored in Kinshasa to be dispatched as needed. IMA also worked with the DRC Ministry of Health Department of Epidemic Surveillance to plan a five-day training for hospital staff in Ebola preparedness and response. Funding was provided by individual donors and IMA member agencies including the American Baptist Churches, the United Church of Christ, and Week of Compassion.