Wenepaida Epaifura, a 42-year-old mother of three, is both a traditional birth attendant and a Boma chief from Timbiro Boma of Yambio County, South Sudan. She advocates against gender-based violence (GBV) and is a powerful changemaker in her community.
In South Sudan, a Boma is a small administrative unit designated by at least four villages. Wenepaida rose through the ranks of her local royal family from royal observer to women's leader, and now to the elected position of chief of her Boma. Wenepaida serves as a mediator to resolve household conflicts, supporting community dialogues and negotiations. Not only is she leading the community, but as a birth attendant, she refers pregnant mothers for antenatal care and often conducts late-night emergency deliveries in her home, later accompanying the mothers and infants to the hospital for postnatal care.
UNICEF reports that GBV is one of the most critical threats to the protection and wellbeing of women and children in South Sudan. In Wenepaida's community, GBV, including intimate partner violence and early and forced marriages, is widespread. IMA World Health leads the five-year, USAID-funded MOMENTUM Integrated Health Resilience project which is directly supporting the area to address GBV and improve health outcomes.
Through community mapping, Wenepaida was recognized as a critical partner for social and behavior change, as she and other leaders worked to prevent GBV and challenge harmful practices. Utilizing a GBV response referral system developed by the MOMENTUM Integrated Health Resilience Project in collaboration with other local initiatives, cases of GBV are now able to be referred to appropriate authorities and medical services.
By providing feedback on MOMENTUM Integrated Health Resilience's South Sudan Social Norms Assessment, Wenepaida also helped to guide project work and programs across South Sudan. Her contributions to community action planning are supporting social and behavior change activities that champion youth engagement, health service provider coordination and community mobilization efforts. When MOMENTUM Integrated Health Resilience organizes community dialogues and outreach efforts to address GBV, Wenepaida ensures that they are inclusive and that at-risk families are in attendance.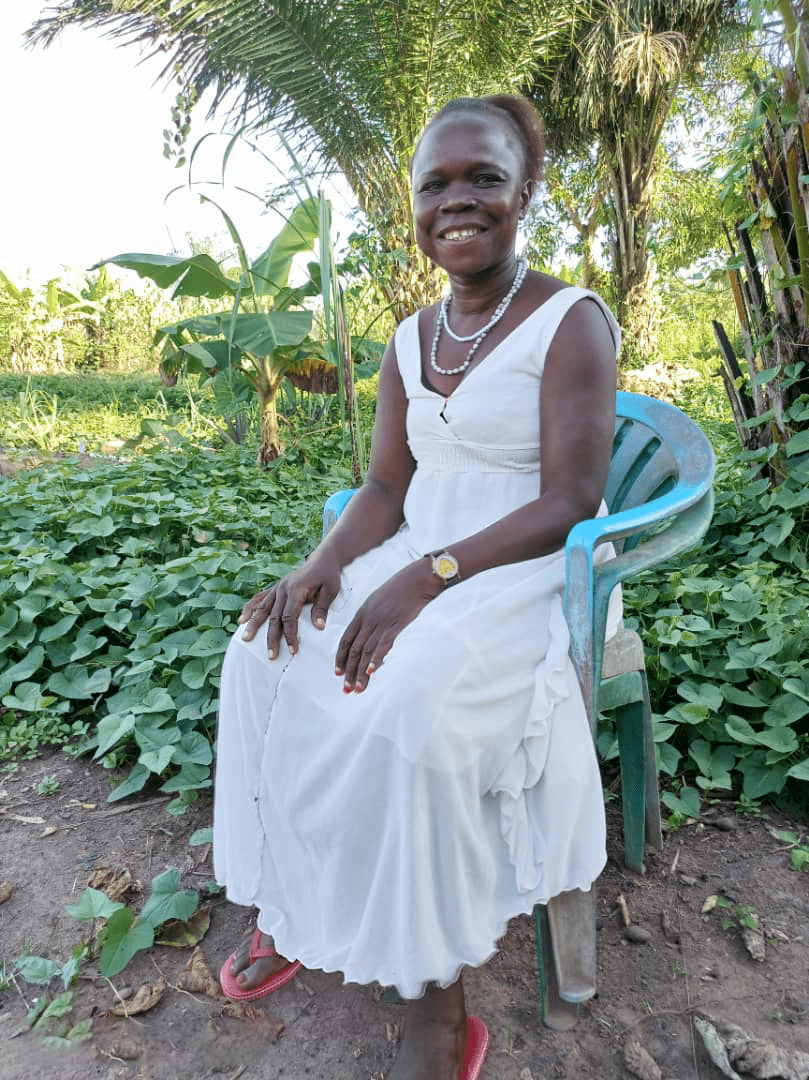 Wenepaida joined the project because she wanted to be part of a community-led initiative that designed solutions to the root causes of local issues.
…I can say that MOMENTUM Integrated Health Resilience's programs are very transparent, they bring new ideas that we did not hear before, they don't promise us what they cannot do, they don't coerce our support. I needed support to address the issues that young people and married partners are facing in my community. MOMENTUM Integrated Health Resilience's ways of doing things are different; they ask communities to identify their own problems, develop and implement plans. This is a good way for this community; it empowers us to do things without thinking someone in Juba [South Sudan's capital city] should do it for us.
Now, Wenepaida holds regular meetings with her headmen, women groups and youth leaders on GBV prevention, mitigation and response. She inspires others to be agents of chance, particularly when it comes to advancing positive masculinity in their homes. Furthermore, by addressing the cultural distance between young people and older adults with intergenerational dialogues, she is optimistic about how bridging generational gaps is effective in addressing GBV.
There are other reasons to be optimistic. Even though shifting social norms and behaviors is a long-term initiative, activities to address GBV in Timbiro Boma and Yambio County are showing promising early outcomes, including:
Improved parent-adolescent communication on GBV prevention
Improved access to sexual and reproductive health and family planning services
Increased equity in couples' communication and balanced decision-making in households
Greater denouncement of GBV in local, traditional laws to ensure that GBV perpetrators face punishment
Strengthened capacity for communities to challenge traditional beliefs and norms that condone GBV and drive poor sexual and reproductive health outcomes
Everyone should stand up and voice support for all women and girls experiencing gender-based violence in any form, regardless of their ethnicity or social status, to end violence and harmful traditional practices against women and girls," said Wenepaida. "I urge communities to take responsibility for transforming negative social behaviors against young girls, women and the disabled to enable them to participate fully in the development of our society. 
Learn more about MOMENTUM Integrated Health Resilience
Male Herbert, Social and Behavior Change/Gender Advisor, contributed to this blog.