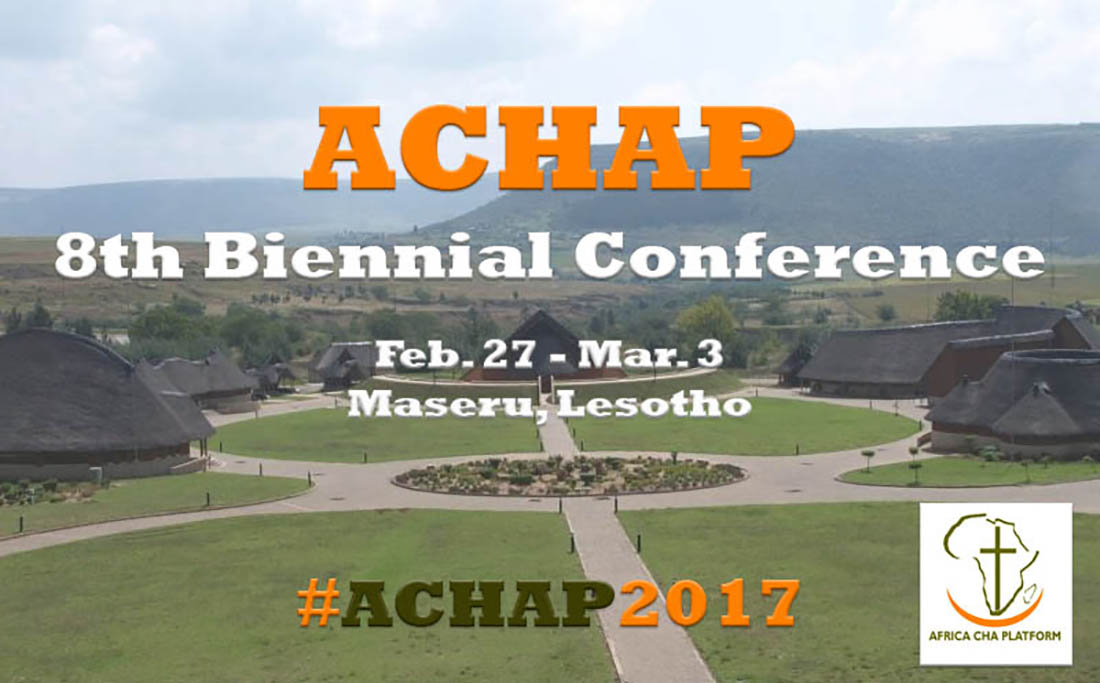 A
s the World Health Organization estimates that at least half of Africa's health care is provided by faith-based groups, IMA World Health joins other partners in bringing leaders from the continent's Christian Health Associations together in Lesotho from Feb. 27-March 3.
"Bringing the CHAs together is part of our commitment to working in partnership," IMA Vice President for External Relations, the Rev. Amy Gopp said. "Our faith and our missions intersect to serve the most vulnerable, and the gathering in Lesotho is a critical point of connection."
This is the 10th anniversary of the Africa Christian Health Associations Platform, the convening body of CHAs. Following the U.N. General Assembly's affirmation of the Sustainable Development Goals, the gathering will focus on how the work of faith-based organizations can strengthen health systems and impact achieving the SDGs.
"The CHAs serve an important and unique role in making sure that even the most marginalized among us have access to basic health care," Gopp said. "They are on the front lines of public health in Africa. Their success will ensure we achieve the SDGs, and IMA is proud to support and learn from them."
IMA World Health will have a significant presence during the event, including a day-long workshop on how the faith community can work to address sexual and gender-based violence and a plenary panel moderated by IMA World Health President and CEO Rick Santos.
IMA's participation at the 8th biennial ACHAP conference will include:
9 a.m.-4:30 p.m. Feb. 27: Engaging FBOs to address Sexual and Gender Based Violence
Moderated by Gopp, this interactive pre-conference will highlight the roles faith-based organizations and faith communities can play in acknowledging responding to, and preventing SGBV, a risk to 1 in 3 women globally. Participants will become better informed and equipped to address SGBV holistically. Attendees will consider the perspectives of survivors, engage in theological reflection, explore how Christian Health Associations may address SGBV, and learn from a four-tiered comprehensive approach to responding to sexual violence in the Democratic Republic of Congo. This workshop intends to educate all those who hope to transform this outrage into human dignity and inspire FBOs to move from silence to actions. Ezra Chitando and Pauline Njiru of World Council of Churches, Dr. William Clemmer of IMA, Solange Mukamana of Tearfund South Africa and Vuyelwa T. Sidile-Chitimbire of Zimbabwe Association of Church-Related Hospitals will be speakers.
11:20 a.m.-12:40 p.m. Feb. 28: Global Health Partnerships Opportunities for CHAs
Moderated by Santos, speakers during this plenary panel will offer a well-rounded perspective on the role of effective donor-FBO/CHA partnerships in strengthening health systems, and how effective partnerships can be built and fostered to work toward achieving the SDGs. Speakers will include Ellen H. Starbird of the United States Agency for International Development, Alti Zandor of UNAIDS Lesotho, Bruce Compton of Catholic Health Association of the United States, Maurice Adams of All We Can and Jean Duff of the Joint Learning Initiative on Faith & Local Communities.
10:30 a.m.-noon March 1: Building the evidence base on FBO/CHA contributions: Rhetoric to Action!
Moderated by Frank Dimmock of IMA, speakers during this panel will highlight key quantitative and qualitative measurements of FBO/CHA contributions to health service delivery and current research efforts to determine FBO/CHA contributions. Results of the Christian Health Associations and Faith-based Health Networks Survey conducted by IMA World Health will be presented. Dr. Deb McFarland of Emory University, Dr. Titha Dzowela of the Christian Health Association of Malawi, Alfredo Fort of IMA, Rose Ejuru of CMMB Sudan and Mirfin Mpundu of Ecumenical Pharmaceutical Network will be speakers.
Noon-1 p.m. March 1: "Tackling NTDs" focusing on progress and lessons learnt in controlling NTDs
Led by Christian Health Association of Ghana Executive Director Peter Yeboah, this breakout session will focus on strides made in controlling tropical diseases with limited resources, disease monitoring and sanitation practices, supply chain management and the role of advocacy with government. Veronica Mkusa of IMA World Health will join Pastory Sekule of CSSC and a representative of AIM Initiative as speakers on the panel.
3-4:20 p.m. March 1: Influence of faith on service delivery
Led by Gopp, this breakout session will highlight experiences on the influence of faith on various health service delivery initiatives, including in family planning interventions and HIV/AIDS. Discussions will also explore how religion and theology gets mixed with healing practices. Speakers will be Mona Bormet of Christian Connections for International Health, the Rev. Dr. Nyambura Njoroge of the World Council of Church/EHAIA, Solange Mukamana of Tearfund South Africa and the Rev. Phumzile Mabizela of INERELA+.
8-9 p.m. March 1: Technical Discussion about "Building the evidence base on FBO/CHA contributions: Rhetoric to Action!" to be moderated by Dimmock.
Find more information about the event at africachap.org.